It's hard for men to understand but sometimes us girls just need a weekend purely for rejuvenation, pampering, martinis and girl talk. It's kind of like their need for sports, golf and beer. And as you may have read in my bittersweet post last week, the Valley no longer boasts a Mondrian Hotel, as the Mondrian Scottsdale has turned into Hotel Theodore. Well ladies, if you are missing the Mondrian already and its colorful Asia de Cuba; and are in desperate need of a girls-only weekend, Mondrian LA is offering a Girlfriend's Getaway off the beautiful West Coast!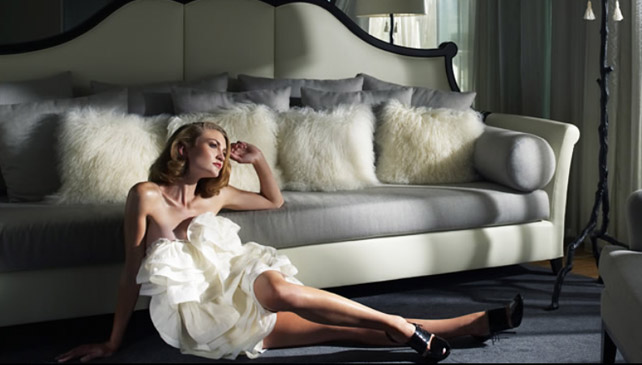 So grab your girlfriends and pick a weekend this summer or spring to spend in Hollywood at the chicly fabulous Mondrian LA. The Girlfriend's Getaway package, from $295, includes
two complimentary cocktails at Skybar or ADCB
preferred reservations at Asia de Cuba
$100 credit per day for Spa treatments at Agua Spa
complimentary valet parking
Girlfriend's Getaway is valid through September 30, 2010.
Studio Suite from $295
Studio Double from $345*
Offer is based upon availability. Not applicable to groups, contracted rates or bookings made via third party channels. Cannot be combined with any other offers. Blackout dates apply.
About the Mondrian LA: In the heart of West Hollywood, the Mondrian LA takes on its inspiration from the serene coastal landscapes of Southern California and "captures everything the Sunset Strip stands for — excitement, invincibility and glamour." Just like the old Mondrian Scottsdale, Mondrian LA highlights the creamy whites and warm marigold palette.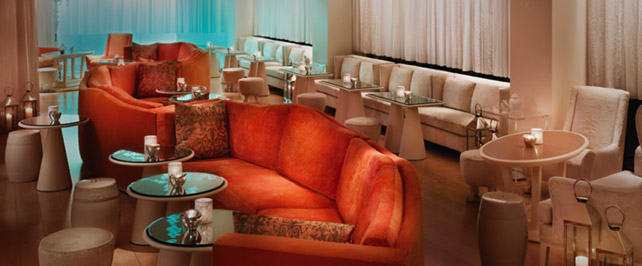 Ladies can sip their free cocktails at the sleek and sexy Skybar which boasts some of the finest views of Los Angeles. Skybar is an open air, ivy-covered pavilion perched above the Pool and Outdoor Living Room and has been the spot for the hottest Los Angeles nightlife from the day it opened. "Redesigned as the ultimate LA lounge by Tim Andreas of Banjo, Skybar appears to almost float in the clouds, with an open-air hut that sparkles with custom-designed furniture handmade in San Miguel de Allende, Mexico." Guests can relax and sip martinis in the luxurious lounge seating, which is accented with yellow and gold; unique reflective glass surfaces evoke the Pacific Ocean. Skybar is also available for private parties and events.
An ideal spot for non-stop people-watching, ADCB serves specialty drinks nightly. Located in Mondrian's lobby, ADCB is also available to book as a venue for private parties and functions.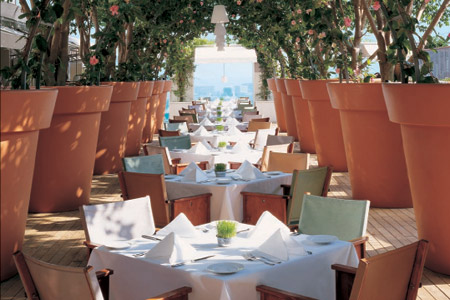 Now that the sun is starting to go down, get ready for your special, yet exciting dinner at Asia de Cuba! With its innovative fusion menu, hot Latin beat and renowned Philippe Starck design, Asia de Cuba remains one of Los Angeles' hottest restaurants. Diners may choose to be served either indoors with its chic white-on-white interior, or on the sensuous patio, which includes a stunning trellised area comprised of enormously over-scaled terra cotta pots planted with ficus trees and flowering bougainvillea vines.
For your well-deserved tan and relaxation in the sun, the beautifully designed pool, featuring soothing underwater music, is the perfect spot for lounging and enjoying the stunning panoramic views of the city. The Outdoor Living Room is also available for private events.
Mondrian LA
8440 Sunset Blvd. West Hollywood, California 90069
323.650.8999, www.morganshotelgroup.com