They say true love is written in the stars, but how about the dress you wear to marry the one in? If you're a bride-to-be searching for your perfect wedding day look here's some bridal fashion advice based on each zodiac sign from internationally-loved Aussie bridal brand, Grace Loves Lace.
Aries
Bold & ambitious, Aries love to make a statement & their wedding day is no exception! The high impact DARLING gown by GLL is the perfect showstopper with its plunging neckline, thigh-high side slit, and low back – exuding confidence in every stitch.
Taurus
These earth sign brides are known for their relaxed nature & are drawn to the soft, rich texture of GLL's silky, no fuss slip dress HONEY SILK. Its fine silk straps allow the cowl neckline and A-line flare skirt drape effortlessly, highlighting the bride's natural beauty.
Gemini
Identified by the symbol of celestial twins, Gemini brides are drawn to the dual design of the ORLA gown by GLL, with a modest high neck and long sleeve silhouette from the front, and daringly low back from behind.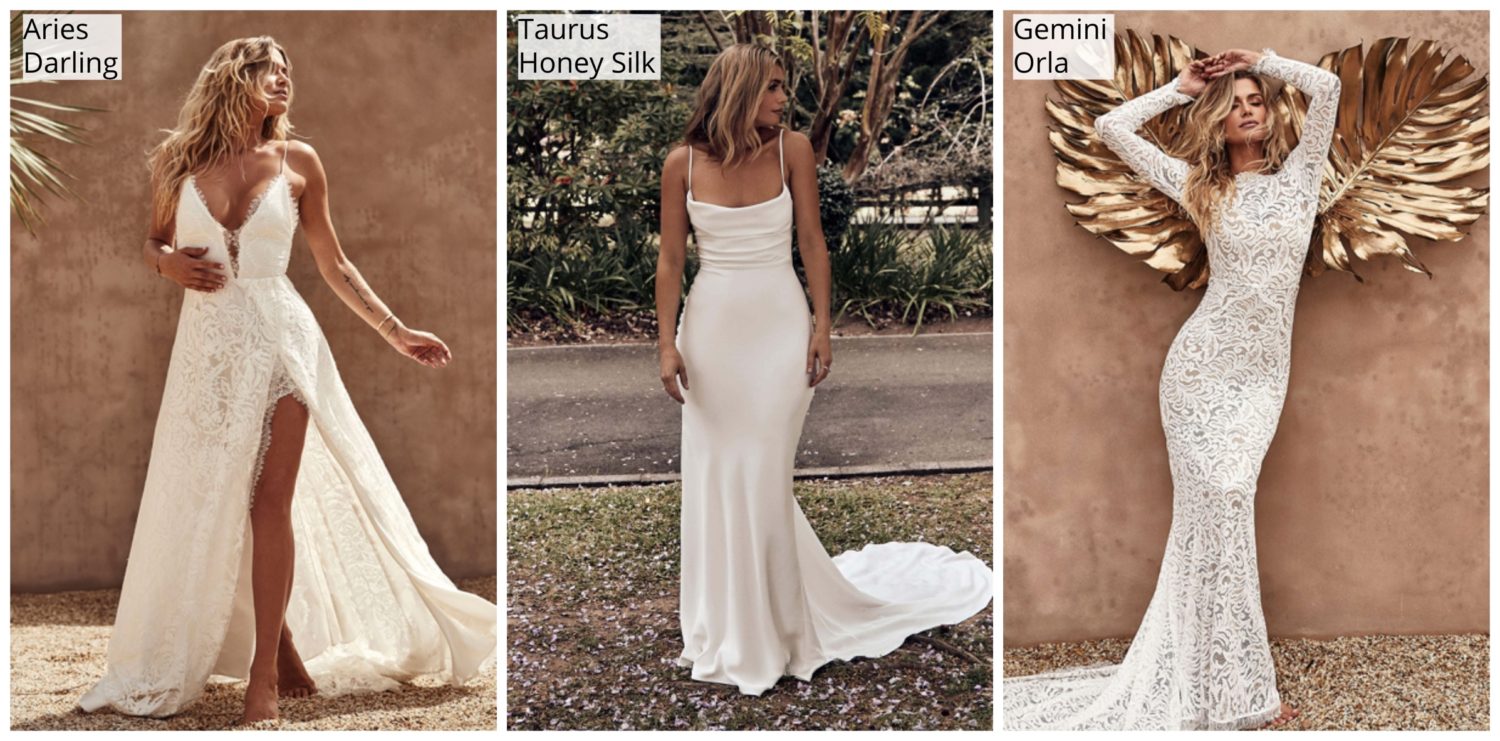 Cancer
Known for delicately balancing her emotions & environment, a Cancer will want a gown that physically showcases her warm glow from within on such a love-filled day. GLL's CAPRI gown features an exquisite rose-hued metallic lace to represent her warmhearted personality in the most subtle, sophisticated way.
Leo
Represented by the lion, Leos are known for their vivacious personality basking in the spotlight. The FARROW by GLL is full of fiery personality from every angle: flattering low v-neck, open back, fitted long sleeves with dramatic bell sleeves and a tiered mermaid skirt.
Virgo
Known for their deep-rooted connection with nature, Virgos are perfectionists are heart and treat every day as an opportunity to learn & growing. FABIENNE 2.0's enchanting starry detailing is inspired by the same free-spirited nature that every Virgo encompasses.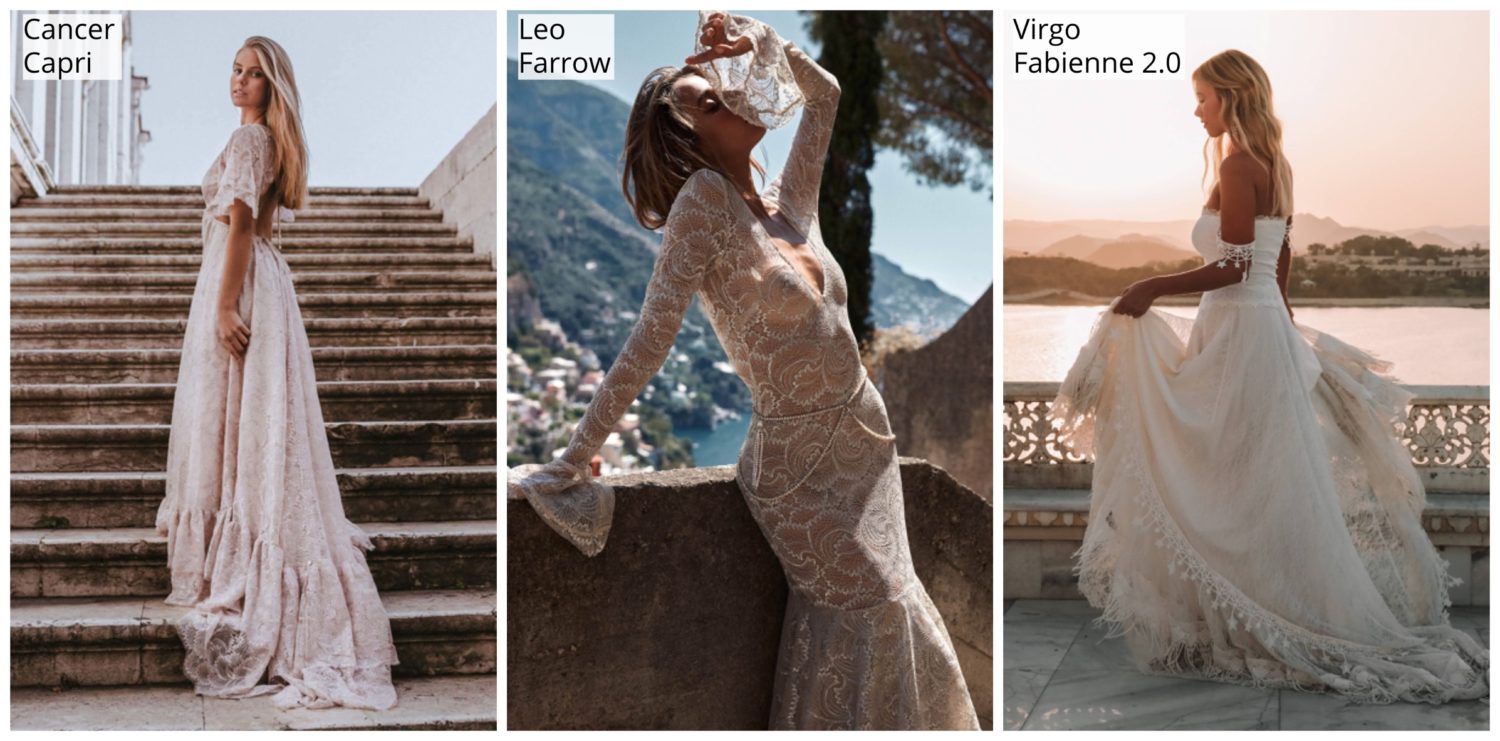 Libra
This air sign, portrayed as a scale, strives for balance & peaceful harmony across all aspects of their life. The SUMMER silhouette is characterized by its daring low back to hang which is held in perfect balance from delicate straps and v-neckline.
Scorpio
Just like a scorpion, Scorpios are known for their perfect timing – laying low and striking when least expected resulting in a wow factor, unlike any other bride! The GLL LOYOLA is subtle and striking at once – a minimalistic slip silk dress, but upon closer inspection glows with hidden silk burnouts & optional beaded backpiece for maximum visual impact.
Sagittarius
Like an arrow, a Sagittarius is straight to the point and effortless, no frills necessary allowing her fun & infectious personality to shine bright. GLL designed the FARROW SLIP to be layered under the Farrow & Bea gowns, but the champagne slip is so flattering it can be worn all on its own!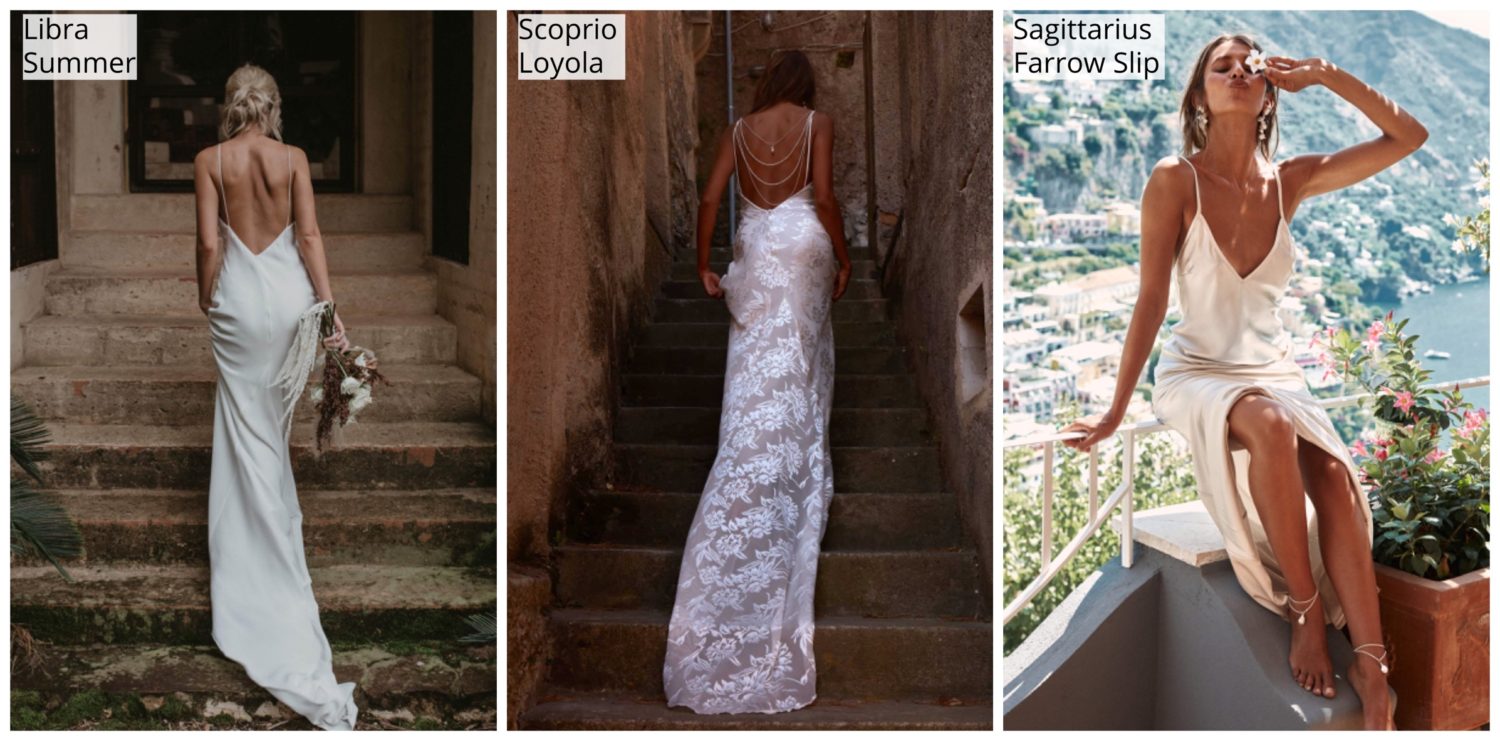 Capricorn
Goal-oriented, Capricorns understand that hardship and struggle are a part of their growth, but always come out the other side more positive and loving than before – similar to the design process behind the stunning MATTI gown. The illusion of floating pearl drops proves that nothing compares to the intricate, handmade detailing of a Grace Loves Lace gown.
Aquarius
With her selfless nature, an Aquarius bride has a reputation for her free-spirited rebel nature which often materializes in the form of unconventional fashion decisions. What is more avant-garde than a 2-piece wedding dress?! The GLL LOYOLA SET offers a peek of midriff between its off the shoulder cropped blouse and cascading skirt covered in subtle silk burnouts.
Pisces
As students in the school of life, a Pisces learns & grows from everyone & everything. Similarly, the Grace Loves Lace design team spent 12 months asking partners all over the world what they would want to see their bride walk down the aisle in. They compiled a list of the most popular gown features and HART was the beautiful result.