"The most excited two-minutes in sports," The Kentucky Derby, is taking place this Saturday and us ladies may not care for the Thoroughbred horses charging for the finish line, but when there's a Derby party, we sure do care about our fabulous Derby hats!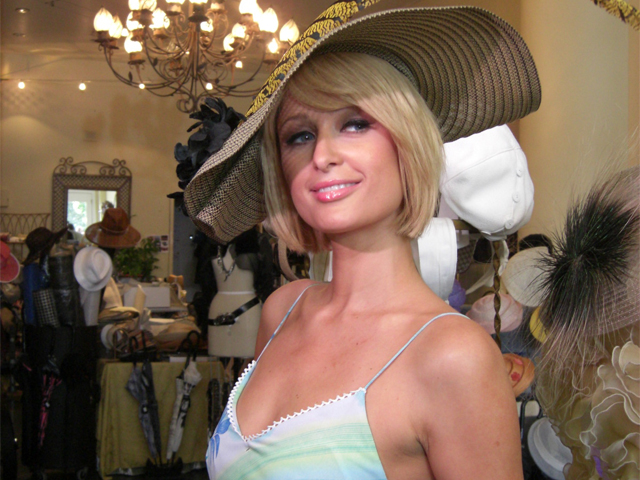 Paris Hilton sports a Derby hat
However, these unique head-wear are sometimes hard to come-by. Well Valley Girl readers, you are in luck! A new boutique at Scottsdale's el Pedregal called Mumbo Jumbo-Antiques, Boutique & Habedashery sets up ladies in style for this year's Kentucky Derby by offering a wide selection of one of a kind, handmade, Victorian hats by Elsie Massey.
Each of the Kentucky Derby hats are made with straw and have a large brim adorned with ruffled lace and distinctive fabrics. The hats come with the signature, Elsie Massey English net and a striking arrangement of flowers and feathers. Because each of the hats are made by hand, all of the designs are unique from one another.
Owner, Sherry Nelson says, "We have a fantastic selection of hats this year from touring hats and "walk in the park" hats, to straw hats and riding hats. If you are actually attending the Derby year, or merely want to be a stand out at a local party, we've got the perfect hats to try."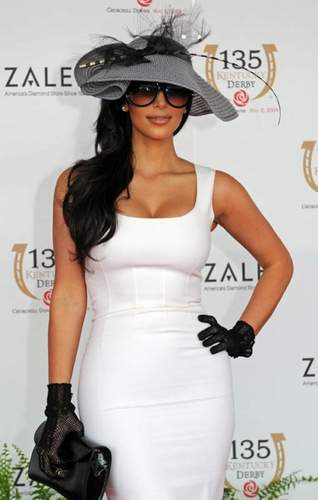 Kim Kardashian at the 2009 Kentucky Derby
In the past, the English touring hats were worn by Victorian ladies for morning walks and afternoon tea; however, in today's day and age these hats are popular for ladies lunches, theme parties, or even used as decoration in the home. Designer, Elsie Massey is a fourth generation Victorian stylist. The Massey designs originated in New Castle-on-tyne in England by her Grandmother and the family's unique craft has since been passed down generations. Currently, all creations are made by Elsie and her daughter's Soroya and Elaine.
About Mumbo Jumbo- Antiques, Boutique & Habedashery: Mumbo Jumbo is a vintage boutique offering a wide variety of antique furniture, Victorian style clothing and hats, distinctive jewelry, signature handbags, footwear and plus size fashions. Mumbo Jumbo is stocked with an eclectic mix of clothing by brands such as Cabillo that utilize healing elements of Mother Nature through stones, minerals and crystals, and Hand and Heart, a recyclable denim purse collection. Mumbo Jumbo boutique is open Monday-Saturday from 10:00am to 5:30pm, and Sunday from 12:00pm-5:00pm.
Mumbo Jumbo Boutique is located at el Pedregal at 34505 North Scottsdale Road, Scottsdale, Arizona 85266. For more information about Mumbo Jumbo Boutique, please visit the website at www.elpedregal.com or call at 480.575.5858.