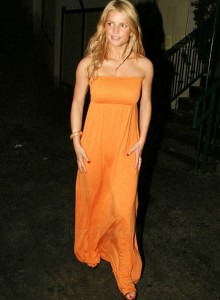 Jessica Simpson was spotted by a certain Arizona Foothills employee at the Scottsdale Fashion Square Neiman Marcus Saturday! Just a few hours before her performance at Chase Field following the Diamondbacks game, the (now) country star was seen wandering the racks.
The Deets:
She's much taller than we originally thought- no tiny 4'11" girl here! She had to be at least 5'4″
Her hair is darker than that bright blonde we're used to seeing on blogs
She was wearing a long black Nui cotton tube dress (exactly like the above orange one), flip flops, and very little makeup
She had a posse of a bunch of girls and a bodyguard
She hung out in Neiman for more than an hour, browsing nearly every department
She was looking at Neiman's high-vamp shoes, the luxurious Akris and Chanel numbers and high-end lingerie, and ended up walking around with a very cute (and modestly-priced) Elizabeth and James top (below)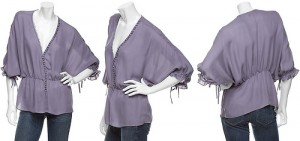 Our lives are complete.