Have you noticed how sparkly makeup of disappeared for a while? I think it was about the time of Legally Blonde II when the world realized they'd OD-ed on glitter and Swarovski crystals. It became matte nail polish, matte lips, matte hair. Matte, matte, matte.
But now it's back, in sophisticated doses. And lately, I've been embracing my twilight-toned skin and not going overboard on the usual bronzer. So aside from my never-take-it-off-wreck-my-pillowcases liquid liner, highlighter been my favorite cosmetic lately.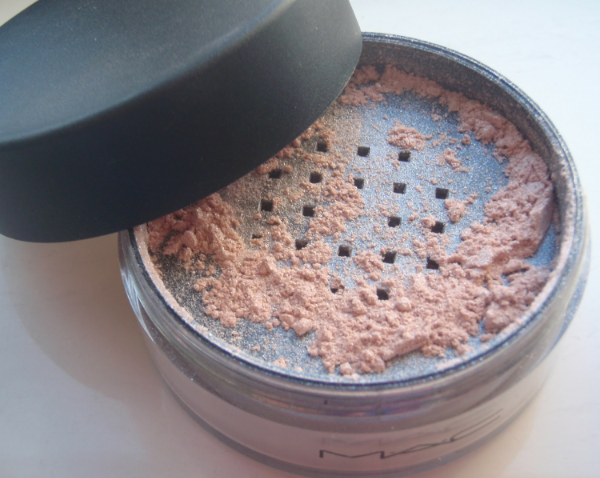 So let me share with you the holy grail of highlighters. MAC Iridescent Powder in Silver Dusk, which is a blend of Mica and pigments. I've been using it since I was a wee little Freshman in high school. I knew what was up, even in '98. As a matter of fact, I've been using the SAME CONTAINER of it for almost thirteen years now. That's really gross, now that I think about it. But it lasts that long. It's only half gone.
Anyway, it's a beautiful silvery pink that blends with your skin flawlessly, especially if you happen to have pale or cool-colored skin with pink undertones. It looks radiant on cheekbones, collarbones, mixed in with your lotion, over beige eyeshadow. It gains power when mixed with a few drops of water. It's glorious, multi-functional and adds the perfect amount of luminosity for everyday. (Want to look like a glowing alien Kardashian? Layer over this stuff.)
MAC's Description of Silver Dusk:
Iridescent Powder is a finely milled mixture of Mica and pigments which gives the skin a beautiful sheen. It can be used on its own or mixed into other products like foundations or moisturizers to enhance their iridescent qualities. Designed to apply easily and uniformly without streaking and caking, it blends beautifully and can be applied on bare skin or over foundation. Because it's so concentrated it should be used sparingly at first. Apply Iridescent Powder with #129 Powder/Blush Brush for the desired effect.