My friend organized an amazing holiday party last weekend, and I wished I would have remembered to bring something for the generous host. Shortly after, I came across something that would have been perfect for her as well as for the holiday giving season. Organic Bouquet's Flower's for Good page donates a percentage of the purchase of each flower arrangement  to a corresponding charity! In fact, shoppers have more than 50 charities to choose from, from Amnesty International to Green America and the Breast Cancer Fund. So for those of you with an upcoming holiday party, don't come empty handed and give back this Christmas.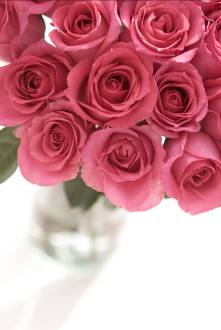 Each purchase from Organic Bouquet helps to improve the life of a flower farm worker, their family and the local floral community – and your purchase can help give an entire community a reason to celebrate.
Here are some examples of arrangements from Organic Bouquet:
Crimson Petite Bouquet: $29.95
Deluxe Evergreen Wreath with the Red Bow Regular Price: $34.95
Miniature Christmas Tree: $54.95
Holiday Runner Centerpiece: $60.76
Party To Go: $89.95
SPLURGE: Extraordinary 4 ft. Roses $205.95
A mission-based company focusing on environmental, social and economic sustainability, Organic Bouquet provides workers in underdeveloped countries everything from zero-interest loans, childcare, healthcare, education, environmental protection, supplies and more.
Organic Bouquet flowers are organically grown and have been certified by third-party agencies, such as USDA, Fair Trade and Rainforest Alliance. They are also a carbon neutral company, partnered with ClimateFund.org in a carbon offset program supporting re-forestation projects in Guatemala.