Mimicking the Pacific Heights of San Francisco or the Upper East Side of New York, the all-new CityCenter of CityNorth is the place to be for the desert's up and coming urban lifestyle… and happening events! What's a city without endless things to do and enhanced energy? That is why High Street will be home to fun-filled events for the whole family in these upcoming months. Stayed tuned!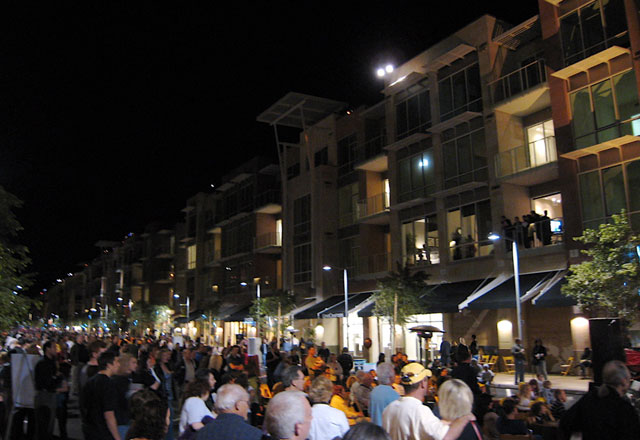 CityNorth Events: Mark Your Calendars!
APRICOT LANE FASHION PARTY
This beloved boutique will be host to a fabulous Fashion Party for all those Valley shop-o-holics.
September 1 – 30
Enjoy 30% off your entire purchase
All guests will receive 20% off their entire purchase
Call 480.515.1879 for more details
CITYCENTER OF CITYNORTH FREE KID'S CLUB
Bring the kids for some CityNorth fun and a great chance to meet others in the new city!
September 17
4 – 5 p.m.
Across from Mojo Yogurt (indoors in Fountain Court)
FREAKY 5K RUN/WALK
Dress up in your most creative and/or scary costume and participate in the Freaky 5K Run/Walk on Halloween!
October 31
5 – 9 p.m.
Prizes will be given out for best costumes
Activities and specials at the local restaurants for "drinkie-boos".
Trick or treating
Special weekend rate for racers at the JW Marriott Desert Ridge
Visit www.freaky5k.com for more details
BLUE MARTINI "Rewind"
Bring your friends to Blue Martini's "Rewind" parties, sponsored by Bacardi!
September 3, 10, 17 & 24
Bacardi sampling at the front door at 8 p.m.
DJ spinning retro tunes at 11 p.m.
BLUE MARTINI Happy Hour Book Launch – "Ditching Mr. Wrong" by Nicholas Aretakis
Single? This is a great opportunity to meet others while also learning how to "ditch Mr. Wrong."
September 17
6 – 8 p.m.
Participate in a dating game/Litmus test
$7 specialty cocktail – Mr. Right!
About: CityCenter of CityNorth is envisioned to be the urban core of the Northeast Valley of Phoenix, where shoppers share streetscapes with residents and office workers cross paths with diners. People connect with people.
Designed for sustainable living, CityCenter of CityNorth features elegant residential condominiums and luxury rentals seamlessly combined with Class A office space, contemporary boutiques and exceptional restaurants in three engaging, pedestrian-friendly neighborhoods.
CityCenter of CityNorth
5515 E. Deer Valley Dr.
Phoenix, AZ 85054
Just off the Loop-101 at 56th and Deer Valley Drive, adjacent to Desert Ridge MarketPlace and across from JW Marriott Desert Ridge Resort & Spa
www.CityCenterofCityNorth.com