I found an amazing photograph in the California Archives while visiting a few months ago.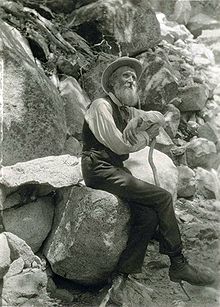 The stories of California embedded in this object are parts of John Muir's life that led him to complete his accomplishments in preserving Yosemite National Park and founding the Sierra Club. Moreover, John Muir's life and achievements have taught people the importance of experiencing and protecting our natural heritage.
John Muir's fascination for nature came at a young age and events throughout his adulthood only elevated his love for the wilderness. John Muir was born on April 21, 1839 in Dunbar, Scotland. His family migrated to the United States, settling at Hickory Hill Farm near Portage, Wisconsin. Muir's father was a harsh disciplinarian and worked his family very hard. However, every chance Muir and his brother had they would roam the fields of the Wisconsin countryside. John became more and more a loving observer of the natural world.
Years later, in The Story of My Boyhood and Youth, he stressed the rigors of his childhood but how it prepared him for his later wilderness ramblings. He was prepared throughout his childhood to have a life as a naturalist by a close attention to the wonders of nature, "everything, it seemed, drew his eye and his mind, and all creatures drew his sympathy, whether the mice that ate the grain he wrung or the ox that figured out how to open pumpkins."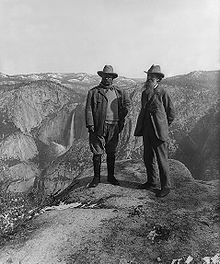 John Muir with Theodore "Teddy" Roosevelt
Another example, which sparked Muir's love for nature and encouraged him to preserve it, was in 1867, while working at a carriage parts shop in Indianapolis, Muir was adjusting some machinery with a file when his hand slipped. A point of the file punctured one eye. He lost sight in that eye and the other, days later. This event changed his life, when he regained his sight a few months later. He wanted to be a part of the atmosphere that he had not been able to see for months. Muir felt that he was reborn and decided to spend the rest of his life "immersed in the sights that had been denied from him in his darkened sickroom- the forests, fields, lakes, and mountains of pure, unspoiled nature."
Then in March 1868 his wandering course landed him in San Francisco. Little did Muir know that the conversation he had with a fellow townsman would change his life and impact California and America's future, forever.  He asked the fellowman how to get out of town. The man replied, "But where do you want to go?" Muir said, "to any place that is wild." So he went to Yosemite. While living in Yosemite his first summer he worked as a Shepard, ran a sawmill, and eventually became a guide. During this time he was "studying nature, the great truths that, he said, were written in 'magnificent capitals' the awesome stones of the Sierra Nevada."
These years in Yosemite stimulated him in his later years to turn to writing. Muir published 300 articles and 10 major books that recounted his travels, expounded his naturalist philosophy and called upon people to climb the mountains. Muir's literacy and political activity flourished by Robert Underwood Johnson, editor of Century, an influential magazine of its time. Through a series of articles in Century magazine, Muir drew awareness to the devastation of mountain meadows and forests by sheep and cattle (John Muir 4). Muir wrote two long articles on Yosemite, "advocating a National Park to surround what was then the state–run Yosemite Valley." When these articles were published, Muir and Johnson lobbied tirelessly for a solution.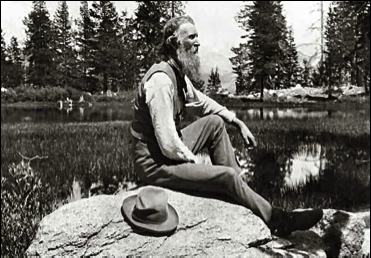 Muir believed, "Government protection should be thrown around every wild grove and forest on the mountains, as it is around every private orchard, and the trees in public parks. To say nothing of their value as fountains of timber, they are worth infinitely more than all the gardens and parks of towns." Luckily, in 1905, Congress agreed with this emotional and literary offence, creating a National Park for Yosemite that "included almost all the present day park plus the southeastern and area down to Devil's Postpile."
Thanks to John Muir, Yosemite National Park covers an area of 761,266 acres and reaches across the western slopes of the Sierra Nevada mountain chain today. Over 3.5 million people each people, "many of whom only spend time in the seven square lines of Yosemite Valley," visit Yosemite. Yosemite is international recognized for its "spectacular granite cliffs, waterfalls, clear streams, Giant Sequoia groves and biological diversity." Yosemite is a suitable habitat for more than "160 rare plants in the ark, with rare local geological formations and unique oils characterizing the restricted ranges many of these plants occupy."
Without John Muir, Yosemite would most likely be another booming metropolis with extreme devastation to our environment today. Muir helped Yosemite keep its wonders and natural beauties. Yosemite is still a place where people are able to find relaxation and peace with nature. This park is place where botanists are able to study plants and enjoy rare flowers that would be extinct if it were not for Muir's determination to preserve it. Muir has not only secured Yosemite a place for Californians to visit but also people all over the world. His work has brought millions of people to see its wonders, appreciate California's land, and helped California's tourist economy today.
Also, John Muir's plan to save Yosemite was a focal point for the development of the national park idea. California can be a proud part of founding preservation to natural landmarks.
John Muir's success to keeping Yosemite in natural condition is due to his association to protect Yosemite from the assaults of "stockmen" and others who would diminish its boundaries, the Sierra Club.  The first president of the club, Muir, stresses, "the battle we have fought, and are still fighting for the forests is a part of the eternal conflict between right and wrong, and we cannot expect to see the end of it. … So we must count on watching and striving for these trees, and should always be glad to find anything so surely good and noble to strive for. The Sierra Club was founded on May 28, 1892 in San Francisco to achieve Muir's mission.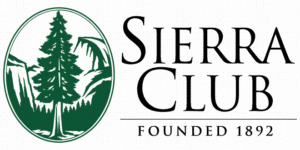 The Sierra Club members believe protect, explore and enjoy the wild places of the earth. The club wanted to promote and practice the "responsible use of the earth's ecosystems and resources; to educate and enlist humanity to protect and restore the quality of the natural and human environment; and to use all lawful means to carry out these objectives." The Sierra Club first goals included convincing the California Legislature to give Yosemite Valley to the US Federal government, and saving California's coastal redwoods. This was the first lobbying victory when Yosemite ceded the Federal Government.
However, The Sierra Club has lost battles. In the first 10 years of the 1900s the club became famous for their campaign against the damming in the Hetch Hetchy Valley within Yosemite Park. The damming of the Hetch Hetchy Valley was for the much-needed water supply in San Francisco. This event divided preservationists against "resource management" conservationists and when the bill to dam passed Congress in 1913 brought much disappointment to many members including Muir.
Yet, John Muir's and California should be proud to have founded an association that is today the oldest, largest, and most influential "grassroots environmental organization" in the United States. The Sierra Club has millions of members in chapters located throughout the America and is affiliated with the Sierra Club Canada. Today, if one visits the website they will find tons of ways to get involved in their area, programs to help preserve the environment, conservation initiatives, pressing issues that are important to partake in and 8 publications to read.
Muir and Californians have made a difference in the world today by the founding of this club.  The Sierra Club still is active today and known on a national level.  During the 2008 election last month, The Sierra Club endorsed Senator Barak Obama for President, citing "his strong record of support for clean air, wetlands protection, and clean energy." The Sierra Club wants to provide the president elect with as much help as he needs because they know that the president will help their cause too.
John Muir died in a Los Angeles hospital in January 1914 of pneumonia but will always be remembered for his hard work and words that heightened our perception of nature. Without the events in John Muir's life that inspired him to love nature and protect it, he would not have been as influential as he was. Muir helped save the natural beauty of America. California would not have the amazing Yosemite National Park or National Parks in the rest of the United States. The environment would be in more devastation from Global Warning than it already is without the help of the Sierra Club. Muir not only helped save California's nature but "his personal and determined involvement in the great preservation questions of the day was and remains an inspiration for environmental activists everywhere."
Sources
1. "California Archives." John Muir. June-July 1920. Online Archive of California. 8 Dec. 2008 <http://www.oac.cdlib.org/>.
2." John Muir: A Brief Biography." John Muir Exhibit. 22 Mar. 2001. The Sierra Club. 6             Dec. 2008 <http://sierraclub.org/john_muir_exhibit\>.
3.. Muir, John. "Quotes By John Muir." Quotes. 5 July 2005. 7 Dec. 2008            <www.sierraclub.org/john_muir_exhibit/writings>.
4. Perrottet, Tony. "John Muir's Yosemite." Smithsonian People and Places. 3 July 2008.             Smithsonian Magazine. 7 Dec. 2008 <http://smithsonianmag.com/people- places/yosemite.html>.
5. "Sierra Club Facts." The Sierra Club. Oct.-Nov. 2004. The Sierra Club Foundation. 7     Dec. 2008 <www.sierraclub.org>.
6. Weiss, Don. "John Muir." Ecology Hall of Fame: John Muir. 12 Feb. 2006. 12 July      1997 <http://www.ecotopia.org/ehof/muir/bio.html>.
7. "Yosemite National Park." Yosemite National Park Facts. Apr.-May 2005. 7 Dec. 2008            <www.nps.gov/yose/>.