This year's "it girl" Megan Fox is destined to wear the famed Catwoman suit in the next addition of Christopher Nolan's Batman sequel. She will star as Selina Kyle alongside Christian Bale, who will once again star as Batman, and Michael Cane who will play his butler.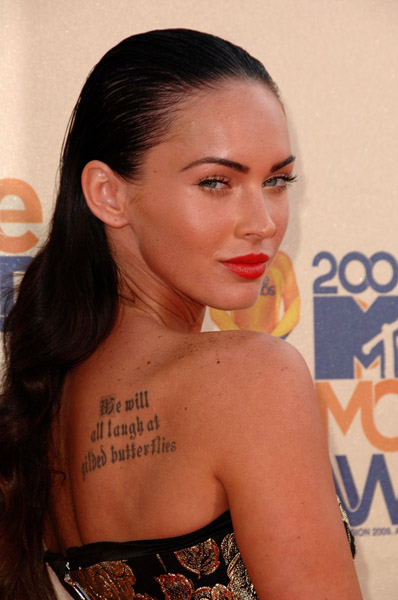 With past talk of Megan Fox being a younger and more sexier Angelina Jolie, this casting decision will throw another log on the fire as the role of Catwoman was rumored to be property of the older, mother of six a few months back. However, this is not the first time the studios have chosen the younger Megan Fox over Jolie. Megan is said to play Lara Croft in a new Tomb Raider movie, the same series that made Angelina Jolie a household name in 2001.
Megan Fox will have to compete with her predecessors Michelle Pfeiffer, who played Catwoman in Batman Returns, and Halle Berry, who played the lead in the spin off film Catwoman.
However sexy Megan Fox may be, the role of Catwoman in Bale's remake is said to be "more sinister" with "a darker edge".
The new movie is not expected to be released until 2011 and is said to start filming in 2010.
There have been rumors that Johnny Depp will take on the role of The Riddler and Philip Seymour Hoffman will play The Penguin. But other than Megan Fox, Christian Bale and Michael Cane, there have been no other confirmed actors or actresses starring in the new film.
Christian Bale's The Dark Knight, released in 2008, became only the second film to earn more than $500 million at the North American box office. It is also the fourth highest grossing film worldwide, and only the fourth film to earn more than $1 billion, worldwide, according to Wikipedia. The Dark Knight received great reviews and was awarded two Academy Awards – one for Best Sound Editing and Best Supporting Actor for Heath Ledger's performance as The Joker. Ledger died from an accidental "toxic combination of prescription drugs" during the editing period of The Dark Knight.
The new Batman film will be the third installment of the Christopher Nolan-directed films, which have starred Christian Bale as Batman. The first to hit theatres was Batman Begins in 2005, starring Michael Caine, Gary Oldman, Liam Neeson, Katie Holmes, Cillian Murphy, Morgan Freeman, Ken Watanabe, Tom Wilkinson, Rutger Hauer and, of course, Christian Bale.