While men stay in to watch the big game, ladies, we stay in to watch Randy, Paula, Simon, Ryan and the talented (and not so talented) contestants of the one and only American Idol! Of course genders may jump sides, but we can all agree that American Idol has become the biggest American frenzy since Elvis Presley. Sorry guys, even the Super Bowl is becoming second to the AI finale extravaganza. And now the days of waiting are finally over because tonight Season 8 of the show heard round the world kicks off with Idol wannabes from right here in Phoenix, Arizona!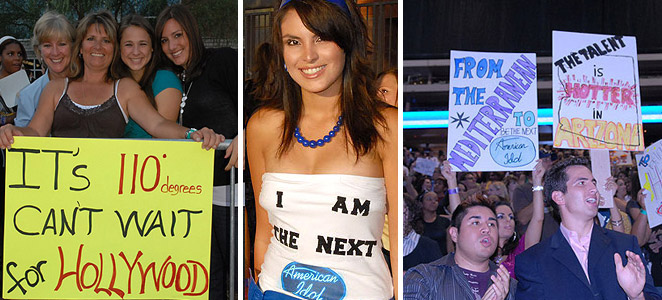 What's new in AI Season 8?
The Fourth Judge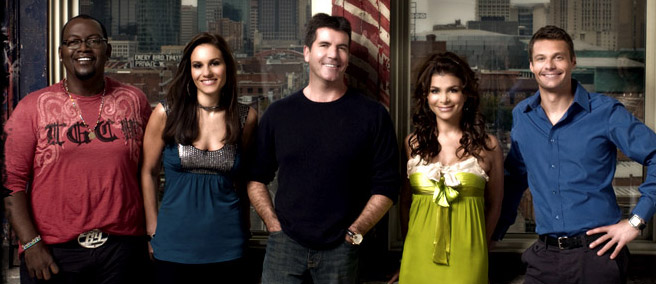 It's a brand new season, with brand new contestants, brand new talent and brand new drama. But that's not the only thing new to American Idol Season 8. You've probably heard of the additional judge on this season's panel — the Grammy-Nominated songwriter Kara DioGuardi. Her optimism and empathy toward the contestants, countering Simon's harsh and overcritical critiques, is expected to bring a Paula-esque type judging. Executive Producer Cecile Frot-Coutaz says AI originally intended on having four judges, mirroring the international series. I for one am excited for Kara's debut. AI needs another female perspective and Paula could use some back-up against Simonster.
No Idol Gives Back
A more unfortunate change to this year's season — Idol Gives Back will not return. Seems even American Idol is facing cutbacks with our current economic situation. But according to Ken Warwick, the IGB preparation process is pretty grueling and takes away from the main competition, which is just weeks later. However, IGB is not permanently removed from AI, according to Warwick. So hopefully next year things will change… among other things.
More Social Coverage
This year, the cameras won't only be pointed at the stage. During Hollywood Week the contestants will be captured off stage, showing more of their social interactions. I guess to be an idol, you must act like one too.
All-New AmericanIdol.com
What's American Idol without the incessant blogging and online video playbacks? American Idol has revamped its Web site so when you're not glued to your t.v., you're on AmericanIdol.com. The new features include a utility bar with search and Community links, richer site navigation, home page videos, new photo gallery, upgraded video player, and best of all, the brand new MyIdol Community! If you're veering toward the obsessed side, this cyber-Idol network is for you. MyIdol allows you to interact with infatuated fans just like you. Once you're a member (don't worry, it's free) you can peruse exclusive, members-only content, create your own MyIdol profile, photo galleries and blog, send messages, receive updates from friends, and join discussion forums for AI rumors and gossip.
Idol gets better and better every year!