Occasionally us women need some time to ourselves. We spend so many hours of the day worrying about our significant other, bosses, children, friends, etc., that we forget the most important person… our self. British Author Kathy Lette writes to put laughter back into life's ups and downs with books on love, lust and life – which has made her an international sensation. Last night in London, Lette celebrated the release of her new book and first waterproof novel "All Steamed Up," which strives to persuade stressed "mums" to be a little more selfish.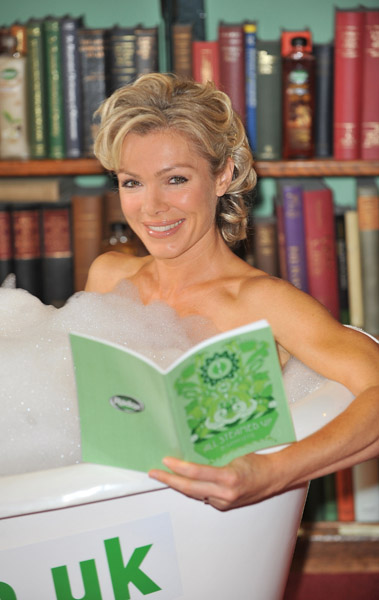 Model Nell McAndrew Poses for "All Steamed Up" Photocall on Sept. 7.
"All Steamed" up is sure to make you giggle in the bathtub as it is a witty take on those pivotal moments in a woman's life from marriage to motherhood, to even divorcehood. Women everywhere are invited to order a free splash proof copy or download her podcast and listen to it, because certainly you can be too busy to read.
No need to keep your hands dry or book held high while you're reading in the tub or by the pool. "All Steamed Up" is made conveniently waterproof, for your splashing pleasure!
Kathy Lette also invites you to:
Read her top tips to "be selfish"
Enter her free prize drawing for a weekend for two
Receive free mobile downloads for "be selfish" reminders
Take psychologist Jenni Trent Hughes "Calm and Collected or Ready to Erupt" quiz to see if you aren't taking enough time for yourself
Shop for Radox shower therapy tools
Ways to Be-Selfish and Take Time for Yourself:
1. Do at-home yoga
2. Give yourself a facial
3. Get a table for one at your favorite restaurant
4. Get a mani/pedi with your girlfriends
5. Rent a chick flick and eat your favorite sweets
For more information, visit www.be-selfish.co.uk.