If you had billion dollars, what would you get? A piece of timeless jewelry might be what you're thinking! If you're looking for the best of the best gift for a loved one, be sure to browse through David Yurman's 2011 Fall/Winter Collection.  Simple, but bold, these fine items are fit for anyone who is looking for a classic item to last a lifetime.  Be ready to make those close to you "ooo" and "ahh" this holiday season.
Elegant and Edgy
This bulky, chain-linked necklace is a great way to make a fearless statement. This piece is all hand-made with 18-karat yellow gold. With a pop of the one gold link this is an edgy and unique piece. Pairing the Hammered Chain Necklace with a simple colored, high neckline dress will make her not only look fashionable, but feel classy this holiday season.
*Also available as a bracelet. Visit davidyurman.com for details.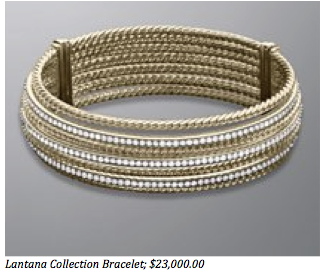 Simply Satisfying
What lady wouldn't want this 2.20-carat diamond bracelet dangling from her wrist? The Lantana Collection Bracelet is a woman's ideal piece of jewelry. Pave diamonds are embedded making this more than your everyday gold bracelet. This is one way to catch her eye and make a fashion statement.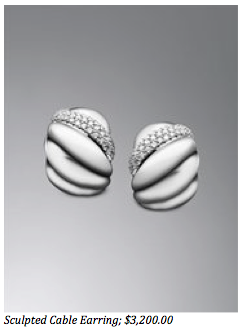 The Right Light
Perfect for night, these Sculpted Cable Earrings could adorn any event ensemble. These unique earrings are designed with textured bumps topped with a 1.52-carat weight. Made with pave diamonds, these earrings add a glint of sparkle when the light hits them just right.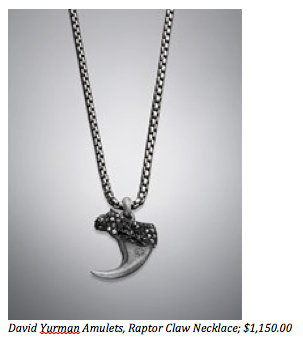 Charging the Claw
The David Yurman Amulets, Raptor Claw Necklace is a diamond raptor claw shaped pendant that hangs on a sterling silver chain. This necklace can add flair to a casual outfit. The Rapter Claw is great for any occasion, either day or night.
 
An All-Time Favorite
David Yurman was sure to add a one-of-a-kind dog tag as a part of his Winter collection! The Maritime North Star Tag Necklace is great for any guy who wants to show off his masculinity. This black diamond dog tag is great for the stylish young man with an edge; whether it's for casual dress, or dressy.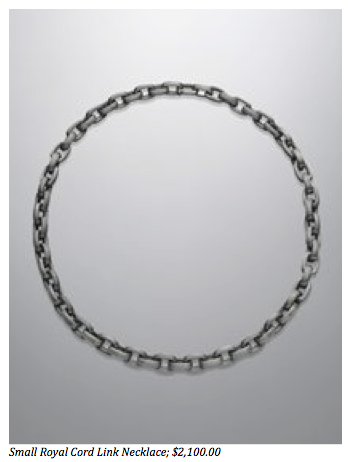 Back to Basics
If he doesn't own one at the moment, it's up to you to get him a chain necklace. Simple and basic, this sterling silver link necklace adds the perfect touch to any man's fashion staple. Whether it's paired with denim or slacks, this necklace is a must-have for all men.
For more information and to check out more of David Yurman's Fall/Winter Collection, click here.