Only a few months ago, Olympic gold medalist Shawn Johnson was announced the winner of Season 8 "Dancing with the Stars" competition on ABC. Well it's time to start gearing up for Season 9, because this morning on "Good Morning America" the show's host, Tom Bergeron, revealed the 16 chosen celebrities, which include an actress from "Entourage," an Olympic snowboarder, a Food Network host, pop stars, models and even a former U.S. House of Representatives leader. Check out the roster…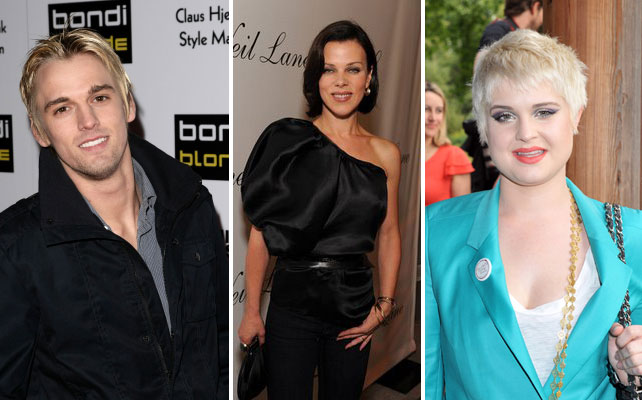 Celebs to hit the dance floor include:
1. Supermodel Kathy Ireland
2. Singer Macy Gray
3. Actress Melissa Joan Hart
4. Singer Mya
5. Actor Ashley Hamilton
6. Football star Michael Irvin
7. Food Network host Mark Dacascos
8. Actor and singer Donny Osmond
9. Reality star and singer Kelly Osbourne
10. Actress Debi Mazar
11. Ultimate Fighting champion Chuck Liddell
12. Olympic swimming champ Natalie Coughlin
13. Swimsuit model Joanna Krupa
14. Olympic snowboarder Louie Vito
15. Pop star Aaron Carter
16. Former House Majority leader Tom DeLay
Does the list seem a little lengthy to you? That's because Season 9 will have the largest lineup in the show's history. However, Tom Bergeron said the show will have three weeks of double elimination in the middle of the season so the competition will stay on schedule.
Mark your calendars for Sept. 21 for the Season 9 "Dancing with the Stars" three-night premiere starting at 8 p.m. EST.
On a personal note, Dancing with the Stars professional dancer and two-time champion, Cheryl Burke, has used her fame to teach others the art of dancing with her own Cheryl Burke Dance studios across California. I was able to personally experience one of her adult classes and it is truly an amazing workout… plus it is a whole lot of fun! Check out her Web site for Cheryl Burke Dance studios at www.cherylburkedance.com.
About "Dancing with the Stars": "Dancing with the Stars" has become a global craze for televised reality competitions. It also allows B-listed celebrities to gain publicity and runs two seasons per year. It is aired on ABC (American Broadcasting Company) in the United States but was originally started as "Strictly Come Dancing" in the United Kingdom. It is part of BBC Worldwide's international Dancing with the Stars franchise and in America "Dancing with Stars" is hosted by Emmy Award-winning game show host and TV personality, Tom Bergeron and former E! reporter, Samantha Harris, according to Wikipedia.