As a leader of Disney Conservation's sea turtle program, Tempe native and University of Arizona alumna Rachel Smith plays an important role in the magic that takes place near Disney's Vero Beach Resort in Florida. For over a decade, Smith has been studying and protecting sea turtles that nest on Florida's beaches, helping Disney ensure a positive future for these at-risk animals.
"We're in our 20th anniversary of Disney's sea turtle conservation program this year, which is really an exciting milestone for us and I am fortunate to have been there for the majority of that time and progressed to the point where now I lead that amazing program full of absolutely wonderful cast members from all sorts of different departments across Disney that come together to help us advance the conservation of sea turtles in Florida," says Smith.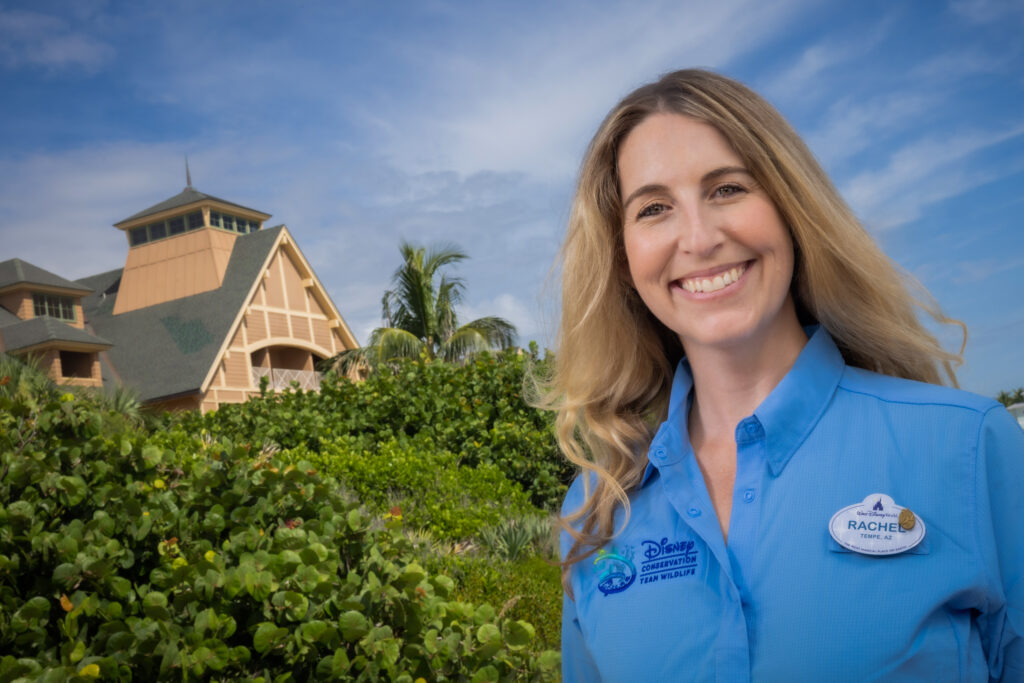 This year, Smith's dedication and conservation efforts toward these amazing animals have led her to witness an historic nesting season bringing new hope to sea turtle conservation. So far this season, Smith and her team have discovered a record-breaking number of over 2,800 nests in Florida, which is more than 1,000 nests ever recorded at Disney's Vero Beach Resort.
"We are in the midst of what I am calling an historic and unprecedented sea turtle nesting season here in Florida and it's not just on the five miles of beach that my team at Disney monitors everyday, it's been a trend that's being observed across the entire state of Florida," says Smith. "Our previous record for our stretch of beach was in the sixteen-hundreds, which is still a lot of nests for a five-mile stretch of beach in a season. We look to be at about 2,840 [nests] right now as we round up the end of the nesting season, so it's almost double of what we recorded in the past."
This amazing discovery required relentless dedication from Smith and her team, who go out at first light to the field site each morning during nesting season, which runs from March through October, in order to conduct population monitoring by cataloging all of the nesting and hatching activity that occurred the night before from the three species of sea turtles that nest there—all of which are threatened or endangered.
"I've watched the morale just increase on this team just bearing witness to the nesting season that we saw this year and feeling like all of the blood, sweat and tears . . . seem worth it because you see that it is translating into real successes for these animals that we love so much," shares Smith.
While Smith and the sea turtle conservationist community don't fully understand all the contributing factors behind the record-breaking number of nests found this season, Smith points to the fact that sea turtle conservation efforts take many years to come into fruition and that the hatchlings seen today may be the second-generation of sea turtles who were originally protected under the U.S. Endangered Species Act fifty years ago—an exciting concept that offers hope for the future of sea turtles and the important conservation efforts that take place around Disney's Vero Beach Resort.
"[Disney's Vero Beach Resort] is one of the most dense areas for sea turtle nesting in the state and the whole south eastern portion of Florida is very critically important for loggerheads, green turtles, as well as for leatherback sea turtles, which is a critically endangered species, so it's a very exciting and special place to be," says Smith.
For Arizona residents and those who don't live by the coast, protecting sea turtles is no less significant than it is near sea turtle nesting beaches in Florida, as streams and canal systems lead directly into the oceans. Eliminating plastic in our everyday lives is a major way to combat the waste that ends up in the ocean and ultimately in the bellies of sea turtles.
"It's sort of an out-of-sight, out-of-mind problem for many of us, but the everyday choices that we make . . . are going to have an absolutely monumental impact for our sea turtles across the world's oceans," says Smith. "The other thing that I would point to is eating sustainable seafood. That's something that we can all do regardless of where we live and there's an amazing program called the Seafood Watch Program out of the Monterey Bay Aquarium that is a great resource; they have regional guides and all sorts of really helpful information in there to help you make the right decisions in purchasing seafood, whether you're at the grocery store or a restaurant."
To learn more about the amazing work that Arizona's own sea turtle conservation champion is doing at Disney and what you can do to get involved, visit impact.disney.com.
Photos courtesy Disney