by Naudia Andrescavage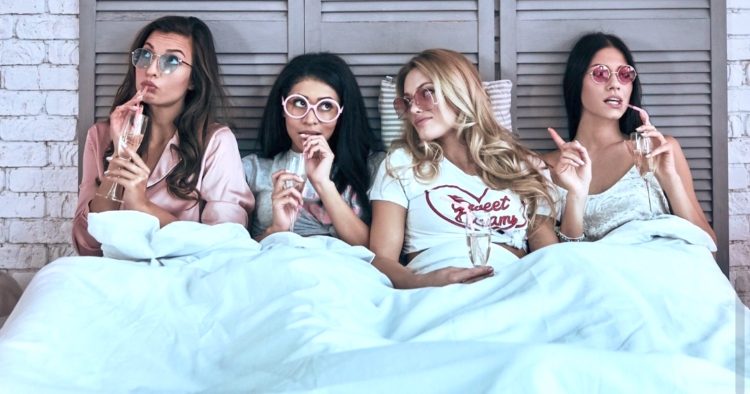 Popcorn? Face maks? Girlfriends? Yes, yes, and yes! Rumor is that 'going out' is the new 'staying in,' especially when you have your girls by your side.  Whether you are in the mood to laugh or cry, grab your glass of wine and bowl of sweet treats because we have the ultimate list of chick flicks for a perfect girl's night in…
13 Going on 30
Who needs a boyfriend when you can be "thirty, flirty, and thriving." This is by far one of our favorite feel-good movies! 
Sex & The City
Who doesn't love a good SJP moment… she's looking for love in all the wrong places (but definitely in the right shoes).
Legally Blonde
Sorority girl Elle Woods meets Harvard, and let us tell you… it's not all about looks in law school. 
 

 

View this post on Instagram

 
How to Lose a Guy in 10 Days
Let's just say… staying in a relationship is harder than it looks! This movie will for sure pull at your heartstrings.
Sixteen Candles
This is one of our favorite classic teen romance movies! You can't go wrong with a good old 80's love story.
Mean Girls
Oh Regina! This chick flick is one you could possibly never get tired of, it's full of humor, drama, and some of the most quotable movie lines EVER! It's SO fetch!
 

 

View this post on Instagram

 
To All the Boys I've Loved Before
This is definitely a new classic! Lara Jean and her love letters are out of control – literally! You're bound to be glued to the TV screen.
Uptown Girls
Little Dakota Fanning is just the cutest, and sassiest…but we love it! 
The Devil Wears Prada
Where do we even begin? This movie just proves the fight for your career, love, and opportunity costs are all based on your actions. Life is ultimately the set of choices you make for yourself. Meryl Streep and Anne Hatheway are just too perfect in this movie. Such a great story and "that's all."
 

 

View this post on Instagram

 
27 Dresses
Wedding, weddings, and more weddings AGH! We love a good romantic comedy movie with lots of styles and the hunt for love.
The Wedding Planner
There is nothing sweeter than a cheesy romantic comedy! Matthew McConaughey and Jennifer Lopez are just too good together.
Clueless
She's your typical "teen queen." She's Cher, and she isn't having it..but we sure are! We love this classic 90's movie!
 

 

View this post on Instagram

 
Made of Honor
Mr. McDreamy…and that is all we have to say…
The Notebook
"What do you want?!" A tissue, please! The tears will be falling.
Girl's Just Wanna Have Fun
Enough said.