Did you know skin cancer is the most common cancer in the U.S. today and that one in five Americans will develop skin cancer in the course of a lifetime? I didn't! In an effort to educate the masses on this deadly disease and help fight it, Arizonans are invited to participate in the first annual Run From the Sun Half Marathon, 5K and Family Fun Run this Saturday, Nov. 14 to benefit the American Cancer Society and the Shade Foundation!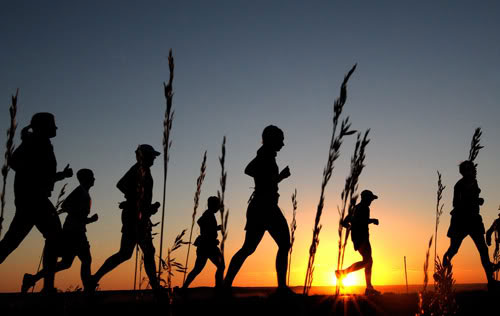 The event kicks off at Hohokam Stadium in Mesa. The half Marathon begins at 7 a.m., the 5K begins at 7:30 a.m. and the Family Fun Run begins at 9:30 a.m. Registration can be made on Saturday at the Stadium or online at www.runfromthesunaz.com.
Along with helping aid others in the fight against skin cancer, runners and walkers will receive a long-sleeved technical race shirt, pre-race pasta meal, goodie bag, free skin analysis, raffle ticket and a training plan. Everyone who participates will also receive a finisher's award and prizes are presented to the top three winners in each age group. The whole day benefits the American Cancer Society and the Shade Foundation.
If you want to stay close to your race, discounted hotel accommodations are available at the Phoenix Mesa Marriott by calling 888.236.2427. Simply mention "Run Sun Marathon" or click here and enter "runruna" as the group code to make reservations. 
Location:
Hohokam Stadium
1235 N. Center St.
Mesa, AZ, 85201 
More Skin Cancer Facts:
One person dies every hour from Melanoma in the U.S. alone
There are more new cases of skin cancer diagnosed each year than breast, prostate, lung and colon cancers combined
"Dermatologists believe [these statistics] are due to the fact that patients do not heed/and or know the early  warning signs. With early detection and proper treatment, the cure rate for Melanoma is about  95%."
"Many of the more than 1 million skin cancers  diagnosed each year could be prevented with protection from the sun's rays," according to the American Cancer Society.
Run from the Sun also invites you to "make you miles more meaningful" and raise funds for the American Cancer Society DetermiNation:
                 For a donation of only $10 you can:
                                        – Recieve your own personal fundraising website and set your own fundraising goal
                                        – Run or walk in memory or honor of those who have battled cancer
                                        – Recive special recognition during the Run From The Sun race
                                        – Raise crucial funds that will support American Cancer Society research and programs
                 For a donation of only $10 and a commitment to raise $500 you'll receive:
                                        – Designation as an official DetermiNation participant
                                        – Personal fundraising website
                                        – Exclusive American Cancer Society racing singlet
                                        -Access to group training programs and special discounts at local running stores & running groups
                                        -VIP amenities during the Run From The Sun race
                                        -Receive special recognition during the Run From The Sun race
                                        -$15 off Run From The Sun Entry Fee
                                        -The opportunity to run or walk in memory or honor of those who have battled cancer

You can make your $10 donation and sign up for your personal website at determination.acsevents.org/phoenix