If the buzzing musical Wicked can cast such talents as now superstar Adam Lambert, who has frequently been named "best American Idol contestant ever," then you got to know that this spellbinding production is something to be seen. Tickets are on sale now for the on-tour show coming to our very own ASU Gammage Theatre in Tempe starting July 1 and running through July 26.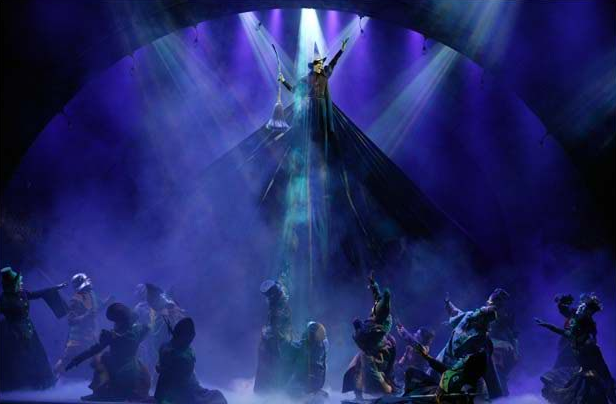 The magical and colorful production tells the story not of Dorothy, but the upbringing and relationship between the Wicked Witch of the West and Glinda the Good Witch. You can imagine which girl was born with emerald green skin and a fiery, smart, yet misunderstood personality. Glinda is of course beautiful, ambitious and very popular in the land of Oz. But how these two unlikely friends end up as the Wicked Witch of the West and Glinda the Good Witch, I will not reveal because you must see first-hand this enchanting musical!
The story has something for the whole family and although this is not the Wizard of Oz production, spectators can still relate to the original flying monkeys, powerful Wizard, talking animals and more.
Wicked was destined for greatness with the all-star team of collaborators who have made it an unsurpassed phenomena. Double Tony-Award-winner (Take Me Out, Frankie and Johnny in the Clair de Lune, Glengarry Glen Ross) Joe Mantello is the ingenious director behind the scenes of Wicked, which features music and lyrics by Stephen Schwartz (Godspell, Pippin, Academy Award-winner for Pocahontas and The Prince of Egypt). "Wicked" the book was by Winnie Holzman ("My So-Called Life," "Once and Again" and "thirtysomething"), and is based on the best-selling novel by Gregory Maguire. Musical staging by Tony Award-winner Wayne Cilento (Aida, The Who's Tommy, How To Succeed…)
Wicked has now returned home to San Francisco to the Orpheum Theatre downtown and can also be found in New York at the Gershwin Theatre. Recommended age for children is 8 and older. No children under 4 are admitted. Running time for the show is 2 hours and 30 minutes, plus a 15-minute intermission.
** Keep your eye out for the part of Fiyero as Adam Lambert was his understudy in the touring and Los Angeles casts.
Dates & Times:
July 1, 2009 – July 26, 2009
Sunday: 2-7 p.m.
Tuesday/Wednesday: 7:30 p.m.
Thursday: 7:30 p.m.
Friday: 7:30 p.m.
Saturday: 2-7:30 p.m.
ASU Gammage
1200 S. Forest Ave.
Tempe, AZ, 85287
800.745.3000
Tickets can be purchased at www.ticketmaster.com or at www.asugammage.com.
For more information on Wicked visit www.wickedthemusical.com.