By Katrina Fox
Keeping busy on the weekends is my favorite way to beat the heat. Arizonans, we are almost through the summer months! Before we move on to September, take a look at the events taking place in your backyard. Starting with today, Thursday, August 17th, I've rounded up local events perfect for the Valley Girl that will take you through to next Sunday.
Summerize Your Skin at Dermalogica
Thursday, August 17, 4pm to 6pm – 4223 North Marshall Way, Scottsdale, AZ 85251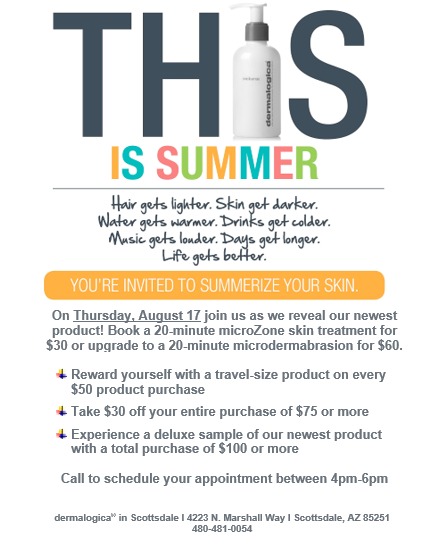 For the beauty queen + tech savvy Valley Girl – Dermalogica is an innovative skin health company that is always introducing new technologies. Tonight is no different! Join five local bloggers, including myself, at Dermalogica in Scottsdale as they launch a top secret new product to the public. For the launch party, Summerize Your Skin, Dermalogica aestheticians will be offering skin treatments and gift incentives. Come for a discounted microZone skin treatment or an upgraded microdermabrasion treatment, and meet face-to-face with some of my favorite local fashion, lifestyle and beauty bloggers including Kate Berkley, Neyda Melina, Siara Rochell and Francesca Navarro. For more information or to purchase tickets, click here. Mark your calendar for another Dermalogica event on 9/8/17 from 5-7pm, Skin Screening Soiree.
Pearce Family Foundation's Purses with Purpose
Friday, August 18, 5pm to 8pm – District at The Biltmore, 4600 N. 24th St., Phoenix AZ 85016
For the fashionista + charitable Valley Girl – If shopping is your cardio, but your wallet is getting a little too thin, come to Purses With Purpose! This event allows you to give back to charity and leave with a new purse. In order to participate in the purse exchange, you need to bring a new or gently used purse with a value of $75 or more. At the end of the event, there will be a white elephant exchange allowing you to leave with a new purse and some new friends. The funds will go to support both Pearce Family Foundation (PFF) and Dreamcatchers. If you are not currently in a place in your life to part from a purse (trust me, I get it!), then come as a window shopper so you can still join the fun! For more information, click here. Mark your calendar for another PFF charity event on 10/14/17 from 8am-2pm, Clays for a Cause.
Bumble BFF x Tough Lotus x Kaleidoscope Juice // Alliance for Children Everywhere
Sunday, August 27, 2017, 1pm to 3pm – Tough Lotus, 3050 N Dobson Rd, Chandler, AZ 85224
For the adventurous + active Valley Girl – Join the Bumble BFF bee hive as they hang from the ceiling, sip on greens, make new friends and support Alliance for Children Everywhere. Bumble BFF is the friend-finding app from Bumble and the local bees are teaming up at least twice a month to take part in a local activity with friends while supporting a charity through ticket sales. If you can't make it to this event, please feel free to reach out to me on Instagram @thefoxykat1, or email katrina@thefoxykat.com to find out when and where the next event is. For more information, click here.
Katrina Fox is a marketing and public relations professional, wardrobe and beauty stylist, and the founder of The Foxy Kat (fashion, beauty and lifestyle blog.) For more information, please visit thefoxykat.com or check out her Instagram @thefoxykat1.