Travel back in time to the days of kings and queens, and lords and ladies. The 25th annual Arizona Renaissance Festival will arrive to the Valley in classic medieval flair with knights, rogues, royalty and craftsmen starting February 9 through March 31.
Interact with more than 2,000 brightly costumed actors, dancers and musicians who will roam the 30-acre ground, and explore 200 charming craft shops, 12 stages of non-stop entertainment, an arena for full-contact armored jousting, kitchens, pubs, and people-powered games and rides.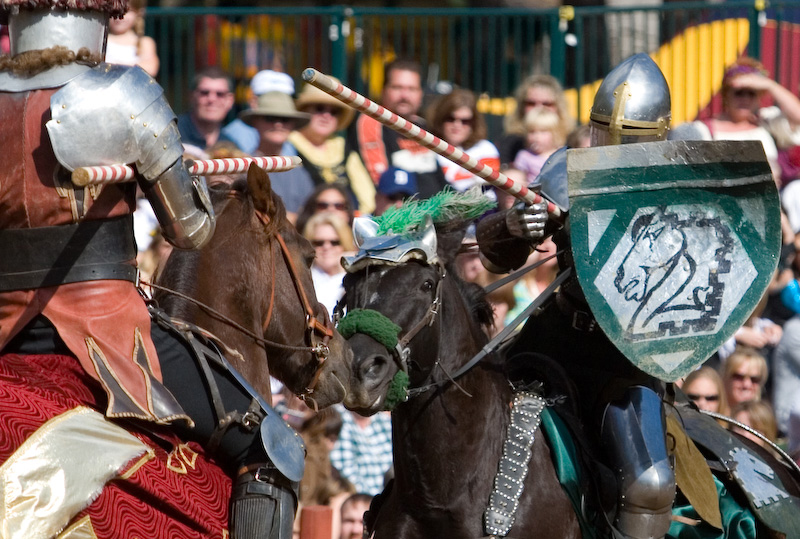 When you need to take a break from the more than 150 daily shows, feast and drink on Medieval Margaritas, Da Vinci Coladas, Dukes of Daiquiri, wine, honey mead, beers and ales, along with soft drinks and lemonade for the kids. Unique to the fair is The Pleasure Feast, a one and a half hour five course medieval feast with live music and comedy entertainment, all you can eat and drink, plus festival souvenir. With limited seating twice daily, advance feast reservations are recommended.
Shopping areas hold demonstrations of time honored crafts such as weaving, jewelry making, glass blowing, blacksmithing and pottery throwing.
Of course, you can't leave the festival without witnessing a live jousting tournament, complete with knights on horses and clanging weapons.
What: The 25th Annual Arizona Renaissance Festival
Where: East of Apache Junction on US Highway 60, near the Superstition Mountains.
When:   Eight consecutive weekends (Saturdays, Sundays, and Presidents' Day Monday) from February 9 through March 31, 2013. The Festival runs from 10a.m. until 6:00 p.m., rain or shine.
Tickets: Advanced discount tickets available for purchase and print at home on-line www.RenFestInfo.com or at Fry's are $20 for adults and $10 for kids ages 5 – 12, children under 5 are always FREE. Tickets purchased at the Festival Box Office are $2 more. Discounts tickets for seniors (60 and older) are $19, only available at the Festival Box Office. Parking is FREE courtesy of Fry's.