Calling all mothers, daughters, sisters and girlfriends! The Fairmont Scottsdale is planning their first-ever "Power of Pink Weekend" just for girls April 23 through 25 to support the Phoenix Affiliate of Susan G. Komen for the Cure.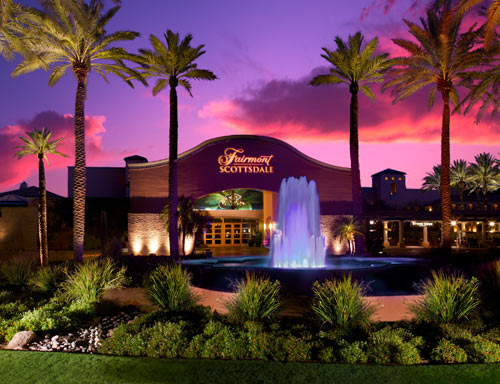 "There's just something special about pink. It's cheerful. Girly. The color of spring. A ribbon for hope."
This fun, inspiring weekend includes:
Resort accommodations for two nights
Pink pajamas from Willow Stream – The Spa at Fairmont
A "blinged" Spa Girl baseball cap from Willow Stream
A copy of "Shaken and Stirred, Healthy Cooking Using Your Favorite Spirits" by Dietitian in the Kitchen Diane Henderiks
Willow Stream's signature Pink Pedicure benefiting the Phoenix Affiliate of Susan G. Komen for the Cure
One complimentary Whish body product
Plus the following meals and weekend events:
Friday evening "Pretty in Pink Margarita Mixer" in Hacienda Plaza featuring pomegranate margaritas and healthy hors d'oeuvres from the vibrant new menu at La Hacienda by Richard Sandoval
Saturday morning "Pink Parfait Breakfast" with pink prickly pear lemonade served in Willow Stream's sunlit atrium, followed by morning Latin Heat and Yoga classes
Saturday afternoon "Power of Pink Luncheon" featuring inspirational speaker, registered dietitian Diane Henderiks, known as the "Dietitian in the Kitchen," who will also be introducing the new spa menu she and Sandoval are creating expressly for Willow Stream at Fairmont Scottsdale
Saturday night "Pink Pajama Party" at Willow Stream spa featuring pink champagne and pink chocolate dipped strawberries, with hand treatments and chair massages
Plus, girls who take part in the "Power of Pink" weekend will be directly supporting Komen Phoenix Affiliate, which grants funds for breast health resources and programs.
The hotel will be decked out in pink as the experts at Willow Stream have designed a "Power of Pink" spa treatment room complete with pink walls painted in the official Komen colors, along with a pink quilt hand-sewn by breast cancer survivors and a pink ribbon plaque with inspirational phrases. There is also a dedication poster for guests to sign their name or the name of a loved one. Five percent of all of massages performed in the "Power of Pink Room," as well as all "Pink Pedicures" in the Spa Salon benefit Komen through October 2010.
With these "Pink" spa services at Willow Stream, spa-goers can relish in 44,000 square feet of luxury facilities, including exercise classes, state-of-the-art work-out equipment, sauna, steam, inhalation room, cold plunge, Swiss shower, therapy waterfalls and a scenic, serene rooftop pool.
The "Power of Pink" Weekend starts at $346 per night, based on single occupancy and $547 per night, based on double occupancy. A two-night minimum is required to book this package. To reserve a place at the "Power of Pink Weekend" or for a massage in Willow Stream's "Power of Pink" Room, please call 480.585.4848 or visit www.fairmont.com/scottsdale.