Just because you don't have the funds or time to take a European vacation this summer, doesn't mean you can't have a taste of it right here in the Valley! The prized InterContinental Montelucia Resort & Spa is looking to bring a touch of Europe into our lives with the launch of its new (and FREE) event series, Sunset Cinema. Beginning this Sunday, March 27, the monthly outdoor film series will show classic and contemporary films set in Europe and Morocco, destinations that have inspired the resort's unique design, architecture and character. Can't wait!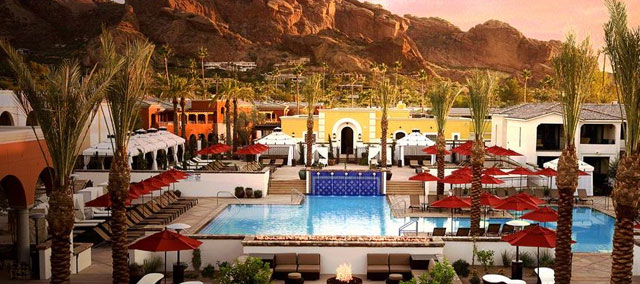 How does a beloved classic, under the stars in Montelucia's tranquil setting inspired by the charming courtyards of Andalusia, Spain sound? Sounds like heaven to me! Taking place one Sunday a month, the film series is complimentary and open to both locals and resort guests. Arrive early for a good seats and bring your appetite as Montelucia will also offer a European-inspired menu of cheeses, cured meats, wine, chocolate, Italian coffee, house-made gelato and more. Picnic baskets are also available for purchase!
Movies begin at 7:30 p.m. and seating is available on a first-come, first-serve basis.
"Sunset Cinema" Film Series Schedule:
March 27 Roman Holiday (1953)
Starring: Audrey Hepburn, Gregory Peck, Eddie Albert
April 17 Chocolat (2000)
Starring: Juliette Binoche, Johnny Depp, Judi Dench, Alfred Molina
May 29 Much Ado About Nothing (1993)
Starring: Kenneth Branagh, Emma Thompson, Keanu Reeves, Denzel Washington, Kate Beckinsale
June 26 Casablanca (1942)
Starring: Humphrey Bogart, Ingrid Bergman, Paul Henreid
Set in the breathtaking foothills of Camelback Mountain in Scottsdale, Arizona, InterContinental Montelucia Resort & Spa features 293 guest rooms including 39 suites and 2 presidential suites, as well as 34 multi-million dollar privately-owned villas on 34 acres of lush desert landscape. In addition to all of the amenities standard in a luxury resort, the resort offers 24-hour concierge service, 5 pools, 3 restaurants including signature restaurant Prado, 4 bars, the 31,000 square foot Joya spa, shopping areas, a wedding venue and 27,000 square-feet of meeting space including multiple ballrooms and other luxuries for use by resort guests and villa owners.
InterContinental Montelucia Resort & Spa opened November 4, 2008 as a signature property for the InterContinental Hotels Group PLC of the United Kingdom, the world's largest hotel group by number of rooms.
InterContinental Montelucia Resort & Spa, 4949 E. Lincoln Drive, Paradise Valley, AZ 85253, for more information or reservations, visit www.icmontelucia.com or call 480.627.3200.