Celebrating its 75th season, Del Mar will kick off its history of world-class horse racing starting next week on Wednesday, July 18. Sponsored by the Del Mar Thoroughbred Club, the race is considered among the premiere horse racing meets in the U.S., held at the one-mile oval race track at the Del Mar Fairgrounds.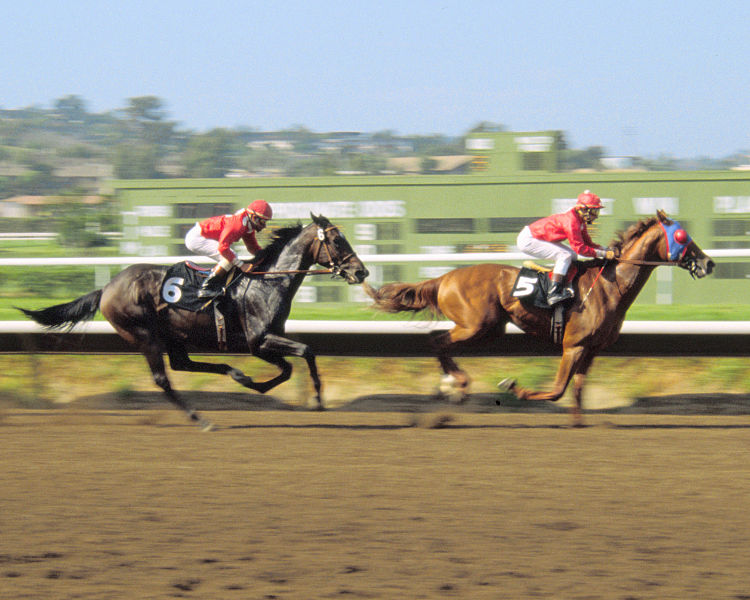 San Diego's summer races begin with Opening Day at Del Mar, a giant party attended by more than 40,000 race fans. One of the highlights of the day is fashion-minded guests competing in the nationally renowned "One and Only Truly Fabulous Hats Contest." Topping concert schedules across San Diego, the track's 2012 Del Mar Summer Concert Series again includes 4 O'Clock Fridays, a free headliner concert following each Friday's last race. On these days, the first race begins at 4 p.m. with an average crowd of 20,000.
Just on Tuesday, the Del Mar Thoroughbred Club announced John Lopez to replace Gary Brinson as the starter of its races.
The race will run through September 5, except Labor Day and Tuesdays.
Be sure to regularly check the website for:
Any last-minute scratches and changes that may occur in the schedule.
Official programs, which are available by noon the day prior to the race.
Overnights that contain the entries, post positions and jockeys. These are created about two days before each race day.
You can order tickets online here, or by phone at 858-792-4242.
Here are 10 memorable racing moments from Del Mar's past 75 years:
1. Seabiscuit vs. Ligaroti (1938)
Lin Howard, co-owner of Ligaroti with Bing Crosby, thought their horse could beat his father's Seabiscuit, but in the 1938 match race it was Charlie Howard's horse by a nose after a slam-bang finish that led to the suspension of both jockeys, George Woolf on Seabiscuit and Spec Richardson on Ligaroti.
2. Cigar upset by Dare and Go (1996)
Cigar had won 16 in a row, matching Citation, but in the 1996 Pacific Classic, Dare and Go, ridden by Alex Solis and trained by Richard Mandella, beat him by 3 1/2 lengths in an upset that shocked a crowd of 44,181.
3. Shoemaker wins 94 in '54 (1954)
Bill Shoemaker, riding 36 of the 41 days, won a record 94 races in 1954, 42 of them for the trainer Red McDaniel.
4. Del Mar Thoroughbred Club granted lease (1970)
The not-for-profit Del Mar Thoroughbred Club, which still conducts racing as a tenant of state-owned Del Mar, got its start in 1970 when Gov. Ronald Reagan, hoping to give a slumping track a boost, granted a lease to the  group headed by Clement Hirsch and John Mabee.
5. Shoemaker one-ups Longden (1970)
On his way to 8,833 wins, Bill Shoemaker passed the retired John Longden as the winningest rider when on Sept. 7, 1970, with Longden cheering him on, Dares J gave him his 6,033rd win.
6. Longden becomes winningest rider (1956)
Ten years before he retired, John Longden surpassed England's Sir Gordon Richards as the world's winningest rider by winning the Del Mar Handicap with Arrogate on Labor Day, 1956, for his 4,871st win.
7. Frankel wins four straight Pacific Classics (1992-95)
The late Bobby Frankel won the Pacific Classic six times, including four in a row with horses not favored: Missionary Ridge (24-1) in 1992, Bertrando (3-1) in 1993, and Tinners Way (7-1 and 5-2) in 1994-95.
8. Pincay gets win No. 8,000 (1993)
Laffit Pincay won his 8,000th career race Aug. 29, 1993, but because of a bookkeeping error − a win in Mexico that hadn't been logged − wasn't honored until the next day.
9. Espinoza's seven-win day (2006)
Riding mostly short-priced horses − the average win payoff for a $2 bet was $5.30 − Victor Espinoza became the first jockey to win more than six races on a Del Mar card when he clicked with seven of 10 mounts on Labor Day, 2006.
10. Man runs onto track (1995)
On Aug. 10, 1995, Russell Howard Caputo, a distraught 38-year-old man, was taken into custody and sent to a county mental health facility after he jumped the outer grandstand fence, ran on to the track and threw a duffel bag in the middle of a stretch run of a race.