Get ready to festa because carnival in coming to Scottsdale this month! Casa Brazil is bringing the annual quintessential Brazilian tradition of carnival with the most authentic bite, sounds and dances from the southern country in one electrifying party. The family friendly Latin extravaganza will take place at The Mint Ultra Lounge on Saturday February 18th from 5p – 10p. Entry is only $20, $10 for kids 8 – 12, and those 7 and under are admitted for free.
Attendees will enjoy live music from DJ Kevin who will spin traditional carnival celebration songs like "Samba do Enredo", performances from Samba AZ dancers complete with exquisite beaded and feather embellished garments and accent pieces, and artistic presentations from martial arts/dance extravaganza group Axe-Capoeira who will perform some incredible acrobatic moves. Guests will also nosh on delicious bites from Katiucua and adults can imbibe with a Caipirinha happy hour until 8p.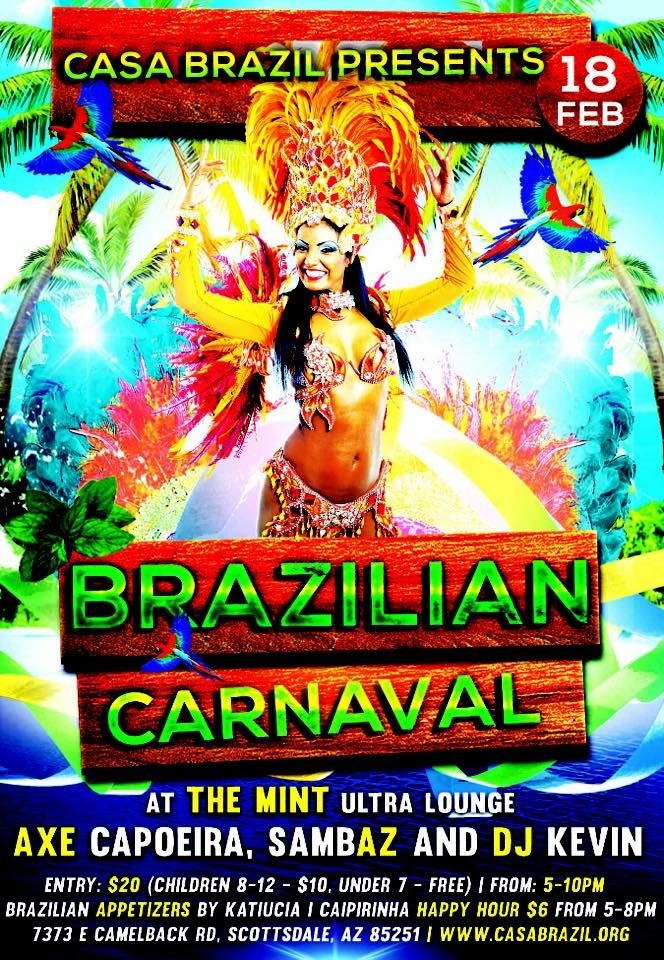 Nonprofit Casa Brazil, Inc, was founded in 2003, by a local group of volunteer Brazilian women based in Phoenix, Arizona, who saw the need to give back to their country.  One hundred percent of Casa Brazil event funds are donated to Brazilian based organization Semeador, in the town of Paripuera, (Ceara, BR.) which helps feed hundreds of children suffering of malnutrition on a daily basis. Other projects to create and support after school programs and education for mothers are in the works at Seameador as well. Check out the video below for more info on Casa Brazil.