Pretty soon the Valley will be filled with energy, our freeways will be jammed at rush hour and shoppers will be bustling through retail stores stocking up for the new school year. Whether you are headed back to class, back to work or just back from vacation, come celebrate the start of a new season at Ra Sushi in Old Town Scottsdale this Thursday for their Back-To-School Party to benefit the ASU Obama Scholarship Fund.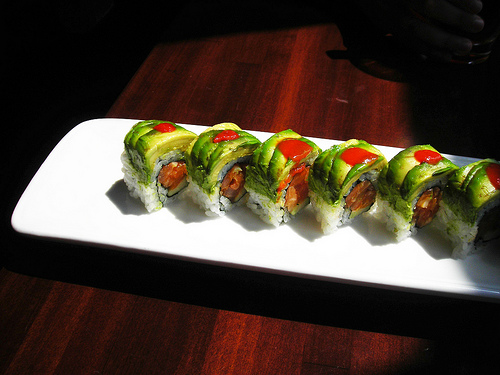 Ra Sushi's back-to-school soiree, starting at 1 p.m. and running until 1 a.m., will be in total classroom theme with waiters dressed as professors and the waitresses dressed as schoolgirls. The night will of course include drink and sushi specials, including $5 Bookworm Rolls, $6 Nerd Shots and $7 Teacher's Pets. Guests are invited to enter the raffle to win T-shirts, RA gift certificates and gifts from local restaurants. All proceeds benefit the ASU Obama Scholarship Fund.
"There is never a dull moment in The Ra. The music is pumping the mood is upbeat and the atmosphere is as stimulating as a big bite of wasabi." Ra Sushi
RA Sushi
3815 N. Scottsdale Road
Scottsdale, AZ, 85251
480.990.9256
rasushi.com
Back-to-School Deals:
Back-to-school Haircut &Waxing Special
The first day of school or back at work means: look your best. And you might as well save some dough while you're at it. Now through the end of August, take advantage of Scottdale's Mesha Salon & Spa's amazing specials…
Stylists Suzanne Mize and Emily Taylor are offering:
. Free facial waxing with any haircut
. Free haircut with any color
. Half-priced haircuts for first-time men ($12) and women ($22.50) clients.
Esthetician Jamie Justeen is offering 15 percent off any waxing for clients with a high school or college ID.
Appointments are preferred but walk-ins are welcome.
Papago Plaza at 7105 E. McDowell Road, Scottsdale. 480.874.4259, meshasalon.com
Half Off on Backpacks & Messenger Bags
If you're little student is in need of a new backpack or messenger bag, head to Spencer's at Fiesta Mall and receive half off! He or she will also need some shades to go with their new gear so Spencer's is offering it's shades at buy-one-get-one-free. Deal is valid through Sept. 7.
1445 W. Southern Ave., Mesa. 480.964.8471. spencersonline.com