It's back. Our chance to step back in time to the mischievous Medieval times with this year's spectacular Arizona Renaissance Festival – the ultimate family adventure featuring a 12-stage theater, a 30-acre circus, an arts and crafts fair, a jousting tournament and a delectable feast! The Festival is open Saturdays and Sundays, from February 6 through March 28, as well as Presidents' Day Monday, February 15 so there is no excuse to miss thee ol' jolly good time!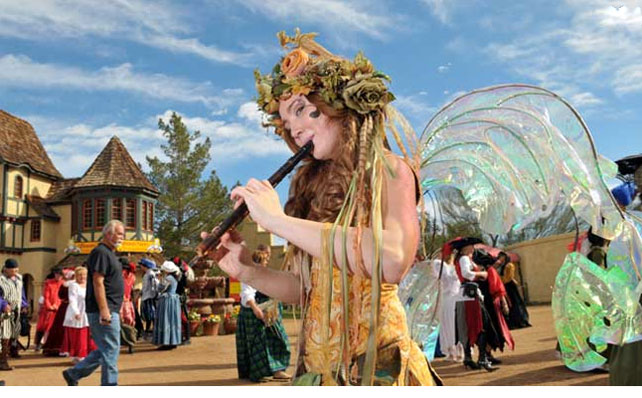 Entertainment:
As you turn every corner at The Arizona Renaissance Festival, feast your eyes on any number of interactive entertainment shows and more than 500 costumed characters roaming the festival village. No matter when you decide to take on this Medieval amusement park, there will be non-stop entertainment on 12 stages every event day, including comedy, music, dancing, circus performers, jousting knights on horseback, and more!
The Artisan Marketplace:
"Mix foolish pleasures with artisan treasures!" Take a piece of your Medieval experience home with you and shop in the more than 200 elaborately adorned stores offering a wide variety of unique items, including blown glass, premium leather goods and jewelry. Guests can learn how these artisans create such interesting pieces as they will be making fresh items right before your eyes.
The Pleasure Feast:
If you don't come for the entertainment, come for the giant Medieval feast! Savor six courses of fine foods and ample drink, served with a side order of live entertainment and Festival souvenirs. This is the most royal event of the day with limited seating only twice daily, so grab your thrones!
Games & Rides:
The whole family will love the many interactive games like target-shooting with bow or crossbow, storming the castle in a paintball battle, throwing a tomato at an insulting peasant at Vegetable Justice, soaring into the sky on the Assault Catapult, riding The Piccolo Pony – the world's largest rocking horse, taking a spin on Da Vinci's Flying Machine or sailing the high seas on the Voyage to the New World. For those patrons in the mood for an extreme challenge, test your physical mettle at the Climbing Tower or show your warrior side throwing a battle axe.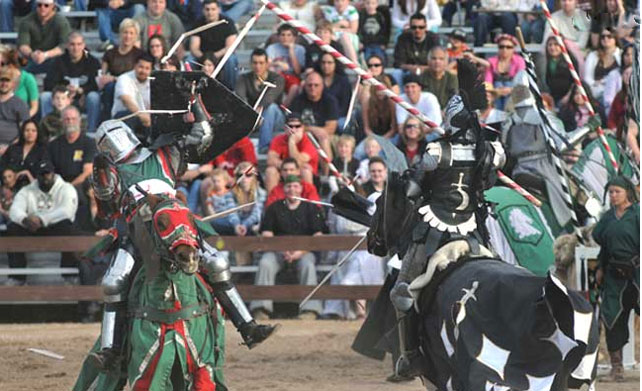 Hours: 10 a.m. until 6 p.m. rain or shine.
Location: The Festival is seven miles east of Apache Junction on US Highway 60.
Parking: Free courtesy of Fry's Food Stores.
Tickets: You can always save with discount tickets at Fry's Food Stores – $18 for adults and $8 for children (5-12-years-old). Tickets purchased at the Festival Ticket Booth will be $2 higher. Senior (60-years and over) tickets are $17 and are only available on the day of the show at the Main Gate Ticket Booth.
For more information visit www.royalfaires.com/arizona.