Although the summers do get hot in our desert city, The Arizona Biltmore promises that it won't be a bore, especially with its jam-packed summer-long "Hollywood & Wine" Festival overflowing with activities and events that promise to be a "blockbuster hit!"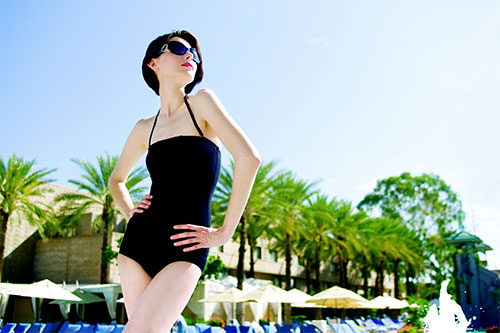 Check out the summer agenda:
Celebrity Bands in Concert: Among the celebrity band performances will be the Bacon Brothers kicking off the festival Memorial Day weekend; music legend Miles Mosley, June 18 and 19; members of the Phoenix Symphony Orchestra Pops with Fireworks on July 4; and the Fab Faux over Labor Day weekend.
Celebrity Wines: Wines by celebrity winemakers will be featured in wine tastings, wines by the glass and special dinners paired with wines in the resort's restaurants. Among the celebrity wines will be Dan Akyroyd Wines, Francis Ford Coppola Winery, Fess Parker Winery, and Rebel Vinum (by actor/director/screenwriter Doug Barr and Bruce Orosz, founder of major Hollywood production company ACT 1 ).
Hollywood Professionals Revealing the Secrets of Their Trade: Make-up artists, set designers, costume designers and other Hollywood pros who have made countless famous films will be giving special presentations giving insights into the art of movie making. Among the presenters will be Mel Cooper, Vice President of the Set Decorators Society of America, whose many credits include the Jerry Seinfeld Show; Sally Stevens, Director of the Hollywood Film Chorale who has worked on more than 1,000 theatrical and television film scores over more than three decades; and Anna Wyckoff, a costume designer and personal stylist whose career spans from Roman Holiday to Legally Blonde.
Dive-In Movies: Hollywood blockbuster films – including many that were made by the Hollywood professionals giving presentations at the festival – shown on a large screen and watched while floating in the Paradise Pool.
Hollywood – Live On Stage": A variety of live events will be featured including a classical theater series by Southwest Shakespeare Company.
"Rising Star" Entertainment Series: Arizona Biltmore will stage its own version of "Making of the Band."
Hollywood-Inspired Foods and Menus: The special foods will range from Hollywood-themed menus in the restaurants to popcorn machines at the pool for the Dive-In Movies, fresh fruit and juice Popsicles, and flavored S'mores.
The festival is open to the public, but some activities are for Arizona Biltmore guests only including: wine tastings, the presentations by Hollywood professionals and the Dive-In Movies.
For a full schedule of activities and events at the summer-long Hollywood & Wine Festival, as well as to purchase tickets for concerts, stage productions and other entertainment, go to www.arizonabiltmorehollywoodandwine.com.