Head to Cave Creek this upcoming weekend for the colorful and unique OutWest Art Fest taking over the Stagecoach Village. Featuring 100 local and nationally-acclaimed painters, sculptors, jewelers, wood and glass artists, photographers, and artists working with mixed media, this juried festival is one of the very few art shows in Arizona that is coordinated by artists and brings all mediums to one fun-filled event!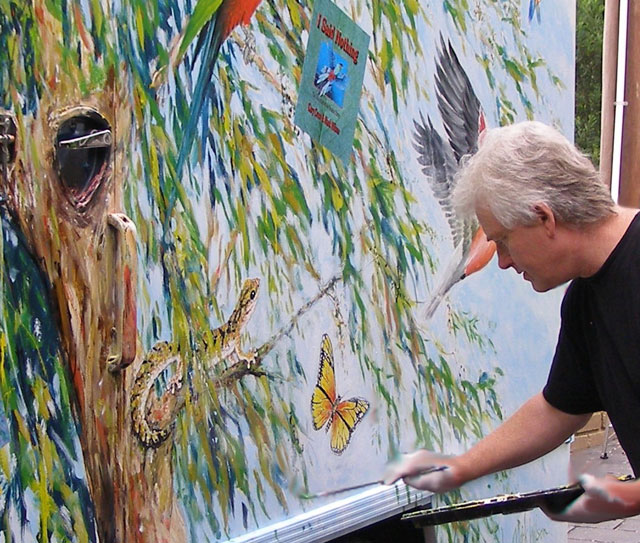 Make a day out of it and bring your artsy friends as OutWest Fest will feature live music, great food and artist demonstrations.
OutWest Fest is hosted by and benefits the non-profit Sonoran Arts League. Based in Carefree and Cave Creek, Arizona, Sonoran Arts League is dedicated to the promotion of art, artists, and art education, affirming the belief that art and artistic awareness is essential to the well being of life and the community. The non-profit organization's 400+ members actively participate in community outreach programs, including mentoring programs, workshops, seminars, fundraisers, and other activities, such as the Empty Bowls Project each October, and the Hidden in the Hills Studio Tour every November.
This year's featured artist is bronze sculptor and stone carver Mike Greenfield.
Admission to OutWest Fest is free and guests should not be fooled by the title, the Western setting does not indicate the type of art that will be exhibited.
What makes this festival so special is the jury process. The festival sponsor Sonoran Arts League is the oldest and largest arts league in Arizona and adheres to strict guidelines during the jurying process.
According to Michelle Russell, event chair, the Festival features members of the Sonoran Arts League along with several renowned artists from other states. The Festival committee adheres to strict guidelines during the jurying process when reviewing artists' work. Each piece of art must be 100 percent hand-crafted. Imports, manufactured goods, or artwork produced with kits or other commercial methods are not allowed. In addition, the committee reviews slides of each artist's booth and any other information pertaining to how the artist will exhibit his or her work.
Stagecoach Village
7100 E. Cave Creek Road
Cave Creek, AZ