Don't make plans tonight unless it's to join the over 5,000 spectators expected to head to Scottsdale's Arts District to enjoy the 20th anniversary of the Summer Spectacular ArtWalk featuring over 100 galleries, food, entertainment and more!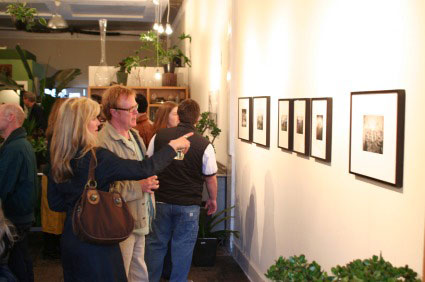 As you may know, this is the art world's slow season. So for an extra boost of support, the galleries are teaming up to present an evening of fun and artistic appreciation tonight from 7 to 9 p.m. This popular event is presented by the Scottsdale Gallery Association and Scottsdale Downtown.
ArtWalkers can peruse the vibrant art pieces along Main Street, Marshall Way, Stetson and Sixth Avenue and throughout the downtown Scottsdale Arts District, which will be busy with artist demonstrations, gallery show openings, live music, prize drawings, delicious samples from great restaurants and more. There will be plenty of nearby free parking, and easy access to local hotels or famed Scottsdale eateries.
River Trading Post, Xanadu Gallery and Su Vino Winery have come together to present an all-night giveaway, where guests can receive free prizes, including gourmet foods and original art pieces. It's quite simple… If your giveawat ticket matches the one on any ticketed item in any of the three galleries, you are a winner! The grand prize is a private art tour of up to eight people of both galleries and the wine store.
Live music at this year's event will include: pop-rock duo Jay & Ash, jazz band Bucky's Experimental Instrumentations, acoustic guitarist Raymond Gomez, alternative pop-rock artist Tobie Milford, Brazilian-Latin duo Bossa Nossa, country-rock performer Mark Barry and Soliloquies, featuring Jeordie, according to The Arizona Republic.
The Scottsdale Arts District puts on an ArtWalk every Thursday, so if you miss the Summer Spectacular, don't feel bad and join your community next Thursday. A 30-year tradition, the ArtWalk process is simple — proceed at your own pace, wander into galleries that capture your fancy, stroll around a delightful area punctuated by dramatic statues, bubbling fountains, tree-covered courtyards, famed restaurants and more. Horse-drawn carriage rides and trolley rides are often available from plentiful free parking areas nearby.
The Scottsdale Arts District can be found just west of Scottsdale Rd. along Main Street to Goldwater Blvd. and north of Indian School Road on Marshall Way, 6th Avenue and Stetson Drive to the waterfront. For more information about the 20th annual celebration, visit www.scottsdalegalleries.com.