Art, cocktails, and free food… I'm in! This Wednesday, August 26, the Phoenix Art Museum is having a "Sip N' See" exhibit where guests can peruse a current art exhibition — Phantom Sightings: Art After the Chicano Movement and sip cocktails as well as nibble on delicious appetizers. Best part is, admission to the museum is free for this special night starting at 5:30 p.m. and running until 8:30 p.m.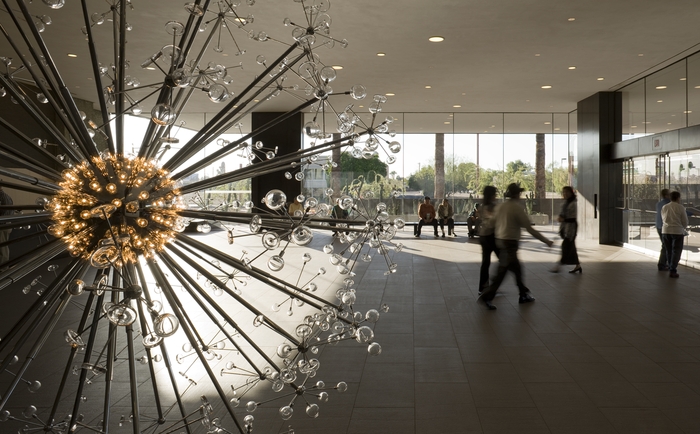 Arizonans can enjoy happy hour at the Phoenix Art Museum this Wednesday! Appetizers, tours and admission are complementary – cocktails are available at the cash bar.
Curator of Modern & Contemporary Art, Sara Cochran, will provide the tours of Phantom Sightings: Art After Chicano Movement exhibit. This exhibit features younger American artists whose Mexican and Latin American cultures is reflected in their art. With 120 works of art from 32 artists, there is sure to be something for everyone to enjoy and appreciate.
The event is put on by Young Collectors, a volunteer support organization within the Phoenix Art Museum. This team is dedicated to "enriching the social and cultural environment of Phoenix by providing social networking opportunities that help build a flourishing art community between young professionals, emerging artists and the museum."
About the Phoenix Art Museum: The Phoenix Art Museum is known as the Southwest's premier 203,000- square foot destination for world-class visual arts. Here you will be immersed in culture while viewing popular exhibitions that feature artists such as Rembrandt, Norman Rockwell, and Annie Leibowitz. Monet. Since 1959, The Phoenix Art Museum, designed by New York architects Tod Williams/Billie Tsien & Associates, has been the home of an outstanding collection of more than 18,000 works of American, Asian, European, Latin American, Western American, modern and contemporary art, and fashion design. As Arizona's cultural hub for nearly fifty years, Phoenix Art Museum presents festivals, live performances, independent art films and educational programs for Arizonans and visitors.
Please visit www.phxart.org for more information.