Mesa shoppers and prideful residents, save your receipts because now they can be exchanged for tickets to Jazz at Lincoln Center with Wynton Marsalis, the Moscow State Radio Symphony Orchestra and more.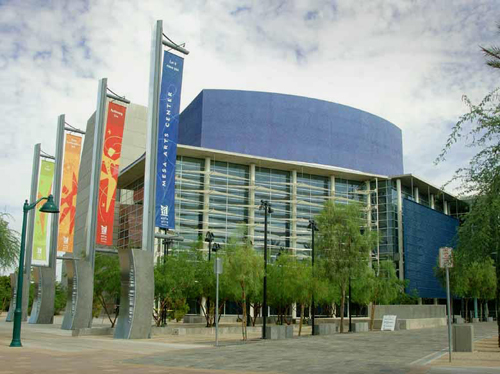 When you shop at Mesa-only department stores, fast-food restaurants and retail outlets, you can bring in your sales receipts into the Mesa Arts Center Box Office for "Mesa Bucks" in the amount of each receipt's sales tax. These "Mesa Bucks" can be used to buy tickets at the Mesa Arts Center, Arizona Museum for Youth and Arizona Museum of Natural History.
Ticket-hungry people can bring in receipts dated after April 1, 2009 with sales tax amounts of more than $3 and less than $200 each visit. But before you are given tickets bought with Mesa Bucks, you must purchase one ticket with cash.
You can even use your Mesa Bucks to purchase tickets to the Mesa Arts Center's most popular series, known as the MAC's Performing Live, which go on sale this Saturday.
There will be a limited number of seats purchases with Mesa Bucks available for certain shows.
MAC's Not-to-Miss Upcoming Shows
Jewel – Solo and Acoustic
The three-time Grammy nominee brings her solo and acoustic show to the Mesa Arts Center for one night only.
When: Jul 17, 7:30 p.m.
Ikeda Theater
Ticket price: $60/$35
Tap Dogs
Created by Olivier Award-winning choreographer Dein Perry, with a construction site set by designer/director Nigel Triffitt, and a driving score by composer Andrew Wilkie, TAP DOGS is a rough, tough, rocking theatrical entertainment.
When: Sep 25, 7:30 PM
Ikeda Theater, Ticket price: $44/$34/$24
Paula Poundstone
Enjoy an evening of side-splitting laughter with Paula Poundstone! Armed with nothing but a stool, a microphone and a can of Diet Pepsi, Paula's humor and interaction with the audience has become legendary.
When: Oct 15, 7:30 p.m.
Piper Repertory Theater, Ticket price: $33
For more information and show details please visit mesaartscenter.com.