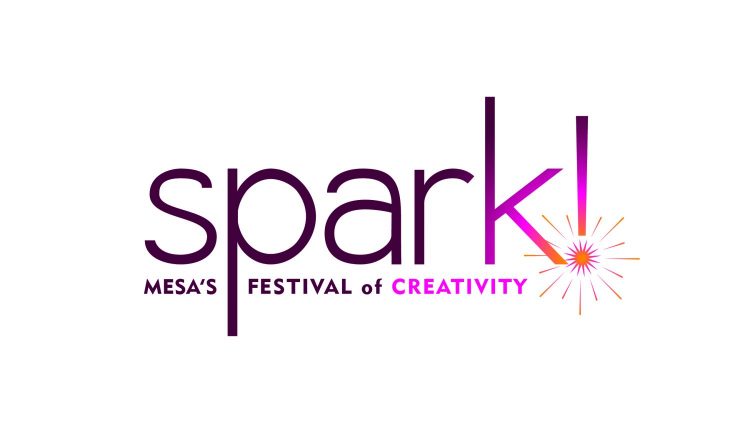 By LaDawn Lingard
spark! Mesa's Festival of Creativity is aptly named. If new ideas and inspiration were visible as mini fireworks, the spark! Festival would be aglow with twinkles, flashes and flares even in its daytime hours. That unique glimmer of joy a person gets when experiencing something fascinating and fun is what fuels spark! Hands-on, immersive arts experiences are always on tap for Mesa's free, four-day Festival of Creativity. And this year, the Greek elements of Earth, Water, Air and Fire are the foundation of the festival action.
EARTH components of the festival will include Sandboxes of Life by Casey Scalf. Moving and molding sand in the boxes creates swirls and patterns of light, with shapes and colors that look and move like simple living creatures. Brushes and other tools let you "paint" with light in the sand.
Water Light Graffiti by Antonin Fourneau features a large panel of LED lights that respond to WATER brushed, sprayed or splashed on its surface, enabling you to write and draw in light. The image made of bright, lighted diodes is only temporary, so the graffiti fun can continue in endless fashion as the next person takes a turn as "light painter."
The AIR will be alive with nonstop musical entertainment, with bands playing music in a variety of genres, including reggae and cumbia by Radio La Chusma, blues by The Sugar Thieves, and eclectic folk boogie by Yourchestra, among many others.
FIRE elements will blaze with Path by Hailey Featherstone. A walk-through shipping container will contain a visual history of light. Fireworks and fire juggling will both be seen on the MAC campus at Saturday's closing celebration.
Combine the four Greek elements and the festival will continue to spark! a self-discovery journey as you watch The Soul Justice Project and EPIK Dance Company fuse dance, spoken word and music that reflects and unites our diverse community voices.
If you are looking to take some of that creative inspiration home, try one-hour $5 studio samplers offered throughout the afternoon including Flameworking Beads, Watercolor, Shrinky Dink Jewelry or Enameling on Metal.
There's even something for those with a penchant for the night life; Spark! After Dark will offer night-time festivities with installations that light up the night, more live music and campus buildings that become the canvas for projections by acclaimed photographer, Scott London.
This free, all-ages festival is the perfect excuse to get out and enjoy the beautiful Arizona outdoors. Celebrate your creative community Wednesday, March 18 through Saturday, March 21, Noon-5pm on Wednesday and Thursday, Noon-10pm on Friday and Saturday. www.mesaartscenter.com/spark.