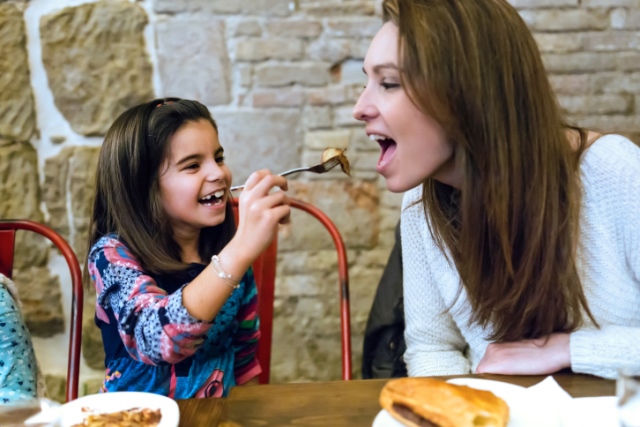 Who doesn't want to treat Mom like the queen she is on Mother's Day? For a special brunch, a decadent dinner or a fun, casual treat, check out these Valley offerings for Mother's Day dining. (Be sure to make reservations, and check each restaurant Web site for pricing and full menus.)
LON's  at the Hermosa Inn offers a three-course Mother's Day Brunch, from 10 a.m. to 2:30 p.m., with a variety of starters, entrees and desserts. Of course, the meal starts with a cast-iron skillet of LON's famous fresh baked brioche monkey bread welcomes the table as the guests choose between five appetizers, six entrees and three desserts. Live entertainment will also be included.
A delectable holiday menu will be offered from 7 a.m. to 3 p.m. on May 14 in The Scott Grill. Enjoy eats like velvet corn bisque, grilled chicken panini, flatbreads and a selection of traditional breakfast offerings.
Celebrate with a family brunch at Prado at Omni Scottsdale Resort & Spa at Montelucia. Served buffet style, Mother's Day brunch will feature elevated traditional breakfast favorites, as well as traditional Spanish-style tapas and chilled seafood and salads. Featured offerings will include lobster and seafood paella, wood-fired lamb chops and much more , served alongside a variety of warm vegetable sides. For dessert, a selection of Chef Ben's pastries and petit fours.
Whisk Mom away with a Parisian-inspired brunch in Talavera (10 a.m. to 2 p.m.) and three-course specialty menu in Proof, an American Canteen (7 a.m. to 2 p.m.), this Mother's Day, Sunday, May 14, 2017, at Four Seasons Resort Scottsdale at Troon North. At Talavera,  all mothers receive a complimentary Kir Royale upon arrival.
Treat Mom to a Champagne celebration with Mother's Day Brunch at The Westin Kierland Resort & Spa from 10 a.m. to 2 p.m. Located in the Resort's Trailblazers Ballroo, the brunch will feature a host of delicious items, including eats from breakfast and lunch stations, a carving table and a Kierland Kids' Station. Freshly made salads, pastas, side dishes and a dessert station round out the offerings. The resort's FUN team will be on hand to help children decorate a pot and plant a flower to give to Mom.
From 9 a.m. to 4 p.m., Executive Chef Eric Howson will host a delightful Mother's Day Brunch Buffet in SWB, a southwest bistro complete, at Hyatt Regency Scottsdale Resort & Spa with live music. Featured will be such favorites as omelets, made-to-order, chilaquiles and traditional breakfast favorites, a wide variety of salads, sushi, pasta, elaborate desserts and a children's buffet.
elements at Sanctuary Camelback Mountain will serve a delectable Mother's Day Three-Course Prix Fixe Menu prepared by Executive Chef Beau MacMillan. Dishes include duck confit and sweet potato hash, heirloom tomato gazpacho, roasted Alaskan halibut, kurobuta pork chop, peaches and cream and many more delicious options.
From 11 a.m. to 2:30 p.m., reserve a spot for Mom's Brunch at Mountain Shadows' Hearth '61. Enjoy an extensive brunch of light eats with dishes like smoked salmon and Tuscan kale salad before moving onto a main course with options like rack of Colorado lamb and more.
The Wigwam has two dining options for the Mother's Day holiday: a four-course brunch at Litchfield's with options like shrimp and grits or steak and eggs and a decadent brunch buffet at from 9 a.m. to 2 p.m. in the ballroom with favorites like peel and eat shrimp, crab, made-to-order omelets, carving station and more.
From 10 a.m. to 4 p.m., North Italia will offer a mom-worthy brunch menu featuring dishes such as diver scallops, red wine-glazed short rib, baked French toast, and the Nonna casserole with torn bread and Italian sausage baked in a red sauce with two fried eggs.
True Food Kitchen is mixing up a specialty cocktail perfect for toasting Mom. For $9, The Matriarch is a refreshing blend of organic vodka, lavender simple syrup and lemon. Plus, every mom who dines with True Food Kitchen on Mother's Day will receive a special gift that complements the cocktail–a lavender seed packet with Matriarch recipe.
Normally closed on Sundays, Little Cleo's Seafood Legend will be opening its doors just for Mom. From 10 a.m. to 3 p.m., enjoy an a la carte menu featuring classic ocean fare and select brunch items including lump crab benedict, lobster frittata and more.
Mastro's brunch menu will be available from 10 a.m. to 3 p.m. on Mother's Day. The menu features brunch favorites, but with a decadent Mastro's twist, of course. Entrées include Maine lobster benedict, smoked salmon and bagel and Croque Madame.
Brunch guests of The Scottsdale Resort at McCormick Ranch, A Destination Hotel will enjoy sparkling wine and mimosas, a breakfast bar, made-to-order omelets and pasta station as well as a salad bar in the Vista Verde Dining Room. Reservations are available from 11 a.m. to 3 p.m.
Roaring Fork honors Valley moms on Sunday, May 14, with a specialty Mother's Day brunch from 10 a.m. to 2 p.m.  The buffet-style menu features a selection of breakfast items, signature side dishes, hearty entrees and tasty desserts.
Visit Salty Sow on Mother's Day for a specialty brunch buffet featuring breakfast and lunch items from 10 a.m. to 2 p.m. featuring specialty menu items like banana chocolate chip French toast, pork belly has and much more.
Mother's Day at Ticoz Latin Kitchen includes a complimentary glass of Champagne or mimosa for Mom, plus a menu of buttermilk pancakes, Challah French toast, black bean benedict and more.
At T. Cook's at Royal Palms Resort and Spa, guests will have their choice of two dining options, including the famous Ballroom Brunch Buffet (from 9:30 a.m. to 2 p.m.) or brunch in T. Cook's prepared by Executive Chef Todd Allison (from 10:30 a.m. to 3 p.m., with a cold buffet, choice of main course and dessert selections).
Enjoy a decadent Mother's Day Brunch at Scottsdale Quarter's Tanzy Restaurant from 11 a.m. to 3 p.m. The special mom in your life can enter for a chance to win a handmade rose preserved in 24-karat gold made in London by the Luxury Company Gold Genie. (No purchase or payment is necessary to enter or to win. Just enter via Facebook or on Mother's Day at Tanzy Restaurant.)
On Sunday, May 14, CHAR Kitchen + Bar is offering a special menu from 10 a.m. to 2 p.m. to celebrate Mother's Day. In addition to the holiday brunch menu (with with egg dishes and omelets, pancakes, French toast and more), the restaurant will also offer its entire lunch menu.
Celebrate Mom at Original Breakfast House with specials like Mexican eggs benedict, crab omelet and Oreo cookie pancakes.
From 9 a.m. to 3 p.m., reserve your spot for brunch at The Market Restaurant + Bar by Jennifer's. Enjoy smoked salmon pizza, ham and farm-fresh eggs, lamb chops and much more.
The Boulders Resort & Spa invites guests to a special Champagne brunch on Sunday, May 14, from 10 a.m. to 2 p.m. featuring a chef's station, carving station, a pastry dessert display, bellini and mimosa bar, ice display with fresh seafood and more.
Portillo's is celebrating Mother's Day with the return of its Heart-Shaped Chocolate Cake. As a special treat for Mom's across the country, Portillo's is adding the special menu item to its online Shop & Ship offerings, allowing guests to deliver a heart-shaped cake to anyone nationwide. Portillo's is once again partnering with the American Red Cross to donate a portion of proceeds from every cake purchased – up to $5,000 – to the relief organization's charitable efforts. The cake will be available for in-store pick-up from May 12-14. Beginning May 1, customers can pre-order the sweet treat by ordering online, calling 866.YUM.BEEF, or by visiting or calling the Portillo's store nearest to them.
The Refuge in Central Phoenix is offering a their regular weekend brunch menu on Mother's Day, as well as waffles with a side of bacon and fruit for $6.50.  Mom will also receive a $5 gift card to use on her next visit to The Refuge.
El Palacio in Chandler is offering Mother's Day weekend specials on May 12 through 14. Throughout the weekend, guests can enjoy a fajita dinner for $10.99, as well as house margaritas for $4 and sangrias for $5. On Sunday, May 14, all moms will receive half off their meals with a paid entrée. They will also receive a flower while supplies last.
Market Street Kitchen will dish up holiday specials for both brunch (10 a.m. to 3 p.m.) and dinner (5 to 9 p.m.) Enjoy lobster benedict, golden tomato gazpacho with lump crab and wild striped bass, among other options.
J&G Steakhouse at The Phoenician offers a decadent three-course feast with options including roasted halibut, grilled prime beef flat iron and sweet pea soup.
Nook Kitchen only opens once a year for brunch—to honor Mom! Join them this Mother's Day at Nook Kitchen Downtown for an incredible celebration (with breakfast burrito, egg sandwich, Italian benny and other fab eats) featuring DJ Kim E. Fresh from 12 to 3 p.m.
This Mother's Day, treat your mom to a special and unique experience: the Benihana Be the Chef package. The Benihana "Be the Chef" gift package allows mom to train with a Benihana master chef in front of the grill. The Be the Chef package starts at $200 for a guest chef and three guests (four people total). The chef's guests will enjoy a meal of Benihana soup, Benihana salad, shrimp appetizer, hibachi vegetables, Splash 'N Meadow entrees, homemade dipping sauces and Japanese hot green tea. If Mom would rather sit back and relax while our chefs cook for her, Benihana is offering a free $10 promotional card when you purchase $50 in gift cards.
On Saturday, May 14, from 10:30 a.m. to 2:30 p.m., Padre Murphy's will be celebrating Mother's Day with a brunch buffet (with London broil, sausage jambalaya and much more) and the first 50 mothers will be entered into a drawing for special prizes.
All day on Sunday, May 14, TEXAZ Grill is serving a free slice of apple pie to all Valley Moms. Proof of motherhood is required.
Unwind this Mother's Day with complimentary glasses of Champagne at Beckett's Table and Southern Rail. Both restaurants will run their seasonal menus, half-price bottles of Arizona wine and offer a complimentary glass of bubbles to every mom.
Moms (or grandmas, aunts or other special ladies) are invited to bring their girly for a precious tea party, photo, craft project and more at Mommy & Me Cupcake Tea hosted by Girly Girlz on Saturday, May 13, from 1 to 2 p.m. Advanced booking required: https://girly-girlz.com/special-events/.
Super Chunk Sweets & Treats has created the meringue bouquet with Mom in mind, available in four flavors: Rose Raspberry (red and pink); Violet Plum (purple); Poppy Orgeat (orange); and Lavender Honey (light blue). Each meringue bouquet comes packaged with the four flavors and costs $5.99. The bouquet of flavors are available daily through Mother's Day (May 14).
Show Mom how much you appreciate her by treating her to a decadent brunch at Venue at the Grove on Sunday, May 14. Take a seat at one of the spacious, rustic tables while a full brunch spread awaits you, including traditional breakfast eats, mimosas and more. Seatings begin at 9 a.m. through noon.
Organ Stop Pizza presents the 2017 Mother's Day Musical Lunch, featuring all-you-can-eat pizza and a concert from the Mighty Wurlitzer at Organ Stop Pizza. Lunch takes places from 11:30 a.m. to 1 p.m. Advanced purchase is required; tickets are available online at organstoppizza.com or you can purchase them in the restaurant gift shop.
Sonata's Restaurant in Scottsdale celebrates Valley mothers from 11 a.m. to 10 p.m. with an exclusive Lithuanian dish offered that evening only. Guests can enjoy the butter-poached lobster served over pork-filled cepelinai (dumplings) with a wild mushroom bacon sauce on a bed of wilted spinach and roasted yellow sweet corn.
In celebration of Mother's Day, Carlson Creek Vineyard is offering all moms a complimentary wine tasting (normally $10 and includes five-plus wines from the vineyard's award-winning wine portfolio) and cake bites at both tasting rooms (Scottsdale and Willcox).
Mother's Day at Marcellino Ristorante calls for a live musical performance by Monte Procopio and an all-day special for Moms, served from noon to 3 p.m.: hef Marcellino's hand-crafted Tagiolini Mare e Monte Long. Mom will receive a complimentary tiramisu with entrée purchase.
Celebrate Mother's Day at Gertrude's, inside the Desert Botanical Garden entrance. The restaurant is offering several menu specials to commemorate mothers including special caviar and pheasant items starting at 10:30 a.m. until they are sold through.
Treat mom to three-course dinner and a show! Join The Mystery Mansion Dinner Theater at Coup Des Tartes on Sunday, May 14 at 4 p.m.
Perk Eatery is offering a fixed menu (including breakfast enchiladas, Wine Country French toast and more) for Mother's Day and $3 mimosas for Mom, from 6:30 a.m. to 3 p.m.
Celebrate Mother's Day on May 14 with Tavern Americana with a special brunch menu of banana and Nutella crepes, cornflake-crusted French toast and more.
Hash Kitchen will serve a Mother's Day menu from May 12 through 14, 7 a.m. to 3 p.m., at both locations. Specials include lemon and ricotta pancakes, lamb and waffles and more.
Tomaso's Italian Restaurant will be open for Mother's Day lunch and dinner from 12 to 9:30 p.m. The "For the Love of Mom" prix fixe menu by Executive Chef Tomaso Maggiore has four courses including stuffed shells, prawns caprese and an Angel Kiss dessert.
Enjoy a full buffet in Hotel Valley Ho's Sands venue from 10 a.m. to 2 p.m. Savor seasonal salads, specialties like herb-crusted Scottish salmon and spiced pork loin, a carving station and sweets. ZuZu is open all day, with breakfast from 6 a.m. to 11 a.m., lunch from 11 a.m. to 4 p.m., and dinner from 4 p.m. to 10 p.m.
JW Marriott Desert Ridge Resort & Spa offers a variety of buffets and menus to celebrate Mom in style: a Sunrise Breakfast Buffet at MERITAGE, an urban tavern; a casual brunch at stonegrill and festive dinner offerings at MERITAGE from 4 to 9 p.m., May 12-14.
At Crudo, take Mom out for a chef-crafted three-course Mother's Day brunch. (Plus, kids will have their choice of their own two-course menu.) Chef Cullen Campbell will be whipping up a three-course brunch celebration featuring traditional brunch favorites, plus twists on traditional brunch dishes, arugula with tomato, frico, capers and pickled onions, followed by gnocchi with brisket bolognese with goose egg and kale.
Perhaps Mama just wants a little something sweet on her day? Order Sprinkles Cupcakes MOM box. Available May 12-14, this lineup offers Dark Chocolate, Red Velvet, Vanilla and Salty Caramel cupcakes. Order online or pick them up at the Scottsdale Location.
Ko'sin Restaurant of Sheraton Grand at Wild Horse Pass will offer a memorable Mother's Day brunch.  Enjoy delectable entrées, decadent desserts and breathtaking views of the Sierra Estrella Mountains. This special meal takes place on Sunday, May 14, from 9 a.m. to 3 p.m. and offers indoor and outdoor seating. Plus, all resort and local restaurant guests are invited to enjoy a Sheraton Adventure Club led activity near the outside fire pit from 10 a.m. to 1 p.m. Join us to make Mother's Day cards, coupon books and keepsake crafts.
Artizen, Crafted American Kitchen & Bar at The Camby will be home to buffet-style stations, including omelet and seafood displays along with a carving station, and much more during its holiday feast. Reservations available from 10 a.m. to 2 p.m.
Ring in Mother's Day at Rusconi's American Kitchen with a three-course menu that offers such delish dishes as pecan wood-grilled leg of lamb or sea bass, steak and eggs, shrimp and crab benedict and much more.
Fired Pie is giving all moms a free pookie with the purchase of an entrée. The pookie is Fired Pie's chocolate chip cookie or macadamia nut cookie dough topped with vanilla bean ice cream. This deal is not good on third party delivery.
Okra Cookhouse & Cocktails is whipping up a Southern-inspired menu of traditional brunch favorites from 10 a.m. to 2 p.m. on Mother's Day. Dig into sweet potato pancakes with roasted dates and quark, short rib hash with duck egg and much, much more. (And don't forget Okra's famous cocktails.)
On Sunday, May 14 mothers can come into Press's Scottsdale, Tempe or Chandler locations and receive a free small hot drip coffee or a small cold brew coffee. (The offer is not available at the airport location.) No proof of motherhood required, just identify yourself to the barista when ordering.  The offer is good all day.
Enjoy brunch at Blue Hound Kitchen & Cocktails at Kimpton Hotel Palomar Phoenix in Downtown Phoenix. Executive Chef Sean Currid will be preparing a few a la carte breakfast items in addition to the regular lunch menu from 11 a.m. until 3 p.m. including Southern fried chicken and waffles and green chile pork hash and eggs.
S&V Urban Italian in Scottsdale is celebrating Mother's Day with free dessert for moms with a purchase of any entrée.
Rita's Kitchen at Camelback Inn will be offering a full spread for Mother's Day brunch, including mimosas, a seafood bar with Alaskan crab claws and sushi rolls, house-made soft tacos and quesadillas, antipasto and salads, a carvery station with prime rib, bone-in ham and lamb leg, and breakfast favorites, from eggs benedict to pancakes and French toast.
Bring Mom to the annual holiday brunch at Palette (including a three-course menu and a mimosa) and then tour Phoenix Art Museum after. Through the generosity of Discount Tire Company, the Museum offers free general admission on the second weekend of each month. Brunch reservations are from 10:30 a.m. to 3:30 p.m.
Zen Culinary will be featuring two four-course Mother's Day menus, at two different price points. Finish your meal on a sweet note with fried banana with ice cream or chocolate cake. Plus, all moms will receive a flower for their special day.
AJ's Fine Foods hosts a special Mother's Day Brunch from 8 a.m. to noon on the AJ's patio. Chefs will serve up fried eggs and made-to-order omelets, potatoes, bacon or sausage, and Belgian waffles with fresh berries and whipped cream. Individual meals range from only $4 to $7, with complimentary coffee and tropical fruit waters.
Bring Mom to either of Twin Peaks' two Valley locations on Mother's Day to indulge in a free entrée, salad or sandwich with the purchase of another entrée, salad or sandwich. (Steak entrées excluded.)
Tempe Marketplace is hosting a slew of delicious food-focused freebies for Mom: 
It's All Greek to Me
Sunday, May 14
Buy one plate, get the second 50 percent off.
Kabuki Japanese Restaurant
May 11-14
Enjoy chicken teriyaki, beef teriyaki, bbq beef ribs, fried gyoza dumplings, shrimp and vegetable tempura, California roll, pineapple and your choice of mochi ice cream for dessert. Served with miso soup, salad and white or brown rice.
Minimum 2 orders per "Mom's Table." Maximum four orders per "Mom's Table." While supplies last. Additional orders of soup, salad and rice may be added for additional charge. Dine-in only.
Lucille's Smokehouse Bar-B-Que
Sunday, May 14
All moms receive a $10 bonus card good for a return visit, May 15 to July 15.
The Keg Steakhouse and Bar
Sunday, May 14
Treat your mom to a delicious dinner at The Keg for her special day. Plus, all moms will receive a $25 Keg bonus card to enjoy on a future visit.
California Pizza Kitchen
Through May 31
Share what you wish for Mom in the Dear Mom contest and that wish could be granted. To enter your wish and learn more, visit cpk.com/dearmom.