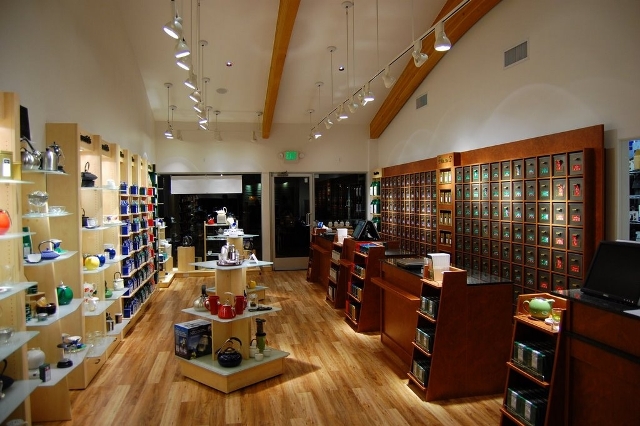 Old Town Scottsdale is home to a sleek new tea shop: TeaGschwendner (pronounced TEA-gesh-WEND-ner). This marks the first TeaGschwendner location–the company is based in Germany–in the United States. The location is home to more than 300 loose leaf teas including black, green, white, oolong, herbal, fruit (some that are even kid-friendly), organic, rooibush and decaf varieties from around the globe. The prices of these teas offer quite a range as well, from $3 for 50g to more than $700 for 500g. TeaGschwendner also sells an assortment of tea accessories including preparation equipment, truly unique tea pots, tea cups, storage tins and tea kettles. (This would make a great stop for your Mother's Day shopping needs. The helpful employees are even able to help you put together a one-of-a-kind gift basket, if you'd like.)
The teas are organized by type at one end of the store–there are even user-friendly tins full of each tea on display so customers can smell and read about each tea before making their choice. On the other end of the store, the employees can scoop out the desired amount of tea from large bins. Customers even get to take home a small sample of tea with a purchase. Before you leave, they can even whip up a hot or iced glass of tea to go–in any flavor sold at the TeaGschwendner shop.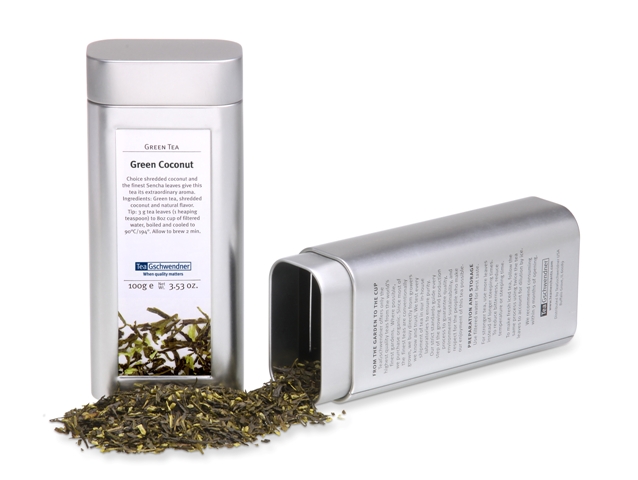 Recently, I was treated to a fun, information-filled tasting at the tea shop, conducted by co-owners, operating partners and husband and wife, Cheryl and Russ Graf. (Luckily, the Grafs will host other tea tasting, workshops and classes so anyone can learn the ins and outs of tea. This month, tastings will take place from 6 to 7 p.m., on May 12, 19 and 26. Call to reserve your spot.) My favorite teas that I tested on this visit included a delicious cherry tea, which was great iced, and an amazing, spicy chai. On my to-try list: T-bear Gummi Bear fruit tea (made with actually Gummi candies), applemint herbal tea, green-coconut green tea, and pineapple-mango black tea (I can imagine this would be a dreamy iced tea). 7051 E. Fifth Ave., Suite C, Scottsdale, 480.686.8503, http://www.teamerchants.com/MyPages/Scottsdale.aspx.
Company History
The first TeaGschwendner shop opened in 1978, in Trier, Germany. The idea was simple: to share the very best teas with a small, select circle of connoisseurs. From the vision of founder Albert Gschwendner and its modest beginnings, the company has become a global leader in tea retail with 145 stores in nine countries. In 2005, the company expanded from Europe into the U.S., opening two company-owned stores in the Chicago area. The Scottsdale store marks the opening of the first U.S. partner store.