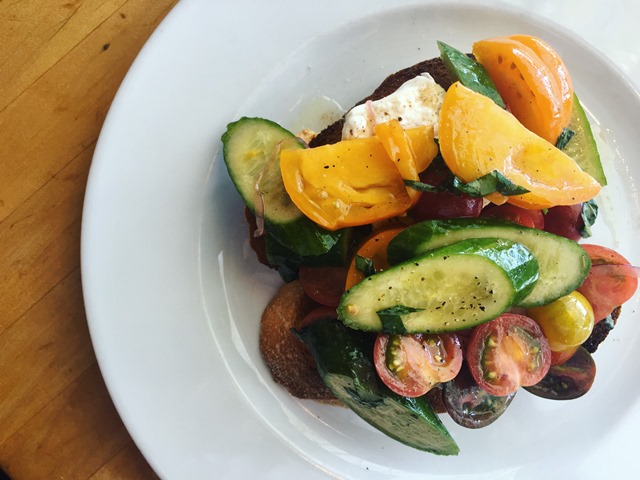 In the heart of trendy Phoenix, St. Francis, a modern restaurant with urban flair, brings fresh and rustic ingredients to the table. Brick walls, concrete floors and steel fixtures characterize the interiors, while natural light streams in through the floor-to-ceiling windows that open up to onto the cozy patio. The menu focuses on wood-fired cuisine and is consistently incorporating seasonal ingredients. We stopped in to get a taste of their new summer additions.
Soup may not be the first thing you think to order in the summer, but at St. Francis is should be. We started our meal off with a bowl of carrot ginger soup, whose bright orange hue and swirl of crème fraîche is as pleasing to the eye as it is the taste buds. The creamy, decadent soup is topped with croutons and chives and is surprisingly the perfect start, even in this warm weather. The fire roasted eggplant dip is also a must-try appetizer. Warm bread—perfect for stuffing—is served alongside a colorful mixture of eggplant, yogurt, pine nuts and smoked paprika. The dip is the perfect blend of textures and the addition of olive oil is a tasty touch.
For a lighter, summer eat, try the roasted carrot and avocado salad that's tossed with goat cheese, croutons and a refreshing orange poppyseed vinaigrette. The wood-roasted summer squash is also delicious, served with goat cheese, toasted almonds and romesco sauce. Another fresh choice is the heirloom tomato vegetable dish, reminiscent of bruschetta and served on a crostini, giving it the perfect crunch to balance out the creamy burrata cheese. It's also topped with sliced cucumbers, red onions and a red wine vinaigrette. It's worth it to note that the tomatoes were plucked from the nearby farm a mere hours before making it onto our plate, and the taste verified it.
While the entrée menu is smaller, it packs a lot of flavor. For our main entreé, we enjoyed a colorful pan-seared rainbow trout, served atop bright purple sweet potatoes, with green beans and an almond-brown butter-caper sauce. The sweetness of the potatoes mixed well with the saltier ingredients and proved to be a savory, yet light dish.
Warm summer months are perfect for refreshing citrus, which is why the lemon olive oil corn cake was the sweetest end to our meal. The small, circular cake is served over a rosemary-caramel sauce and is topped off with irresistible sweet cream gelato, a unique mix of flavors that work well together. –Suzanne Koch