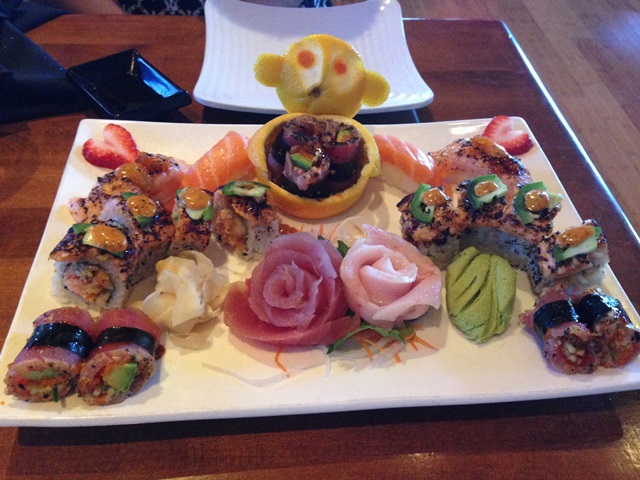 In North Scottsdale, Sapporo has been a top stop for high-end Asian cuisine since its opening in 2001. A favorite among socialites and professional athletes in the area, Sapporo offers Pacific Rim-style seafood, fresh sushi, and fun teppanyaki meals cooked right in front of guests. The restaurant is a giant, modern building off Scottsdale Road with two enormous torches lighting its front entrance. Inside the maze-like restaurant is a giant bar to the left, dinner tables dotting the middle floors, with teppanyaki and sushi stations dotting the outer walls. The energy in Sapporo exudes trendiness, with guests knowing full-well that they are among Scottsdale's chicest foodies.
Restaurant group owners Tavistock and executive chef Stephen Stromberg recently decided to revamp the entire menu, describing the changes as a quest to get back to Sapporo's Asian roots and "what defines them." Stromberg was given full creative liberty with this updated dinner menu, and describes his new items as healthful and innovative. Additions to the appetizer menu include the memorable Kushiyaki-style chicken skewers, made with baby shitake mushrooms, green onions, and a delectable almond chili sauce that was the highlight of the dish. Another fantastic choice is the Thai-steamed mussels, cooked in a delicate variety of cilantro and fresh herbs, with crunchy ciabatta bread as a means to mop up all that delicious Thai chili sauce. Consider skipping the mango ceviche, however, if you have a weakness for spice—its mix of seafood and pickled jalapenos seems geared more toward those who enjoy blasts of spice.
The new Brussels sprout and rhubarb Caesar salad was a flavorful choice; bursting with the sweetness of crunchy, raw rhubarb, grilled chicken, shaved parmesan, and the house dressing. The NY strip steak salad was also nice—perfect for those who want a filling but healthful meal. Char-broiled steak sits atop a bed of Asian mix, with local heirloom tomatoes, avocado, and an yuzu-white balsamic dressing to finish it off.
Stromberg wanted to introduce a new way of ordering entrees to Sapporo's menu—smaller portions and prices to allow guests the ability to sample more of its enticing options. The miso-marinated sea bass was fantastic, with sautéed lemon snow peas completing this light dish. For those who prefer exotic meats, the Kakuni-braised pork belly with baby bok choy tasted rich and velvety. An extensive dessert menu, including a bananas foster spring roll and chocolate mousse cake, ends the meal on a memorable note. Happy hour: this summer, all day every day, with a variety of drink and food specials. www.sapporoscottsdale.com. –Ashley Carlson