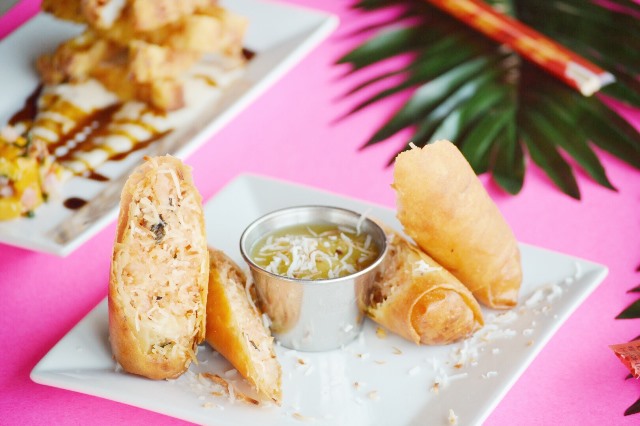 With a modern, urban twist on the classic tiki bars and restaurants of the 50's, 60's, and 70's, Hula's Modern Tiki (with locations in Scottsdale and Phoenix) is the place to be for a casual dining experience that offers top-notch dishes at an affordable price. From tropical cocktails, to happy hour, a quick bite or a full meal, the restaurant fuses Island and American flavors for a gourmet dining experience.
As I was looking at the delicious options of the lunch menu, I went for a few samples that included crispy coconut shrimp rolls (pictured), a spicy Thai chicken bowl, and the popular South Seas fish tacos (pictured).
Craving something light yet tasty? The appetizer definitely met those expectations. The fresh taste of the shrimp with a lovely hint of coconut was a flavorful and delicate start to my meal and paired perfectly with the tangy dipping sauce. I couldn't wait for the dishes that followed.


My entrée choice, a spicy Thai chicken bowl, featured a bed of white rice, and it was carefully topped with boneless chicken breast, lightly spiced Thai sauce, avocados and fried sweet plantains. I enjoyed every bite of my creamy dish, and thought the bowl was a wonderful mixture of flavor and texture. After the hearty bowl, I could only eat one of the two fish tacos, which featured tasty seasonal grilled hapu, taco slaw, sun-dried tomato pesto aioli and corn tortillas, as well as a side of white rice and black beans.