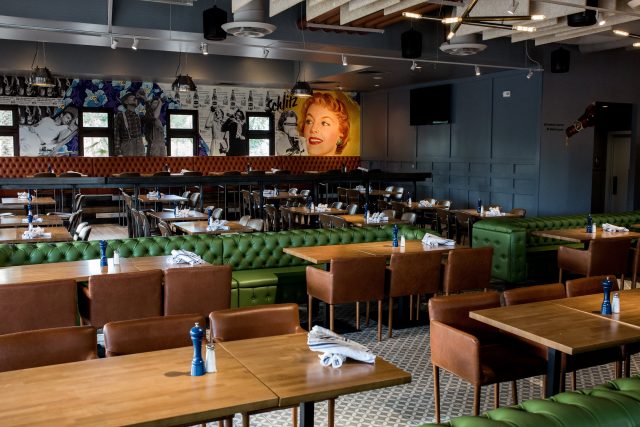 When Hop Social Tavern opened its doors near Chandler Fashion Center in November, locals were thrilled to have a new, non-chain restaurant to enjoy. While the allure of something new attracted them there, delicious eats and great service has already given many customers "regular" status at the brew-forward dining destination.
The design team behind the likes of Postino Wine Café and Stock & Stable, Brick & West, is behind the cool, "industrial made-in-America" aesthetic of Hop Social Tavern.  A wall of beer tap handles (there are 52 on tap, many local!), a 40-ft. mural, and gorgeous emerald-green tufted booths will definitely drop jaws before guests even take their seats. (There is a variety of seating to choose from; high-tops by the bar, a chef's table to see the kitchen action, the aforementioned booths and by the fireplace on the patio, to name a few cozy options.)

The menu is just as thoughtful as the design. The lineup is chock-full of "Americana scratch-made food" that comforts the soul (and the body during the cold winter evenings). During a recent happy hour visit, favorites includes the soft baked pretzels paired with ooey gooey cheese sauce (and these pretzels are actually soft–not crispy on the outside like many variations) and scratch-made corn fritters that put traditional cornbread to shame. When dunked in the accompanying honey butter, the crunchy fritters could even be dessert.
One of our favorite things about Hop Social Tavern is the hot, scratch-made donuts (pictured). And you won't just see them on the dessert menu; they grace the appetizer lineup as well (why wait until you're full at the end of the meal to enjoy these babies?) They are warm, powdered in sugar and served with a decadent caramel cream–the perfect way to perk up the taste buds pre-dinner.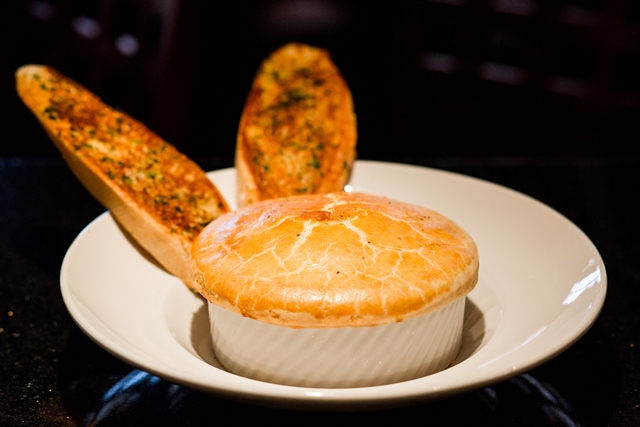 As for the main courses, the house-made chicken pot pie (pictured, a family recipe from co-owner of Hop Social Tavern, David Burnett) has become a customer favorite while the spicy mac and cheese rounded out with Italian sausage is hearty and delicious.
To drink, choose from one of the 52 beers on tap (just about every type of beer is represented and flights are an option) or sip one of the divine craft-infused cocktails. The BLVD. with bourbon, citrus and stout beer is perfection; warming and dark, with a burst of brightness from the citrus.
The happy hour menu is offered daily from 3 to 6 p.m. and 9:30 p.m. to close. Hours of operation are Sunday through Thursday from 11 a.m. to 11 p.m. and Friday through Saturday from 11 a.m. to midnight.