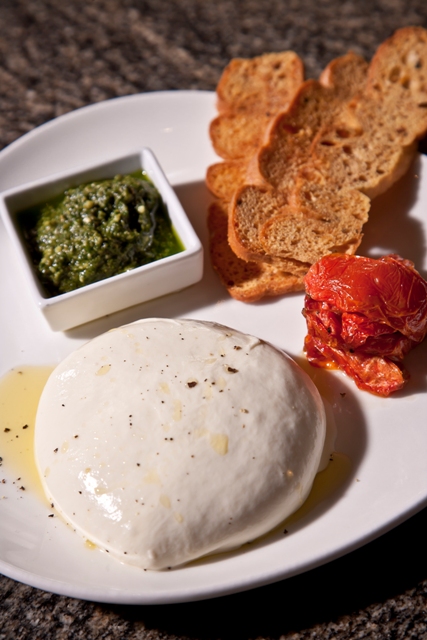 Scottsdale Quarter has become a hot bed of hip–and delish–restaurants, and we're steadily tasting our way through them all. One of our favorites, thus far, has been Tanzy Restaurant, located on the second floor of Scottsdale Quarter, near iPic Theater. Now is the time to enjoy Tanzy's Mediterranean fare, before the weather becomes too scorching. We recommend grabbing a seat by the window wall during lunchtime (the windows are left open when the weather is nice) to enjoy some fresh air, prime people watching as the windows overlook the splash pad area and tasty Tanzy cuisine.
To start, the house-made mozzarella appetizer is a must order.  The mozzarella, which is served warmed, is sided with sweet roasted tomatoes, crostini and wonderful basil pesto. Though we were unable to finish the appetizer before our entrees arrived, we couldn't part with the dish–letting it linger on the table until we had eaten it clean. For a refreshing, summer-friendly dish, the mixed green salad with strawberries, goat cheese, toasted hazelnuts, baby greens and a balsamic vinagrette was the perfect pick. Even as a split order, the salad was sizable and didn't skimp on the good stuff–the hazelnuts, goal cheese and strawberries.
 Though the pasta dishes were tempting, we were intrigued by Tanzy's seafood offerings, which didn't disappoint. The seared lemon sole was quite yummy and perfectly light for a lunchtime entree. However, we would have loved to see a little more rock shrimp in the yummy rock shrimp succotash. The grilled pineapple-glazed swordfish was another season-appropriate dish sided with fingerling potatoes.
Before heading out to finish your Scottsdale Quarter shopping excursion, try the chocolate-banana tart. Your sweet tooth will thank you.  http://www.tanzyrestaurant.com/.