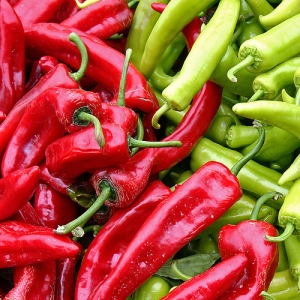 Richardson's, in Phoenix, has long been providing the Valley with delectable New Mexican fare and my recent lunch visit confirmed what all the fuss was about. Finding the restaurant, though, was a small challenge. The only sign that read "Richardson's" was on the glass door (there was no name on the building) so we drove by it twice before finally pulling in. (Richardson's is located right next to the new Luci's Healthy Marketplace.) However, once we opened the door, we were pleased with the cozy atmosphere and short wait time, though the restaurant was quite bustling for the lunch hour. The lights in the smallish restaurant were dim and the booths were incredibly comfortable–there were even pillows lined along the cushy seating. Richardson's interiors also featured Southwestern touches like adobe-like walls and cactus. We also noted the variety of clientele that Richardson's attracted: There were plenty of power lunches with people in suits and just as many groups of families and friends out for a casual meal.
After settling into our large, plush booth, my co-worker and I ordered two tempting-sounding plates. I opted for the blue, red and white corn enchiladas topped with cheese and green chili sauce. Each enchilada was filled with a different ingredient–cheese, shrimp and chicken. The chicken enchilada was my favorite of the three but all were very flavorful and had a wee bit of spice. I would have loved a little more shrimp, though, in the one enchilada. The dish also came with yummy beans and rice on the side. My co-worker decided on the Chimayo chicken, which is a chicken breast stuffed with spinach, sun-dried tomatoes, poblano chilies, asiago cheese and onion sauce. Everything about the chicken was delectable–it was moist, flavorful and the chilies offered a slight kick. The dish was sided with Richardson's famous green chili potato–not to be missed. You just have to see it to believe it. On my next trip to Richardson's, I hope to order from their brunch selections, which are available until 4 p.m. every day. Rellanos and eggs and the chock-full breakfast burritos sound amazing.
We were incredibly pleased by the sizes of our lunch entrees. Though they were lunch servings, there was enough on our plates to save half for another meal (we, however, ate our entire meal). Maybe we'll need to use those pillows after all for a little post-lunch siesta. 1582 E. Bethany Home Rd., Phoenix, 480.265.5886, http://www.burningembersphoenix.com/.