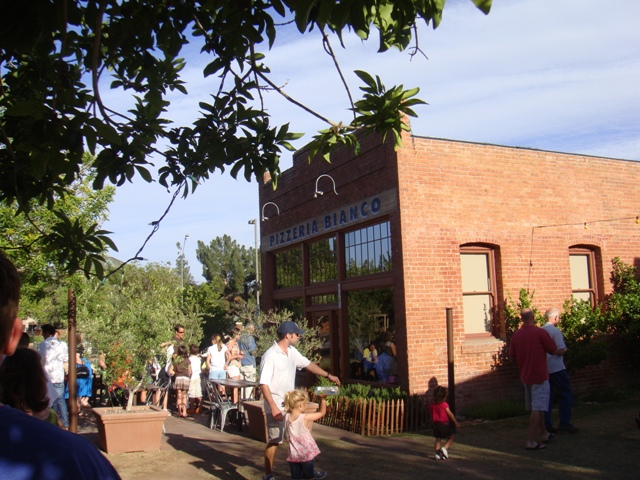 Drum roll, please: Last week, I finally dined at Phoenix's famed Pizzeria Bianco. With all the great
new dining spots
opening in Phoenix and seeing it featured on Food Network twice in two weeks, I wanted to check out one of the area's oldie but (very) goodie. On the drive there, I was giddy–I even asked my husband if he felt like he was going to Disneyland as much as I felt that way. (For the record, he just laughed at me.) We got to the Heritage Square restaurant at 4:45 p.m. and the line was already 75 to 100 people deep–and this was a Wednesday. We've all heard about the insane wait times (up to four hours on the weekend) and how reservations aren't accepted for groups of less than six people. We got in the door at about 7 p.m. But I figure if it's good enough for Martha Stewart–the domestic goddess visited and blogged about her visit to Pizzeria Bianco during last year's Super Bowl weekend–then I'll gladly wait two hours or more.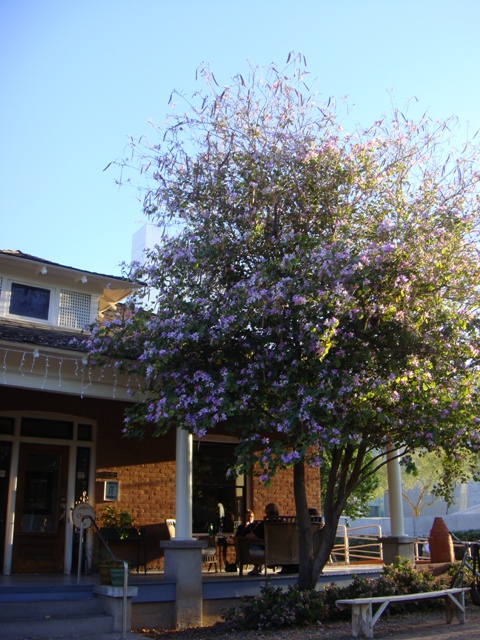 The wait, however, wasn't bad at all. Once the doors opened at 5 p.m., the first 40 or so customers were seated and the remaining guests gave their name to the hostess, were given an approximate wait time and were then able to wander. Next door, Bar Bianco serves up wine, beer, olives and other appetizer-y items to hold you over. With beers in hand, we hung out in the large picnic bench in the garden area and then at a park bench. During the wait, a wonderful server checked up on us several times to see if we needed anything–again, making the wait completely bearable. The entire area–the bar, the garden–was quite lovely. Not a bad place to spend a spring evening–and it was made even better knowing the the 'za was coming up.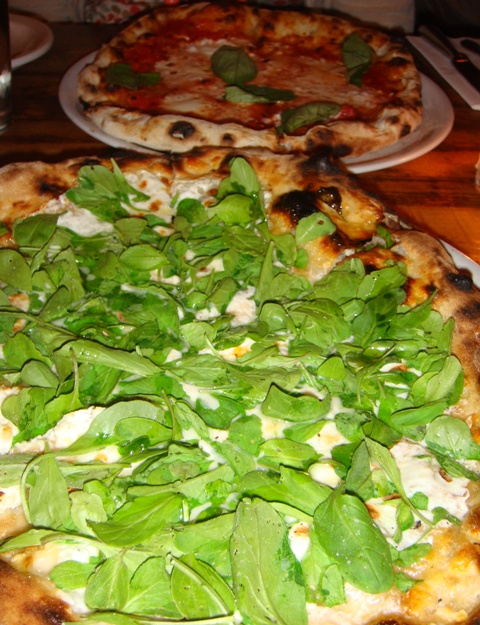 At 7 p.m., we were finally seated. The space is tiny and much of it is occupied by Chris Bianco's (again, I got giddy upon seeing him) large, wood-burning oven. But it is overall very welcoming and comfortable, and the staff was incredibly friendly. The menu listed a few small plates, like antipasto, and salads including one the features Bianco's handmade mozzarella and fresh tomatoes and basil (you can even see Bianco's garden on the property). However, pizza was all we had on our mind. We ordered the Margherita, a straightforward pizza of tomato sauce, basil and mozzarella, and the Biancoverde, topped with mozzarella, Parmigiano Reggiano, ricotta and arugula. The Margherita was divine and we couldn't get over the incredible freshness of the basil. Simple perfection. The latter pizza was a bit more unusual, and we enjoyed the kicky arugula and sharp Parmigiano Reggiano. And the wood-fired crust was somewhat thin with charred bubbles around the perimeter–heavenly. While there's no doubt we could have finished all 12 slices in one sitting (each pizza had six medium-size slices), we saved a few to take home. Then we ate the remaining slices about 15 minutes after getting through our front door. Hours: Tuesday to Saturday, 5 to 10 p.m. 623 E. Adams St., Phoenix, 602.258.8300,
www.pizzeriabianco.com
.