Next week is my wedding anniversary (I can already hear your "aww's"). For this special day, these are a few of my favorite romantic Valley restaurants that I'll be name-dropping around my husband this weekend.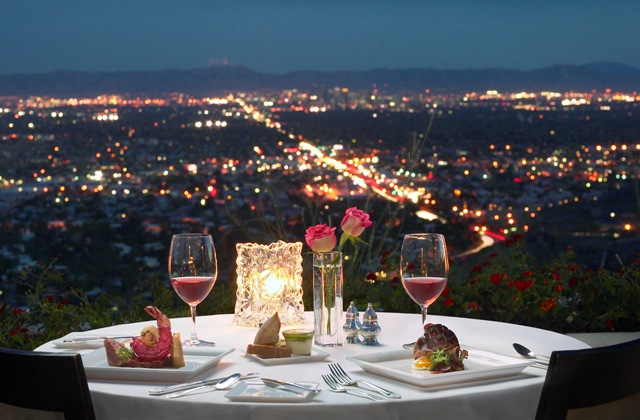 Different Pointe of View This resort restaurant, at Phoenix's Pointe Hilton Tapatio Cliffs, is perched 1,800 feet above the Valley. Therefore, there's no surprise that Different Pointe of View offers some of the most stellar views of the Valley. And the restaurant's menu combines two of the most romantic types of fare: French and Italian. 11111 N. 7th St., Phoenix, 602.866.7500, http://www.pointehilton.com/.
Sassi I really wanted to get married at Sassi. While that unfortunately didn't happen, I can surely celebrate my anniversary there. The North Scottsdale dining spot's Old World architecture and divine pasta makes you feel as if you've been swept away to Italy…what's not romantic about that? 10455 E. Pinnacle Peak Parkway, Scottsdale, 480.502.9095, www.sassi.biz.
T. Cook's My husband loves chicken—he can eat it morning, noon and night. Every single day. So why not treat him to the most amazing chicken in town? Poulet Rouge is served at T. Cook's at Royal Palms Resort & Spa for lunch and dinner, 5200 E. Camelback Rd., Phoenix, 602.840.3610, http://www.royalpalmshotel.com/.
Coup des Tartes Candlelight? Check. Oodles of charm? Check. French-inspired bistro fare? Check. Plus, Coup des Tartes is BYOB so we can tote along whatever bottle we're craving. 4626 N. 16th St., Phoenix, 602.212.1082, http://www.nicetartes.com/.
Alto ristorante e bar This Italian restaurant at Hyatt Regency Scottsdale Resort & Spa at Gainey Ranch offers the best dessert of all: a lovely gondola ride through the Scottsdale resort's waterways. Before hitting the water, though, a big plate of pasta and truffled polenta is in order. 7500 E. Doubletree Ranch Rd., Scottsdale, 480.444.1234, http://scottsdale.hyatt.com.
House of Tricks I'm a sucker for a pretty patio…and, boy, does this Tempe restaurant have an adorable one. I'd go for the citrus-seared scallops and pumpkin seed-crusted filet mignon (seasonal and romantic!). 114 E. 7th St., Tempe, 480.968.1114, http://www.houseoftricks.com/.
Bistro 24 This European-inspired bistro is located at the Ritz-Carlton, Phoenix. Enough said, right? My husband would adore the beef short ribs. 2401 E. Camelback Rd., Phoenix, 602. 468.0700, http://www.ritzcarlton.com/en/Properties/Phoenix/Default.htm.
Lon's Now that the gorgeous patio at Lon's, at the Hermosa Inn in Paradise Valley, has be reopened, I'd love to spend our anniversary evening dining under the stars. Lon's butternut squash ravioli and truffled mac 'n cheese will undoubtedly be on my plate. 5532 N. Palo Cristi Rd., Paradise Valley, 602.955.7878, http://www.lons.com/.