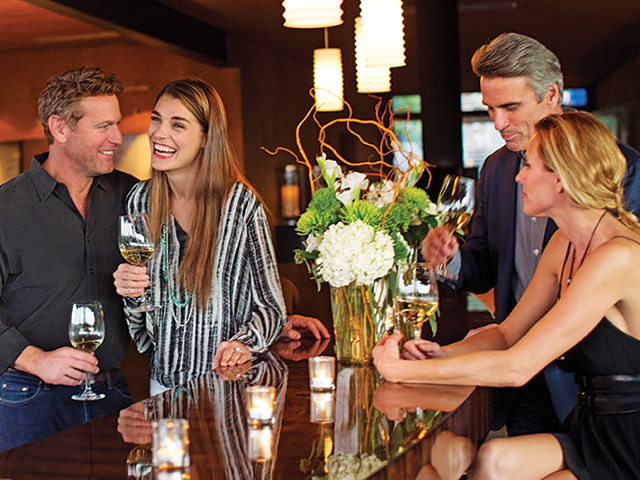 3, 2, 1…happy New Year! Ring in 2018 while digging in to a decadent dinner (or perhaps while at a casual brunch earlier in the day) at one of these Valley restaurants.
Two New Year's Eve seatings will be available at Prado at Omni Scottsdale Resort & Spa at Montelucia (6 p.m. and 9 p.m.) Diners can choose decadent dishes such as braised cowboy short ribs, dungeness crab salad, key lime pie and much more.
Guests can toast 2017 one last time with a sit-down affair at elements or ring in the New Year with music and dancing at jade bar at Sanctuary Camelback (pictured). Presenting an inspired four-course menu by Chef MacMillan, elements will offer two seating times (5:30 to 7 p.m. and 8 to 10:30 p.m.; the second seating includes a complimentary Champagne toast, party favors and admission to the jade bar celebration). At jade bar, the New Year's Eve bash begins at 8 p.m. and goes on until 1 a.m., complete with a dancefloor and live music by DJ Hybrid that is sure to pack the dance floor. Priced at $1,000 for a table of four and $1,500 for a table of six, the Dinner Package includes a four-course prix-fixe holiday menu, bottle of Dom Perignon Champagne and party favors. Tax and gratuity are additional, and space is limited. Reservations are required and can be made by calling 480.607.2300.
Dine at any of Fairmont Scottsdale Princess' restaurants on Dec. 31 and gain complimentary entry to the resort's Rose Gold Gala New Year's Eve Party, from 5 p.m. to 2 a.m.  (Otherwise, entry is $25.) Taking place at The Plaza Bar, enjoy entertainment by DJ Tommy Roberts, starting at 9 p.m., dancing and specialty cocktails. Themed attire is encouraged. (VIP table and bottle service is available by calling 480.585.2694.)
Wasted Grain hosts a "Black Tie New Year's Eve" on Dec. 31 from 8 p.m. to 1 a.m. A hosted bar is available from 8 to 9 p.m. with appetizers and a Skyy bar ($20 cover). Over at Old Town's new Famous 48, guests can enjoy a prix-fixe dinner from 5 p.m. to 1 p.m. The dinner is paired with 2 complimentary glasses of select Champagne for 21-plus guests. Reservations are accepted by phone at 480.758.4994.
The Wigwam will offer a variety of dining options for ringing in 2018. Enjoy a decadent four-course, prix-fixe feast at Litchfield's from 5 to 10 p.m., family fun and food and drink specials from 5 to 10 p.m. at Red's Bar and Grill and live music (starting at 7 p.m.), cocktails and signature dishes at Wigwam Bar from 4 p.m. to midnight.
Hyatt Regency Scottsdale Resort & Spa at Gainey Ranch will host a variety of holiday menus for New Year's. SWB, a southwest bistro, will dish up a special holiday menu while  Alto ristorante e bar will serve a prix-fixe four-course dinner. Reservations are required by calling 480.483.5549.
New Year's Eve Dining at Wright's at the Biltmore at Arizona Biltmore will offer a decadent five-course dinner to ring in the New Year. The dinner will be served on New Year's Eve at 8 p.m. with a reception beginning at 7 p.m. Reservations are required by calling 602.955.6600.
Chef Russell LaCasce is ringing in 2018 with four courses including black truffle tart, Hokkaido scallops, Kobe New York strip, valrhona chocolate custard and Champagne pairings for ZuZu's New Year's Eve Dinner at Hotel Valley Ho. Choose from a 5:30 p.m. seating, or an 8 p.m. seating that includes a special midnight toast. J Forte will also be bringing her soulful sound to the ZuZu Lounge from 8:30 p.m. to 12:30 a.m.
Fox Restaurant Concepts will be offering a variety of way to celebrate New Year's, from a prix-fixe menus at Little Cleo's and North Italia to a special holiday menu at The Henry, including king crab and caviar.
Conclude 2017 in high style at Ko'sin or Kai, Arizona's only Forbes Five-Star and AAA Five-Diamond restaurant, as both venues have delightful selections prepared for New Year's Eve dinner service. At Kai, dinner service will be offered from 5 to 9 p.m. and will be priced at $220 per person. (Please mind that Kai's dress code discourages denim and will exclude any shorts and hats worn in the restaurant.) A four-course dinner will be offered in Ko'sin in place of their traditional dinner menu on New Year's Eve from 5:30 to p.m.
On Sunday, Dec. 31, Padre Murphy's will be ringing in 2018 with a special New Year's Eve celebration. Beginning at 8:30 p.m., the Black Horse Band will take the stage playing classic rock favorites while Executive Chef Steve Kennison prepares a surf and turf special. Party favors and hats will be ready on every table in time for the champagne toast at midnight.
Sonata's Restaurant in Scottsdale will be hosting a specialty New Year's Eve celebration complete with a choice of a four- or six-course meal, balloon drop, Champagne toast, music and more. Two seating times will be available from 5:30 to 7:30 p.m. or 7:30 p.m. to close.
The Boulders Palo Verde and Grill restaurants will be offering a specialty four-course meal beginning at 5 p.m. on Sunday, Dec. 31.
Enjoy a five-course, prix-fixe dinner for New Year's Eve at Blue Hound Kitchen & Cocktails, with two seatings available (6 to 6:30 p.m. and 9 to 9:30 p.m.) Reservations required by calling 602.258.0231.
Celebrate New Year's Eve Italian style with a multi-course feast from EVO in Scottsdale.  The special four-course menu features three starters, four salad options, and entrees ranging from lobster carbonara to steak ravioli.  Plus, finish off 2017 with a sweet treat: brown butter baby cake.
Join TEXAZ Grill as they celebrate a classic tradition of the south of eating black eye peas on New Year's Day.  Stop by for a complimentary bite of Texas Caviar (marinated black-eyed pea salad) on New Year's Day from 10 a.m. to 10 p.m.
Ring in 2018 at Voila French Bistro. The prix-fixe, three-course dinner offers multiple choice for the first and second course. Everything served is made completely from scratch in-house at Voila, and the menu offers traditional French fare including escargot, filet mignon and chocolate tart.
Salty Sow restaurant will be hosting a specialty New Year's Eve brunch on Sunday, Dec. 31 featuring prime rib and other breakfast items from 10 a.m. to 2 p.m.
Enjoy New Year's Eve dinner at Gertrude's, inside the Desert Botanical Garden. From 4 to 9 p.m., dig into halibut cheeks, a 32-oz. tomahawk steak for two and much more.
Celebrate with a special New Year's Eve Dinner at the Ahnala Mesquite Room with filet mignon, blackberry-serrano halibut and much more.
In addition to live entertainment and a midnight Champagne toast, Ocean Prime Phoenix is offering a special menu to ring in the New Year (including filet mignon with warm lobster).
From 4 to 10 p.m., celebrate New Year's Eve at Zappone's Italian Bistro. Enjoy a special three-course menu of homemade crab ravioli, mascarpone cheesecake and more.
Old Town Gringos in Scottsdale will be celebrating New Year's Eve all day long with a special anniversary event, tailgate party, specialty foods for sale, drink specials and live music.
Roaring Fork will be offering its annual steak and lobster combination in addition to other favorites on Sunday, Dec. 31, from 4 to 10 p.m.
Market Street Kitchen will dish up special features on Sunday, Dec. 31, like pan-seared Chilean sea bass and pink peppercorn-crusted prime rib.
Liberty Station is ready to celebrate with a special menu of filet mignon, pork chops and much more to end 2017 on a tasty note.
Spellbound Burlesque and Coup des Tartes present "The Champaigne Soirée," a New Year's Eve gala. The evening begins with a unique cocktail hour at 7 p.m., complete with special champagne pours accompanied by delicious appetizers. Next, savor a special three-course prix-fixe menu at 8 p.m. while Spellbound Burlesque mesmerizes the crowd with their exciting entertainment. Enjoy a complimentary glass of Champagne to cap off the evening.
This New Year's Eve, Marcellino Ristorante is offering a special a la carte menu featuring some regular dinner items as well as a few of Chef's specialty items, like carpaccio di manzo and porcini fettuccine.
Guests can enjoy a special New Year's Eve meal at Tavern Americana until 10 p.m., with dishes including salmon, grilled New York steak and much more.
New Year's Eve at Rusconi's American Kitchen means a special, three-course menu starting at 5 p.m. (try lobster bisque, red wine braised beef short rib and more).
Reserve your spot at The MARKET Restaurant + Bar by Jennifer's for an amazing three-course (plus amuse) tasting menu for New Year's Eve. Try Baked Alaska for dessert, as well as wild mushroom risotto, lamb chops Provence and more. RSVP by calling 602.626.5050.
The Gladly (dig into short ribs or veal meatloaf) and Citizen Public House (try pan-seared scallops and Black & Tan pudding) are both offering special three-course tasting menus for a New Year's Eve night out.
Hula's Modern Tiki in Phoenix and Scottsdale is hosting an all-day/all-night party on Sunday, Dec. 31. Kicking off at 10:30 a.m. and keeping the party hopping until midnight, enjoy Hula's famous weekend brunch featuring island-style twists on classic brunch fare until 2:30 p.m. Plus enjoy Hula's happy hour drink specials offered all-day (10:30 a.m. to 6 p.m.) Both Hula's locations will stay open until midnight (kitchen open until 10 p.m.), and celebrate with $3 glasses of Champagne (after 6 p.m.), plus a complimentary midnight toast for any guest.
Tomaso's Italian Restaurant and Tomaso's When In Rome will be open from 4 to 11:30 p.m. on New Year's Eve and New Year's Day. Both restaurants by Chef Tomaso Maggiore will feature festive authentically-made dishes, like paccheri with lobster, shrimp and broccolini, stuffed veal chop and more. Reservations are highly recommended.
Ring in the new year with half-off bottles of bubbly at the Scottsdale Quarter's OBON Sushi + Bar + Ramen. Kiss 2017 good bye with plates of fresh crudo, a steaming bowl of ramen or choose from the flavorful selection of steamed buns and sushi rolls.
Locals can end 2017 on a high note with a five-course, Champagne-paired New Year's Eve menu prepared by renowned Chef Charles Wiley at Hearth '61 at Mountain Shadows with seatings at 6:30 p.m. and 9:30 p.m.
Ring in the New Year with family and friends for an unforgettable celebration at The Camby's  restaurant, Artizen. Artizen will offer two seatings, 5 p.m. and 8:30 p.m. (the latter includes a midnight Champagne toast). Guests can make a reservation at http://www.artizenaz.com/reservations or by calling 602.522.6655.