If cucumber-serrano margaritas and boozy agua frescas don't already make you jump for joy, then the new summer menu items at Joyride Taco House surely will.
A standout, the corn fries, were deceptive. At first sight, they actually look like french fries. But this all too-easy-to-eat snack is actually beer-battered baby corn that's been topped with smoked paprika, cilantro and cotija. One dip into the cool tomatillo ranch and you've got a can't-stop, won't-stop kind of appetizer. Other fried goodness includes the house chicharrones and the crispy shrimp al pastor which is topped with a creamy house al pastor sauce that makes this shareable appetizer not so shareable.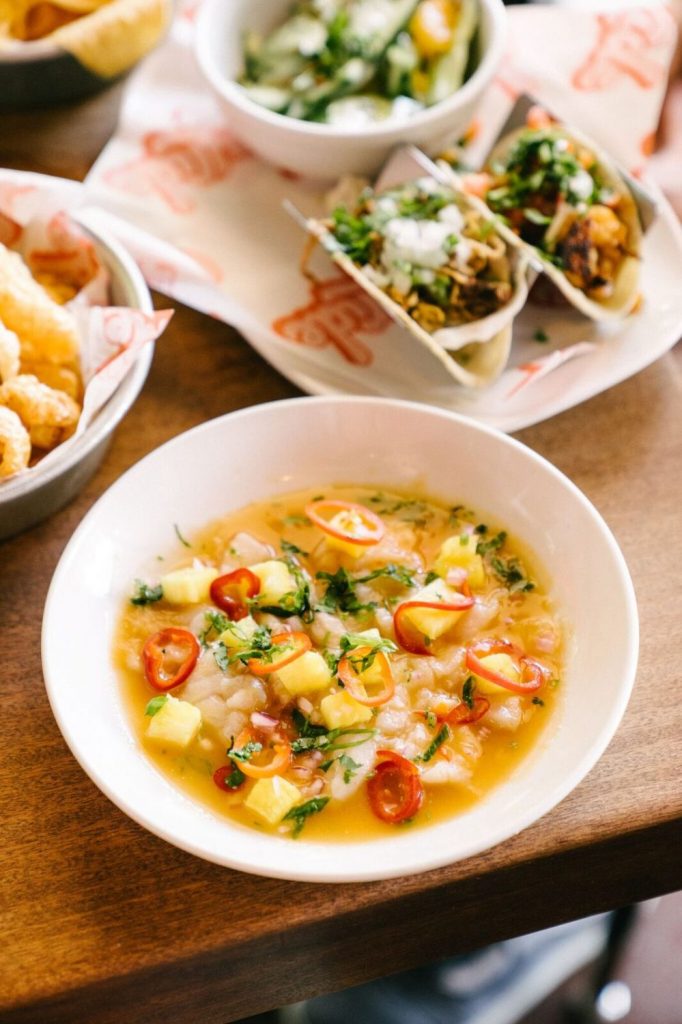 For a lighter bite, the fresh sea bass ceviche is an explosion of color and flavor with augachile rojo, pineapple, pickled fresno, red onions, cilantro and scallion. A true summer eat with a Southwestern twist, the watermelon and pepino is a standout (for the mouth and Instagram). Covered in a house chamoy (a sauce that's fruity, sweet and spicy all at once), pepitas, queso fresco and mint, this was gobbled up in minutes.
Other new items include the crispy brussel sprouts and roasted mushrooms, both with a Southwestern flair of mild peppers and queso fresco. These shareable sides are perfect accompaniments to some tacos if you're tired of rice and beans (but really, who are we kidding).
For the finale, get your hands on the new tricked-out churros. Choose from Nutella banana or the Fruity Pebble-coated Flintstones churros. Or, since choosing is too hard, order the churro sundae and get a combo of both churros plus a scoop of dulce de leche ice cream with whipped cream and sprinkles.
The new menu items are here to stay (for now), but why wait? Somewhere at Joyride, there's a churro waiting to be ordered by you. –Suzanne Koch