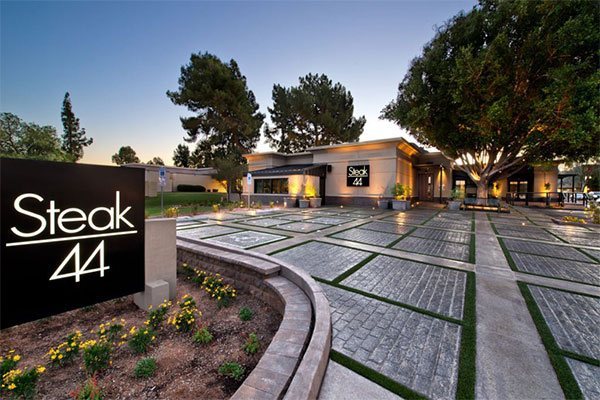 Though social distancing makes Easter a little different this year, these Valley restaurants are still making it easy peasy to have a delicious, thoughtful meal with your family this holiday weekend. Complete with desserts, cocktails and deals on bottles of wine, of course. 
Scottsdale's Dominick's Steakhouse, Steak 44 (pictured) and Ocean 44 are offering a luxurious prix-fixe menu for a decadent family feast this Easter Sunday to-go, with dinner packages from $85 per person (two or more people). The dinner includes one appetizer and one side (including loaded whipped potatoes and creamed spinach) per two people and a salad, entree and dessert per person. Entrees includes NY strip, petite filet mignon, Shetland Island salmon and Tomahawk pork chop. Order via phone or online, call the restaurant upon arrival, drive-up, sign and pick-up the food without ever leaving the comfort of your own car. Delivery is also available on UberEats, Door Dash and Postmates. Pre-orders are now available. Plus: the full menus at each restaurant are also available. 
Available through April 12, Scottsdale's Fogo de Chao offers a to-go family grilling menu for four in time for Easter that takes the work out of a safe yet luxurious holiday feast for you and yours. Choose a ready-to-grill main course with options like lamb chops, filet mignon, ribeye and Atlantic salmon to be enjoyed alongside a slew of traditional Brazilian sides, like Brazilian potato salad, steamed asparagus and a choice of salad, and seasonings. A variety of enhancements are also available, including dessert, bottles of $25 Fogo Tribute wine and more. To place your order, call 480.609.8866 or emai ScottsdaleEvents@fogo.com. 
Fairmont Scottsdale Princess is keeping your family safe and well-fed by offering an Easter Dinner with curbside pickup. Easter Family Meals feed four for $195 and Easter Baskets are $78 per basket. Reserve and pay by Thursday, April 9, for pick-up at the Palomino Ballroom entrance on April 11 between 1 and 3 p.m. Those who would like to purchase can email SCP.MagicMemories@Fairmont.com.
To honor the religious celebrations of Passover from Wednesday, April 8, through Thursday, April 16, and Easter on Sunday, April 12, Chompie's is bringing the feasts home. Chompie's locations Valley-wide are offering menus for Easter and Passover. Family and individual feasts that can be delivered right to the doorstep or picked up curbside for guests convenience.
The Sicilian Butcher is offering a full Italian-style Easter to-go feast for family gatherings of a minimum of five people. The Easter dinner package features arancini, cazzilli, baked pasta, boneless leg of lamb and chicken cacciatore as well as mixed Italian cookies and a dessert cake. Cost is $38 per person.
Chart House will offer guests the choice of two pick-up-only menus (slow-roasted prime rib menu for $80 and roasted citrus herb salmon menu for $60). Each menu serves two to three people. Each entree is served with a starter, accompaniments and desserts for the whole family. Orders must be placed by Wednesday, April 8.
Maple & Ash offers its brunch favorites for Easter including filet mignon, smoked salmon platter, farm egg frittata, honey baked ham and more for two people for $80 (add-ons like caviar and Bloody Marys are available) from 11 a.m. to 6 p.m. Must pre-order by Friday, April 10.
All Mastro's Scottsdale locations will offer guests decadent dishes including rack of lamb, build-your-own Chilled Iced Seafood Tower, warm butter cake and much more for Easter Sunday. All orders must be placed by Friday, April 10.
Morning Squeeze is offering a special Easter Brunch Package (feeds four to six people and includes quiches, potato casserole, ham and more) available for pick up on Sunday, April 12. It will also deliver the brunch package for free to addresses within three miles of its Tempe and Scottsdale locations.
Upward Projects restaurants–Windsor, Postino, Federal Pizza and Joyride–are offering Easter-friendly dishes available for pick-up April 11 or Easter Sunday. Plus, bottles of wine are $15.
Gertrude's has pulled together a special Easter Weekend menu available for delivery or curbside pick-up Thursday, April 9, through Saturday, April 11. Dishes include garden quiche, French toast, salmon toast, braised beef, various cocktail kits and more.
Grimaldi's Pizzeria is offering a free slice of cheesecake on Easter, Sunday, April 12, with the purchase of $40 or more.
Chef Russell LaCasce of ZuZu at Hotel Valley Ho has whipped up family-style meals including slow-roasted turkey breast, honey-baked ham and an assortment of sides and desserts. Family meals start at $65 for four people. Place your order at 480.421.7712 by Thursday, April 9, at 5 p.m., for pick up on Sunday, April 12, between 10 a.m. and 6 p.m. Or, enjoy free delivery within five miles for orders over $100.
Enjoy an Asian-inspired Easter meal for four people from the comfort of your own home from Ling & Louie's. This specially curated meal includes two starters, four entrees and accompaniments.
Original Breakfast House is celebrating Easter with breakfast specials available for pick-up on April 12 from 7 a.m. to 2 p.m. Dishes include crab omelet, corned beef hash and eggs, shrimp and grits and more.
Los Sombreros is offering a family meal that serves four to six people for $60. The holiday takeout special includes some favorite comfort food dishes, plus a special new crab cake dish. Easter meals are available from both Uptown (602.601.6390) and Scottsdale (480.994.1799) locations. Call ahead to place order and indicate pickup time on Easter Sunday (starting at noon). Minimum call ahead time is 60 minutes notice. 
In honor of the Easter holiday, Joe's Diner is offering an eggs benedict featuring an open-faced toasted English Muffin topped with Canadian bacon, two poached eggs, and homemade hollandaise sauce served with seasoned potatoes or fruit for $12.79.
Farm & Craft is serving Easter Brunch To Go this weekend with customized crustless quiches for $35 (serves four) or $50 (serves eight). Gluten-free and vegetarian options available. Must call the restaurant to order 24 hours in advance. In addition, enjoy $15 mimosas to go with a bottle of Champagne and orange juice.
Maggiano's Little Italy offering a cold-prepped Easter bundle for guests to heat fresh in the oven. The Easter bundle feeds four to six people and is available for pickup April 10 to April 12. Maggiano's Little Italy's Easter bundle is $120 at all participating locations, and guests can call to order or order online. Additionally, Maggiano's can also accommodate smaller families.
Tomaso's is offering a  to-go menu for Easter, including a choice of salad, pasta and entree. Entrees include lamb shank osso buco, chicken parmigiana and chicken and sausage cacciatore. For an additional cost, Tomaso's is also offering a choice of dessert as well as red or white wine. Cost is $40 per person, not including tax gratuity. Call 602.956.0836 to place orders no later than April 10.
Fired Pie is offering a holiday special for families. Pick any six entrees and get $15 immediately off your order (minimum purchase is $60). This deal is valid for online ordering through firedpie.com/order-online/, call-in or walk-ins. Promo Code: PIC6. This is not valid with third-party deliveries.
For $69.65, Pomo Pizzeria is offering a package that feeds six, which includes three kale romana salads, bake-at-home Pinsa Romana, bake-at-home lasagna, three tiramisu desserts and a free Pizza Napoletana. Guests also have the option of purchasing a bottle of wine for $20. All order must be placed by Saturday at 5 p.m.
Scottsdale's Prep & Pastry is offering a selection of holiday-friendly eats, like a half sheet of cinnamon rolls, mini Easter scones, brunch for four and a honey-lavender mimosa kit. Place order before noon on Saturday.
Barrio Queen will be offering the Pascua Package (Pascua means "Easter" in Spanish) from open to close at all five Barrio Queen locations via take-out curbside service and third-party delivery through Grubhub, Doordash and Postmates. The $40 package serves two and includes your choice of two pork shank or Mexican sea bass, a large house salad, two sides and flan. (Add any kid's menu item for $3 with a limit of four per package.) There is also an option to add a mimosa kit.
Three packages are available–Fry-Yay, $79; Let the Good Times Boil, $135; and Seas the Day, $175–at Angry Crab Shack's 10 Valley locations this Easter. Order by phone for curbside pick-up or delivery available within a 5-mile radius of the restaurant. Each feed four to six people and add-ons are available.