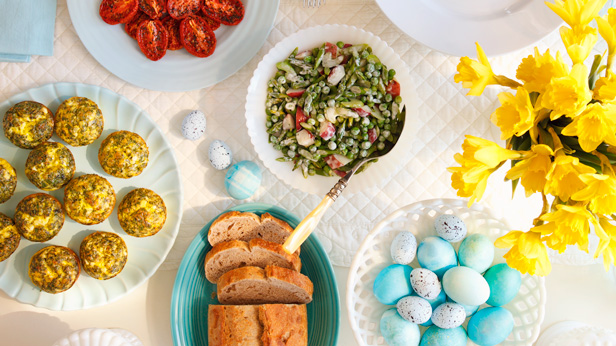 Hop on over to these Valley favorites for a divine Easter brunch or dinner to celebrate the springtime holiday on April 16. (Check each Web site for updated menus, seatings and pricing, and be sure to make reservations.)
Easter brunch at Prado at Omni Scottsdale Resort & Spa at Montelucia means a juice bar, tapas, salads, seafood on ice, paella, carved meats and a selection of made-to-order goodness, including crepes, waffles and egg dishes.
Am Easter celebration is scheduled at Sanctuary on Camelback Mountain Resort & Spa for Sunday, April 16. The festivities will begin with the resort's annual Easter Egg Hunt at 9:30 a.m., open for hotel guests and spa members. Guests and locals are then invited to an elegant Easter brunch at elements restaurant by Executive Chef Beau MacMillan. Brunch is served from 10:30 a.m. t0 2:30 p.m., and the prix fixe menu include crooked neck squash and coconut bisque, green chili pork stew, bananas foster bread pudding and more.
For a fantastic Easter brunch, chefs from Fairmont Scottsdale's four restaurants are coming together to create one elaborate culinary feast. The brunch features popular selections from Bourbon Steak, La Hacienda, Ironwood American Kitchen and Toro Latin Restaurant & Rum Bar, accompanied by decadent desserts from the resort's pastry shop. Easter Brunch will be served from 9 a.m. to 3 p.m. in the Palomino Ballroom. (Children 5 and younger dine for free with the purchase of an adult brunch.)
At The Wigwam, breakfast with the Easter Bunny will be offered from 8 to 11 a.m. on Saturday, April 15, with a menu including French toast, waffles and an omelet stations. An Easter brunch buffet from 9 a.m. to 2 p.m. on Sunday, April 16, is in the works at at Wigwam Ballroom including offerings of carved pepper-crusted sirloin, omelet station and spring desserts. A four-course Easter brunch is available at Litchfield's from 10 a.m. to 2 p.m. on Easter Sunday including choice of caprese benedict, smoked salmon flatbread, steak and eggs and array of desserts.
LON's  at the Hermosa Inn offers a three-course Easter Brunch, from 10 a.m. to 2 p.m., with a variety of starters, entrees and desserts that will create the ideal meal for every guest. A cast-iron skillet of LON's famous fresh-baked brioche monkey bread welcomes the table as the guests then choose between six appetizers, six entrees and three desserts. Live entertainment is also on the menu.
The Farm at South Mountain presents its annual Easter Brunch in The Grove under the pecan trees. This decadent brunch will have over 10 buffet options that the whole family will enjoy. Seatings at: 8:30 a.m., 8:45 a.m., 9:00 a.m., 9:15 a.m., 10:30 a.m., 10:45 a.m., 11:00 a.m., 11:15 a.m. After brunch, rent a yard game from The Farm Kitchen, visit our on-site garden and chicken coop, or find a local treasure at our shop, Botanica.
Hyatt Regency Scottsdale's Easter brunch buffet will be offering a variety of favorites like omelets made-to-order, Southwestern eggs Florentine, brioche French toast, soups and assorted Salads, Alaskan king crab legs, assorted sushi, pastas, a large variety of meats and a lavish Viennese
dessert table. And there is even a special children's buffet. SWB's easter brunch will be served from 10 a.m. to 4 p.m.
From 9 a.m. to 3 p.m., The Market Restaurant + Bar by Jennifer's in Phoenix offers a can't-miss three-course Easter menu with lamb chops, quiche, smoked salmon pizza and more.
The Boulders' signature Palo Verde Restaurant will be featuring a specialty Champagne brunch from 9 a.m. to 1 p.m. on Sunday, April 16. Guests will be treated to a sparkling wine and fresh juice mimosa station, a chef station, a carving station, a stationary dessert display and more.
This year Steak 44 and Dominick's Steakhouse will open early at 11 a.m on Easter Sunday, April 16. Both restaurants will offer its full menus on Easter Sunday, along with its special Steak Farina entrée. Topped with an egg prepared over easy, enjoy a savory 12-oz. bone-in filet this Easter cooked to your liking.
The Scottsdale Resort at McCormick Ranch, A Destination Hotel will host an Easter hunt brunch in the Vista Verde Dining Room from 11:00 a.m. to 3:00 p.m. on Sunday, April 16. Kids will enjoy balloon artists and a carousel on the resort's picturesque Paradise Park Lawn. Eats include herb-roasted leg of lamb, prime rib and much more.
Hotel Valley Ho in Downtown Scottsdale is celebrating Easter with its annual Easter egg hunt, a full buffet, as well as all-day dining at ZuZu. The Valley Ho Easter buffet is from 10 a.m. to 2 p.m. in Sands. Enjoy a delicious array of salads, sides, seafood, entrees and sweets. Specialties include chorizo-stuffed porchetta, duck confit and razzle berry pie. Or, enjoy a la carte dining at ZuZu. Breakfast is served from 6 a.m. to 11 a.m., lunch is served from 11 a.m. to 4 p.m., and dinner is served from 4 p.m. to 10 p.m.
Gertrude's at Desert Botanical Garden entrance is offering menu specials to commemorate the Easter holiday. The restaurant is featuring special lamb, vegetarian, and fish items starting at 10:30 a.m. until they are sold out.
Available from 5 to 10 p.m., the Easter dinner menu at J&G Steakhouse includes sweet pea soup, sauteed snapper, warm chocolate cake and other delicious holiday eats.
Rusconi's American Kitchen Easter brunch will include a three-course feast with options like carrot cake with pecan frosting, pan-roasted sea bass, grilled spring peaches with arugula and other spring-friendly options.
The Hash Kitchen will serve an Easter menu from April 14 through 16, 7 a.m. to 3 p.m, at both locations. A meet-and-greet with the Easter Bunny and select regular menu items and holiday menu items will be available, including herb-crusted prime ribs, smoked brown sugar ham, Tomaso's famous lasagna and more.
Tomaso's Italian Restaurant will be open for traditional, Italian-influenced Easter lunch and dinner from 12 p.m. am to 9:30 p.m. The Easter Feast Day prix fixe menu with four courses includes Easter lamb, stuffed zucchini blossoms, pear and pecorino cheese ravioli and mini cannolis.
Social Tap Eatery in Downtown Scottsdale will be serving Easter brunch from 9 a.m. to 2 p.m. featuring savory favorites like the ranchero omelet, Social Tap mimosa and bacon bloody mary.
From 10 a.m. to 3 p.m., celebrate Easter Sunday with a European-style brunch feast featuring dishes culled from Lithuanian, German, Polish, Hungarian, Ukrainian, Russian, Spanish, French, Irish and other European cuisines at Sonata's. Executive Chef Josh Bracher will be featuring specialty menu items including deviled eggs, dumplings with mushroom sauce, rabbit stew, roasted duck and more.
Scramble – A Breakfast & Lunch Joint in Phoenix and Scottsdale will be open from 6 a.m. to 2 p.m. on Easter Sunday, April 16. To celebrate, the Easter Bunny will be at both Scramble locations giving away treats to all the kids that day. Scramble will post a special Easter 2017 album on its Phoenix and Scottsdale Facebook pages highlighting everyone who visits with the Easter Bunny.
Blue Hound Kitchen & Cocktails at Kimpton Hotel Palomar Phoenix is putting a Southern twist on the traditional Easter brunch. Executive Chef Sean Currid will be preparing a picnic-inspired buffet for the holiday featuring an array of Southern classics including cornbread with honey butter, black eye pea salad, spiced watermelon, chicken waffles and much more.
Guests of Royal Palms Resort and Spa will have their choice of two dining options including the famous Ballroom Brunch Buffet (9:30 a.m. to 2 p.m. for a classic holiday buffet) or brunch in T. Cook's (10:30 a.m. to 3 p.m. for a chilled starter buffet, choice of entrée and dessert buffet) prepared by Executive Chef Todd Allison.
Coup des Tartes in Phoenix offers a special three-course holiday brunch (think escargo, pork belly benedict and crab cakes, among other options) as well as a great children's brunch (with macaroni and cheese, pancakes and more) for the Easter holiday.
Artizen, Crafted American Kitchen & Bar offers and elegant gathering place for a friends and family brunch on Sunday, April 16.  Available from 10 a.m. to 2 p.m., Artizen at The Camby will offer a delicious array of traditional Easter dishes with a signature Camby-style twist with a variety of "stations": breakfast, carving, cold, hot and dessert.
Celebrate Easter with Tavern Americana on April 16 with a selection of festive dishes and drinks, like pastrami hash and crab cake benedict.
JW Marriott Desert Ridge Resort & Spa offers a variety of buffets and menus for the Easter holiday: a Sunrise Breakfast Buffet from 6:30 to 11 a.m. at the Grand Sonoran Ballroom; a brunch experience from 10 a.m. to 3 p.m. at stonegrill; and an Easter dinner from 4 to 9 p.m. at Meritage, an urban tavern.
Enjoy a relaxing and family-friendly lunch and concert on the Mighty Wurlitzer at Organ Stop Pizza in Mesa. Enjoy all-you-can-eat pizza and salad from 11:30 a.m. to 1 p.m.
From 10:20 a.m. to 4:20 p.m. at MATCH: Cuisine & Cocktails, enjoy a unique Easter brunch of herb-crusted leg of Colorado lamb, dark rum-glazed tenderbelly pit ham and much more.
Easter brunch at Ticoz Latin Kitchen means pancakes, stuffed empanadas, challah French toast and more, available from 10 a.m. to 3 p.m.
Available Easter Sunday, April 16 from 6:30 a.m. until 2 p.m., brunch at the Original Breakfast House will include porchetta and eggs, Mexican eggs benedict, caprese omelet and more.
BRIO Tuscan Grille at San Tan Village in Gilbert is celebrating springtime with its fun-filled Bunny Brunch for the entire family from 8 to 10:3 a.m. on Saturday, April 8. Kids can enjoy Easter activities and a photo opportunity with the Easter Bunny himself. BRIO will offer a delicious buffet breakfast for both adults and children, including scrambled eggs, French toast (stuffed and unstuffed), sausage, bacon and fruit. All meals come with a choice of coffee, tea, soda or juice.
Chef Cullen Campbell of Crudo will be whipping up a three-course brunch celebration from 10 a.m. to 2 p.m. featuring traditional brunch favorites, plus twists on traditional brunch dishes. Think Calabrian octopus with green garlic buttermilk, celery pickles and spring onion crepes with fonduta and truffle conserva.
On Sunday, April 16, from 10:30 a.m. to 2:30 p.m., Glendale's Irish pub, Padre Murphy's, is hosting a special Easter Sunday brunch buffet with eats like made-to-order omelets, baked ham, homemade desserts and more.
Celebrate Easter with Market Street Kitchen. The restaurant will offer a variety of specials throughout the day, including caramel apple French toast, ham and cheese frittata, rotisserie leg of lamb and more.
From 10 a.m. to 2 p.m., Okra Cookhouse & Cocktails is whipping up a Southern-inspired menu of traditional brunch favorites including sweet potato pancakes with roasted dates and quark, ham hock biscuit benedict with red eye hollandaise, biscuits and gravy and more.
Pita Jungle is dishing out a free small dip (hummus, tzatziki, garlic dip or baba ganoosh) with purchase of an entrée valid on Easter Sunday. Dine-in only.
Farm & Craft in Old Town Scottsdale is offering $20 bottles of Poema Rose Champagne all Easter weekend.
Go to S&V Urban Italian for a special "Easter Vine" menu which features bottomless mimosas for $10 and Bloody Marys for $2 each. Entrees include an Italian-style frittata, agnello and misto di mare.
Beckett's Table will host an Easter dinner with service beginning an hour early at 4 p.m. on Sunday, April 16. Highlights include Easter deviled eggs dyed with red and gold beets and spinach, complete with carrot gelee, spring peas and clover. Half-off bottles of Arizona wine will also be offered.
Southern Rail will celebrate Easter with both an Easter brunch and dinner. Enjoy Chef Justin Beckett's brunch favorites, including the Croque Monsieur complete with noble toast, ham, smoked onion béchamel, tomatoes and spicy pickled carrot. Dinner notables include the smoked chicken & "biscuit dumplings" with McClendon Farms heirloom carrots, mushrooms and fresh pea tendrils. Half-off bottles of Arizona wine will also be offered all day.
The Sheraton Grand at Wild Horse Pass hosts an inspired Easter brunch on Sunday, April 16 from 9 a.m. to 3 p.m. Bring your entire family to Ko'Sin Restaurant indulge on a grand brunch with a crepe bar, a gourmet omelet station, a variety of cutting board classics, carving stations that include charcoal crusted prime rib, and entrees comprised of rabbit and garbed Pima wheat dumplings.  Conclude your dining experience with your choice of sweet treats.
True Food Kitchen will offer a three-course Taste of Spring  in addition to their regular brunch menu. New spring items on the tasting menu include torched avocado, seasonal garden scramble, and coconut and chia seed flan, while beverage options include the honey and grapefruit mimosa, blueberry royale, and the non-alcoholic Hangover Rx.
Guests seeking a fun, casual vibe can celebrate Easter at Culinary Dropout. Two dishes are special to the Easter menu: grilled asparagus toast, with smoked ham and crispy potato, or pork belly hash, with chile verde and sunny side up egg. These featured dishes will be offered alongside the brunch menu (at The Yard locations) and the lunch menu (at the Scottsdale Waterfront location).
North Italia's Easter specials such as red wine-glazed short rib with creamy mascarpone polenta or diver scallops with sweet corn risotto; or choose from North Italia's regular brunch offerings.
Take in the spring weather on The Henry's patio with the restaurant's variety of brunch options, including the featured blue crab quiche. Round out your holiday brunch with a visit from the Bloody Mary cart, serving customizable Bloody Marys tableside.
At Kierland Commons' The Greene House, enjoy the following Easter specials: stuffed French toast with almond butter, honey-whipped mascarpone and strawberry jam; spring vegetable frittata with grilled asparagus, golden beet, snap pea, arugula, and goat cheese; plus mimosas and Bloody Marys. These will be offered in addition to the regular menu.
The Arrogant Butcher's Easter feature – chicken pot pie with sweet potato, mirepoix, and rosemary – is sure to hit the spot this holiday. This dish will be featured along with the restaurant's regular menu.
Little Cleo's is specially open for Easter Sunday. Featured brunch items include a honey Greek yogurt parfait and cheesy scrambled eggs, being offered in addition to the classic menu.
Olive & Ivy will offer all its brunch favorites plus an Easter special of smoked salmon benedict and several items from its dinner menu.
The Granada Bar and Grill at Embassy Suites by Hilton Scottsdale Resort is hosting an Easter Brunch from 11 a.m. to 2 p.m., complete with a Bloody Mary Bench and a succulent menu created by Executive Chef John du Toit including prime rib, Pacific oysters, farmers market spring vegetables, a breakfast spread and an assortment of desserts.
Reserve your spot for an Easter brunch experience at Flourish at CopperWynd Resort from 11 a.m. to 2:30 p.m. Dig into a carving station, Belgian waffles, an assortment of salads and soups and more.
Tanzy welcomes the holiday with the Ultimate Bloody Mary Bar during brunch service on Sunday, April 16 from 11 a.m. to 3 p.m. Dishes include the Infamously Decadent French Toast with thick sliced brioche stuffed with farmers market berries and whipped mascarpone, topped with ricotta, candied pecans and sliced bananas; and a crispy chicken + waffle with spicy bacon maple syrup. Hipster Bunny will be around for photo ops from 11 a.m. to 2:30 p.m.
Brunch is served from 6 a.m. until 2:30 p.m. on Easter at Hearth '61 at the just-opened Mountain Shadows. The signature chocolate and sun-dried cranberry scones will be complimentary to start. Our Easter features: crab benedict and honey-baked Easter ham. Dinner service is from 5 to 9:30 p.m. The regular dinner menu will be served along with Sunday's Roast of the Day, which is Yankee pot roast.
From now through Friday, April 14, purchase a box of three Melting Pot chocolate-dipped strawberries and let them know they are for Phoenix Children's Hospital. Your $9.95 donation of chocolate dipped strawberries will be delivered to Phoenix Children's by Mr. Hoppy the Easter Bunny and the Arizona Melting Pot Team on Easter morning. Boxes of chocolatedipped strawberries are available to purchase and donate at any Arizona Melting Pot location. They can be added to your bill or purchased separately at any of the four Arizona Melting Pot locations: Ahwatukee, Arrowhead, Scottsdale and Tucson.
Sprinkles HOP Box makes the perfect Easter dessert. Each dozen box includes an assortment of dark chocolate, carrot, red velvet and vanilla cupcakes, decorated with pink and green bunnies and sealed with a 'HOP for Cupcakes' sticker. The Sprinkles HOP Box will be available at Sprinkles from April 4 through 16.
The Crepe Club is offering macarons in baskets of nine ($18.95) and 18 ($29.95) good for the Easter holiday or just to celebrate Spring. Macaron baskets can be ordered in advance for Easter at The Crepe Club.