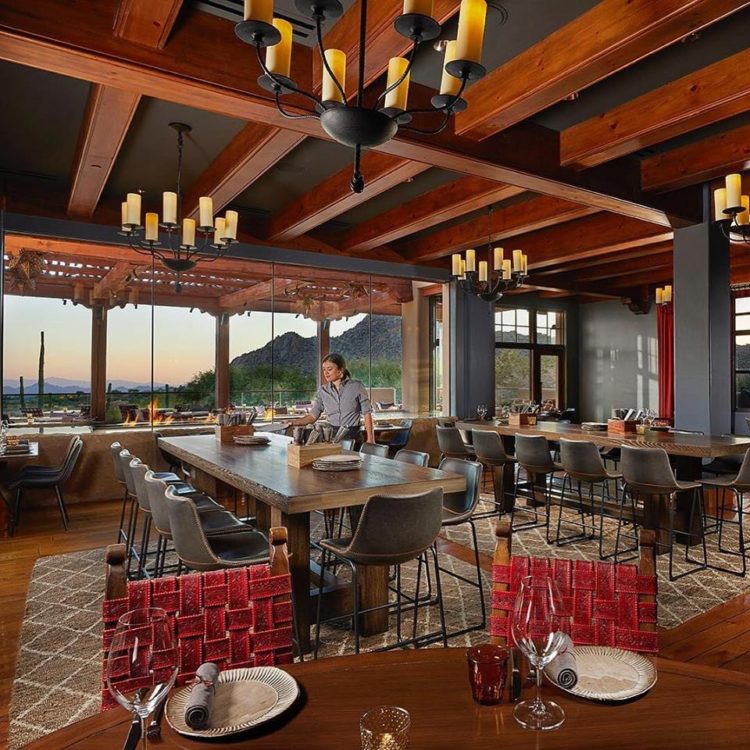 Dive into fall with Talavera's new menu that features the flavors of the season while keeping its feisty, Spanish flair.
During a recent visit to try out the new fall flavors, we kicked the meal off with an array of shareable starters. An easy choice to start with, the Fall Greens salad was packed with juicy flavor from the citrus but the hazelnuts and manchego really made it a winner in our book. A must-try, the Tortilla Española was a unique, savory dish that upon arrival looks heavier than it was. Reminiscent of a holiday casserole, the savory yet light slice of "pie" was made with sweet potato and butternut squash and kicked up a notch with poblano peppers and raclette cheese and topped with serrano ham. Other great starters that graced the table were the fresh ahi tuna over a yellow gazpacho and the baby beets, complemented by walnuts, blackberries, honey and sheep milk cheese.
The main courses were just as mouthwatering with the not-so-traditional Verde Paella being a standout. For starters, it's vegetarian but definitely don't let that deter you. Afterall, anyone familiar with Talavera knows how well they whip up the Spanish dish. Green in color and slightly southwestern in taste, this version is surprisingly packed with superfoods, made up of broccolini, shishito pepper, chard, kale, leek, brussel sprouts and grilled squash. This was a can't-stop-eating kind of dish and one we would definitely return for.
For those looking to sink their teeth into some meat, the braised mole pork shank embraces the season with chayote, acorn squash and pomegranate. A lighter option, the pan-seared barramundi was also a fave, with baby sweet potato, savory king oyster mushrooms, Moroccan olive and green harissa.
Even if you're stuffed to the brim with paella, order a slice of the San Sebastian Cheesecake. Not too sweet, the decadent dessert is topped with cardamom cream, sherry blackberries and caramelized pine nuts. To-die. —Suzanne Koch