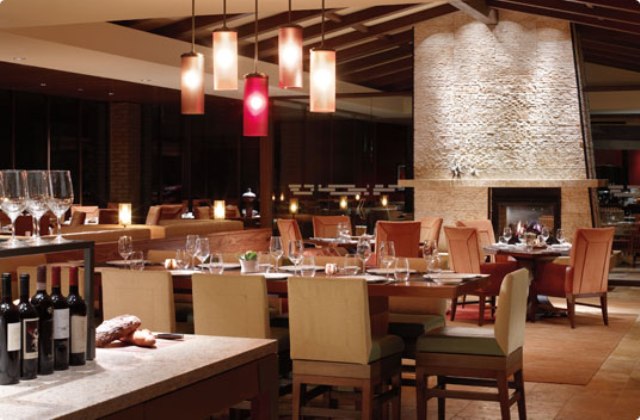 Sure, the Valley is full of amazing, world-class dining destinations. But why not hit the road? In the time it would take to finish an episode of "Mad Men" you could be in Marana at the Ritz-Carlton, Dove Mountain enjoying an incredible feast at the resort's on-property CORE Kitchen & Wine Bar.
Diners immediate feel as if they're in for a treat upon entering CORE. The exhibition-style kitchen and the clean-lined, but cozy, dining room greets dinner guests. While the patio is a lovely spot to enjoy a meal when weather permits (you're thisclose to beautiful tree-lined mountains), settling indoors in one of CORE's high-backed and supercomfy chairs is a great place to make yourself at home.
The menu at CORE is touted as True American Cuisine and it dishes up seasonal ingredients, some of which are from local growers (includeingDove Mountain's very own on-site citrus grove). For starters, the braised short ribs, sided with house-made rosemary gnocchi, mushrooms, arugula and tiny veggies, is a winning appetizers, especially if you want to start of your meal in a hearty way. For something a little lighter, there is the chilled corn soup or, for seafood lovers, the tuna carpaccio. As for a main dish, we went with something a bit out of the ordinary: a peach-stuffed pork chop. The dish is finished with Sunburst Squash, asparagus, purple potato purée and, to finish the fruity theme, a peach demi sauce. After biting into the deliciously sweet fruit and pork chop, a simple dollop of applesauce might not do the trick anymore. Plus, the potatoes were divine and the purple color added just enough interest, visually.
To finish off a meal at CORE, the smoked chocolate smores are in order. The ooey gooey dessert featured house-made graham crackers with lip-smackingly smoky chocolate. We forgive you if you don't want to share. 520.572.3000, http://www.ritzcarlton.com/.