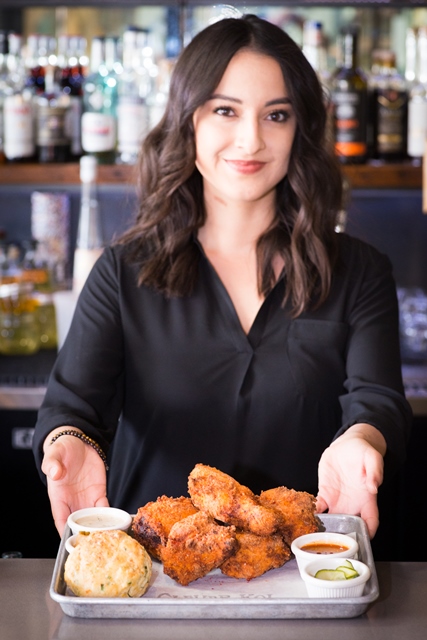 It's safe to say we're pretty obsessed with Clever Koi (see here). So when we had the chance to check out some of the restaurant's new offerings at its Gilbert location (there is one in Phoenix, too), we jumped at the chance.
Drunken Chicken Dumplings: These delicate dumplings are the perfect starting-off point. The set of five is served on a very spring-y pear and and fennel salad, making it a refreshing way to kick off the meal.
Vegetable Tart (pictured below): For a more decadent start to your meal, the vegetable tart is an absolute must. Heck, we would order it for dessert, too. The picture-perfect dish features braised beet baked inside of a house-made puff pastry finished with goat cheese, rosemary and–the showstopper–a bourbon syrup. The tart reminded us of Christmastime with the fragrant rosemary, sweet syrup and beautiful red hue.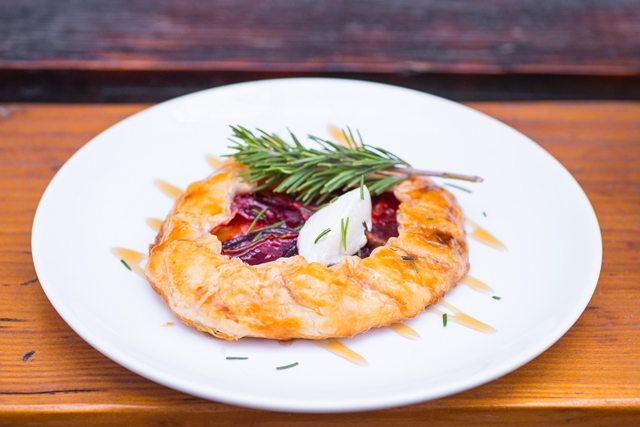 Vegetable Ramen: The seasonal ramen dishes at Clever Koi are always our favorite, and this veggie offering is no different. This big bowl is bursting with fresh flavor and unique ingredients like roasted chayote and crispy sunchokes. The colorful dish is rounded out with roasted tomato, pickled daikon and a leek compound butter. Though some bites were a tad salty, the ramen overall was a really delectable combo of bright flavors and differing textures–perfect for the warm season.

Shaking Beef: This new dish got its name because the beef literally shakes in the wok as it sears!  The dish comprises marinated filet (marinade: fish sauce, soy sauce, oyster sauce, rice vinegar and mirin), dredged in cornstarch, roasted in the wok to a rare temperature and served over an heirloom tomato salad. The salad is finished with a yuzu vinaigrette, sesame seeds and gastrique onions. This dish is sure to impress the meat lovers in your bunch who like a hearty helping, but this presentation will open them up to unique, refreshing Asian-inspired flavors.
Korean Fried Chicken (pictured at top): So this is Clever Koi's hold-the-phone, get-outta-town-that's-good new dish. It features half a chicken fried in a gochugaru breading and finished with a honey-miso drizzle. The skin is crisped to perfection–not greasy, not thick. Light and airy and delectable, especially crowned by the honey-miso sauce. And the moist meat falls right off the bone. To make this the ultimate comfort-food spread (which serves two, easily), the Korean fried chicken is sided with a scallion-cheddar biscuit, house pickles, kimchi and black garlic ranch.