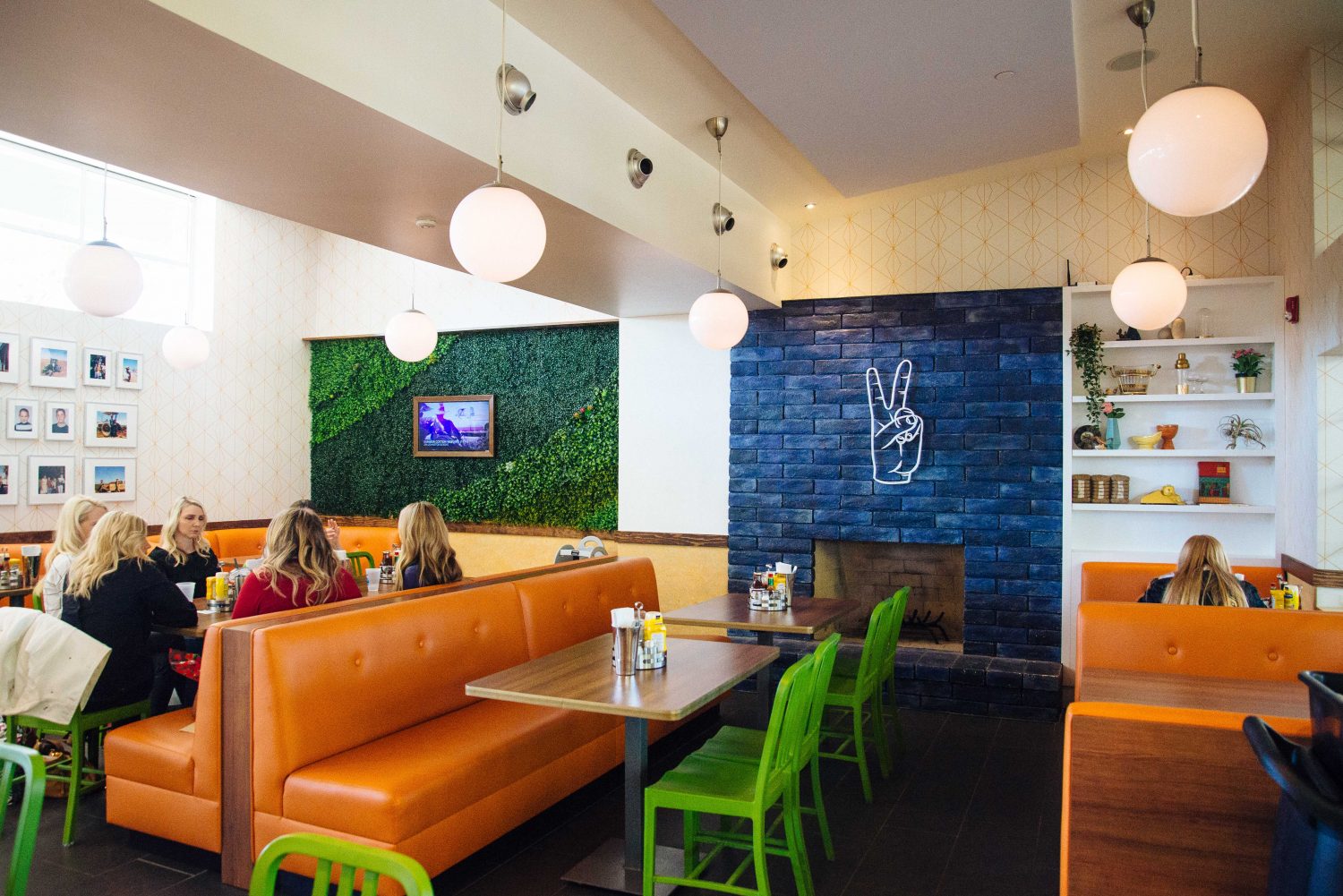 Have a tot in tow during mealtime? Here are a few Valley favorites for kid-friendly dining that are Mom- and Dad-approved, too.
Housed in the original Johnston family home built in 1966, Gilbert's Joe's Farm Grill (pictured) is brimming with charm, family-friendly eats (kiddos can't get enough of the burgers and seasonal milkshakes) and some of the Valley's best outdoor dining. During the recent renovation, indoor seating and table service was added and all corn syrup was eliminated from the menu.
Few restaurants let tiny diners have control of their meal like Pita Jungle. At its fifteen-plus local restaurants, Pita Jungle allows kiddos to choose among a long list of fruits and veggies, grains, carbs and protein—for only $5.99, including a drink. And to keep the little ones busy until their dinner arrives, they are gifted an activity sheet full of games and coloring.
You know what's even better than a kid's meal that doesn't center around boxed mac and cheese? A kid's meal that is free. Both of which are the case at Grassroots Kitchen & Tap and Twisted Grove Parlor + Bar in Phoenix and Scottsdale, and Wally's American Gastropub in Scottsdale (the trio is part of the family-owned Common Ground Culinary restaurant collection). Recently, the restaurants launched a program that allows kids to eat free with purchase of adult entrée from 3 to 6 p.m. We're fans of the kid's marinated filet. To end the meal, kids even receive a voucher for a free scoop of ice cream at Common Ground Culinary's Sweet Provisions ice cream and sweets shop for dessert.
St. Francis knows that even kids tire of hot dogs and chicken tenders. The Phoenix restaurant dishes up the likes of Moroccan meatballs and pork scallopini for its young diners–all at a wallet-friendly $5 per entree. Brunch at St. Francis is a big hit for the entire fam, too. Hello, iron skillet pancake!
At Phoenix's new-ish Camp Social, kiddos and their families can even dine in a camper–it doesn't get much more kid-friendly than that. After dining on house-made pasta or pizza, diners of all ages can enjoy ping pong, Jenga and arcade games in the on-site game room to work off that sugar high from the tableside s'mores dessert.
From Postino Winecafe to Joyride Taco House, the restaurants that make of Uptown Projects know how to make a kiddo happy and, thus, make Mom and Dad's dining experience that much more enjoyable. The mix and match plate at Postino is a favorite, as are the chicken tacos at Joyride (which plates up their kid's meals with a temporary tattoo).