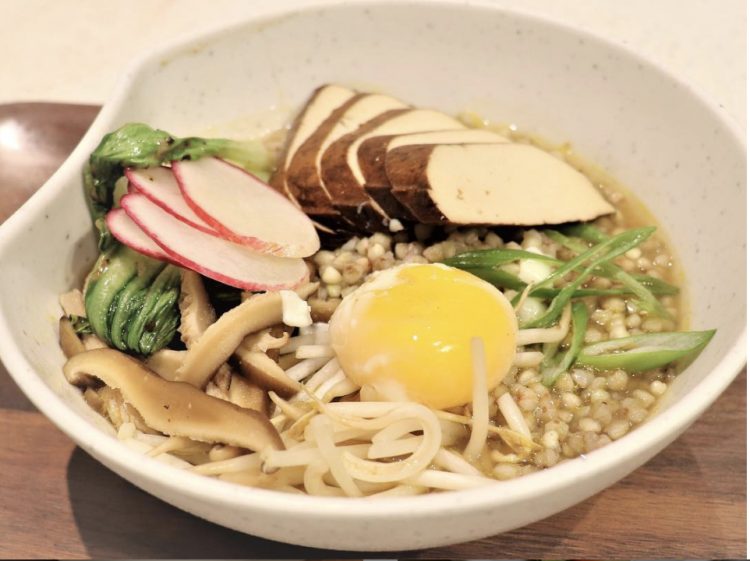 Cherish Farm Fresh Eatery has opened at 2551 W. Queen Creek Road in Chandler.
Featuring great-tasting food that is also great for body and soul, this is the first restaurant venture for owner David Nelson, an ASU graduate who returned to the Valley from Los Angeles, where he had graduated from the USC Law School and practiced for 12 years.
"I wanted to do something different, to grow a business that will make people feel good about themselves and the food they're eating," says Nelson, who lives with his family in Phoenix. His restaurant employs approximately 25; most are East Valley residents.
Prepared by Mesa-born Chef Steven Fowler and staff, the expansive, flexible menu incorporates traditional as well as nouvelle breakfast, lunch and dinner items, all marked to accommodate guests' dietary preferences: Vegan, Vegetarian, Dairy Free, Gluten Free, Low Carb/Keto Friendly.
For instance, traditional breakfast offerings include just that, the Traditional Morning, with two eggs, bacon and other items such as a mixed berry compote; French Toast with Noble Challah Bread; and a Southwestern Frittata with roasted onion and chive crème fraiche.
Or, choose Eggs Benedict with a whole grain English muffin, spicy capicola and chive Hollandaise. Alternatively, if you are on the prescribed low-carb diet, select the Keto Benedict with Cloud Bread and bacon fat Hollandaise.
"A lot of our guests stop for breakfast on the way to work, and we have some who also return for lunch," chef said, noting that they order on their phones from the website and then pick the food up in designated cubbies at the restaurant without having to wait. In house, you order at the counter, a server delivers your food and checks back with you until you have completed your meal.
Many of their patrons work at the booming Price Road Corridor nearby, with its large campuses for Wells Fargo and Intel in place and others to follow. Also furthering the restaurant's success are the apartment complexes, condominiums and, soon, custom homes in the area.
Another menu category, the Superfruit Bowls, are great morning starters or offer tasty nourishment throughout the day. These include the excellent Cherish, with acai, a berry high in antioxidants, other mixed berries, avocado, green juice and agave nectar. With the bowls, you select toppings, such as granola, chia seeds, honey and agave nectar.
Other Starters are the Red Miso Soup, with gold beets and scallions, and the Hummus, including toasted pita, cornichons, and pine nuts.
Entrée-size Specialty Dishes are great for lunch and dinner. Already popular among patrons are the Braised Short Rib, with Yukon Potatoes; the Sea Bass, roasted Brussel sprouts; and the Turkey Bolognese, fettuccini noodles and saba, a grape syrup.
And, of course, Salads and Grain Bowls are low-calorie options. These include the Pink Lady, with rainbow chard, strawberries and pomegranate vinaigrette, and the Greekin' Out bowl, including farro, garbanzo beans and Greek Sauce. To these, add a protein such as Grass Fed Steak, All Natural Chicken or Sustainable Salmon.
Particularly innovative are the Custom Plates. You select the ingredients, and chef and his staff assemble them on a platter. These include Broccolini, with capicola and feta; Three Cheese Mac; Roasted Brussel Sprouts, with bacon and crème fraiche; and Bok Choy, bean sprouts, toasted pine nuts and tahini vinaigrette. "You basically build your own meal," chef explained.
Fowler was raised in Maricopa on a three-and-a-half acre ranch, including a home his parents built and still own, with cows and chickens, and lots of citrus, fruit and apple trees. "Cooking came by chance to me," he recalled. "I would watch my mom cook, especially hot Sunday breakfast. She makes a killer Swiss steak and chicken and dumplings."
His first food job was at an Arby's in Tempe where he was recruited for the Rusty Pelican, now Joe's Crab Shack at Arizona Mills. He next trained as a chef at the Art Institute of Phoenix. At this time, he met Chef Lee Hillson, when he was executive chef at T. Cook's at Royal Palms Resort and Spa in Phoenix.
"Chef Hillson opened my eyes to the simplicity of cooking," he said. "You don't need 500 things to put into a dish. Food doesn't have to be complicated to be good. Just use fresh ingredients and give people food they can feel good about."
"We get so busy with work, we forget to take time for ourselves," Fowler said. "We invite you to take a break from your day. That's our name: Cherish your health; cherish your family and friends; cherish good simple food." -David M. Brown